I'm almost afraid to share what I'm about to share with you because I fear that it may ruin my reputation and make you think less of me.
I made a craft yesterday.
(Hangs head in shame)
It's true. I didn't mean to do it. The whole thing just kind of snuck up on me.
It all started last week when I was looking at various homes decorated for Christmas on Pinterest and a few blogs. And then somehow I ended up on a rabbit trail that led me to Edie's blog and a tutorial she did last year on how to make a pom pom wreath.
And some glimmer of hope and optimism rose in me and I thought to myself, "I CAN MAKE THAT. I CAN MAKE THAT WREATH."
(Side note: I was on the dance team in high school and we did a pom pom routine to Shake Your Love by Debbie Gibson. And because I am so odd, that memory came to my mind yesterday as I made the pom poms for this wreath and I cannot shake it. Get it? I cannot shake it. Love? Pom poms? Does it even matter at this point?)
I have no desire to write artfully on a chalkboard or replace all my normal dishes with hand painted Santa plates. I don't want to try to keep fresh boxwood wreaths alive or deck my tree with real pinecones and cranberries. But for some reason I was drawn to that wreath like a moth to a flame.
So yesterday morning I got out to run some errands. I had to go to Target to return a frame I bought in the wrong size and ended up leaving there $100 poorer than when I walked in. Target, you win every time. Then I ran in HEB to pick up a few grocery items I didn't want to buy at Target, specifically heavy whipping cream because the Market Pantry cream is just subpar. And, finally, I decided to just swing by Michael's to look at some yarn and possibly a straw wreath because I couldn't get that stupid pom pom wreath out of my head.
And that's how I found myself walking up and down the yarn aisle, carefully evaluating the different weight and thickness and colors of various skeins. I was previously unaware that there were so many yarn options. It was a simpler time that I call Sunday afternoon.
But all of a sudden I was full of opinions and thoughts about all the yarn. I finally decided on a thick, homespun yarn because it appeared to be really soft, thick and fluffy. It was also 50% off its regular price. So I grabbed two things of it and then went in search of straw wreaths. There were a few times I nearly just walked out of the store because of all the faux cinnamon and abundance of crafting supplies, but then I spied the straw wreaths, grabbed one and made my way to the front of the store.
Even after I paid for my items and got them home, I wasn't convinced I'd actually follow through. But then Caroline got home from school and it was a cold, rainy afternoon and so we turned on Elf and I began to make pom poms for my wreath.
I cannot even express how easy it is. Other than to assure you that the fact I was able to do it means you could essentially hand this project over to a group of orangutans at your local zoo and open an Etsy store less than twenty-four hours later.
Just about an hour after I started I had this: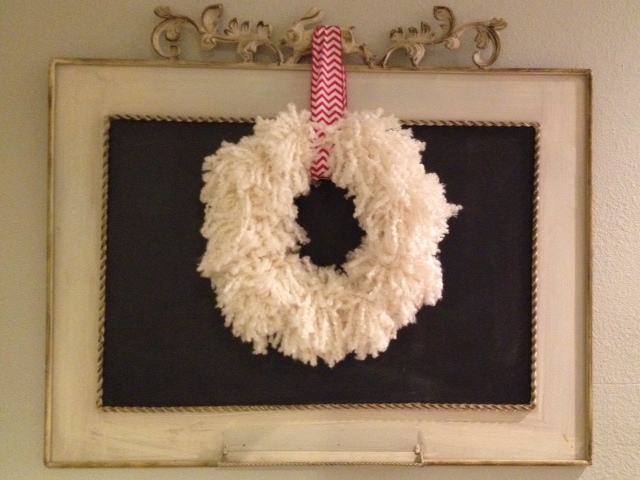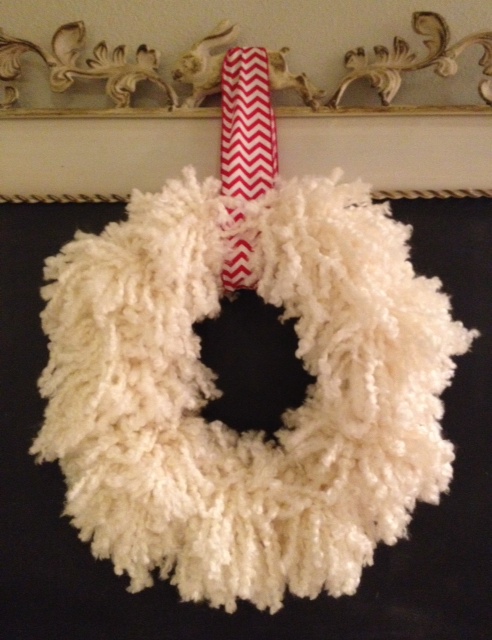 I was so pleased with myself that I wanted to invite the neighbors over to look at it but that might have been overkill. Plus, the whole thing about crafts is you have to play it cool. That's part of the schtick. "What? This wreath? I just threw that together with some old scraps I had around the house and some duct tape."
Anyway, I just wanted to share my shame/pride in case you're looking for a Christmas craft that is beautiful and doesn't require etching the lyrics to Silent Night on the head of a pin. You can find Edie's pom pom tutorial by clicking here.
And I'm already thinking I might make a few more of these before winter is over. I know. It's like I don't even know who I am.
Also, if you're interested in seeing a plethora of homes that have been beautifully decorated for Christmas, there are two different Christmas tours of homes that I have been stalking. You can check those out here and here.
At some point I'll share the rest of my Christmas decorations, but did you not just read about how I made a wreath with my own two hands today?
I have to pace myself.