One of the questions I get asked the most is about the road trips Gulley and I take each summer with the kids. Some of them are regarding our basic sanity, but I won't get into specifics there because I think the fact that we load up the car with our kids each summer speaks for itself. Clearly, we are not quite right in the head.
But several people have also wanted to know how we do it and various specifics. I can only assume this is because you are pondering this type of trip for you and someone you don't mind spending a week with under sometimes stressful conditions where kids think it's a good idea to wrestle on a hotel bed and knock over their mother's glass of wine after a long day of summertime fun.
The first road trip Gulley and I took with the kids was in the summer of 2007. Our crew looked like this: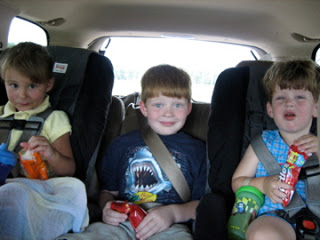 And this:
Because rule #1 is you always have to stop at Dairy Queen.
But there is so much more to our road trips than just the occasional DQ Blizzard. I hereby give you my non-definitive guide to a summer road trip.
1. Find a friend who is willing to do this with you.
Preferably someone with a high tolerance for shenanigans and who won't judge you if you threaten at some point during the trip to drop all children off at a fire station to see if they can be placed for adoption.
Also, you need to find someone who doesn't have too many kids. This is crucial because there is only so much room in the car for the children and the stuff.
Exhibit A: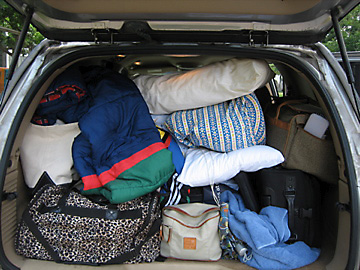 I may be willing to hit the road for a week and test the limits of my patience, but I'm not doing it without my favorite pillows.
2. Choose the best vehicle for your travels.
Gulley and I have historically always taken her car on road trips because it's the biggest. Plus, her youngest son, Will, is the most likely to throw up and it's always more comforting to have a child throw up in the car you've paid for instead of your friend's car.
However, there was a time Will threw up in my car and Gulley showed up at my house the next day with a gift card for a complete detailed car wash even after she'd scoured it from top to bottom looking for signs of throw up. That's the sign of a good friend.
3. Pack plastic bags, wet wipes, and paper towels.
Road trips present many opportunities for carsickness and/or food poisoning. One of our lowest road trip moments was the summer of 2010 when Will got food poisoning at The Great Wolf Lodge in Dallas and we had to make the three hour drive to Gulley's mom's house in Bryan while he threw up at 15 minute intervals in a plastic sack. This was the trip we learned that you can never have too many plastic grocery sacks.
It's also the trip where we learned we can still eat beef jerky and sing along to Taylor Swift even while someone is puking in the background.
And, finally, it was the trip where Jackson and Caroline honed their Buccee Beaver impersonations.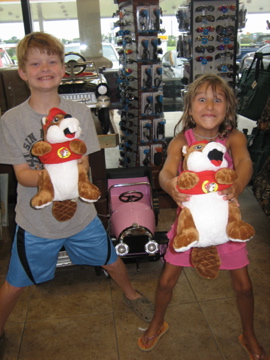 That's what really matters.
4. Have a loose plan
This is crucial. The first year we took the kids on a trip, we just went to Bryan to visit Gulley's family. But we enjoyed it so much that we officially decided to make it an annual tradition. The road trip is ultimately our way of bringing a little old school Americana into our kids' lives. The open road, the carsickness, playing the license plate game, and arguing over whose foot just touched yours in the back seat. We always want it to be more about the journey than the destination, kind of like life.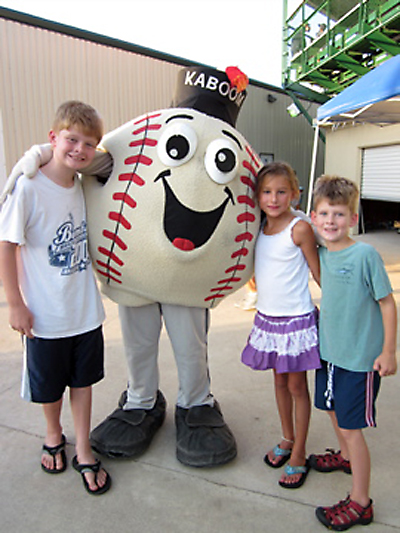 Here's our philosophy. We keep it simple. The road trip is never about exotic sightseeing, unless you count the Snake Farm in New Braunfels. In which case, ACES.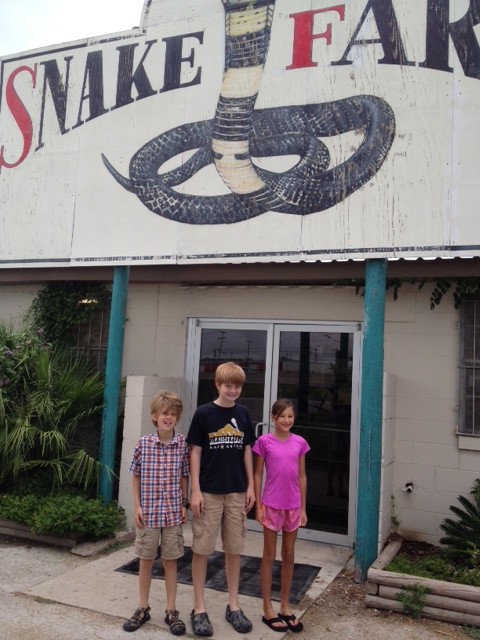 Every year after the road trip is over, we immediately begin to discuss where we might want go the next year. And we include the kids in the discussion even though we have ultimate veto power because, as much as we appreciate their input, it's impossible to drive to Australia.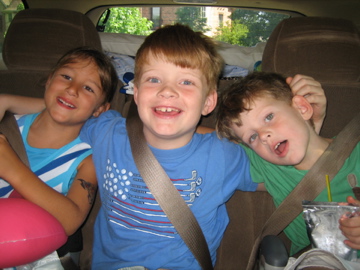 As of now, we've always kept our trips in the state of Texas. This works out because Texas is a very large state and there is plenty to see within its borders. Also, we happen to have a lot of friends and family scattered around and this usually gives us a convenient (free) place to stay on occasion.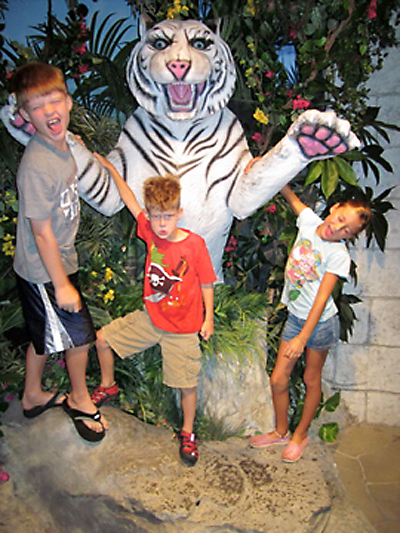 We have gone to Dallas, Austin, Houston, Waco, Bryan/College Station and various locales in between. We've gone to the Dallas Zoo, ridden public transportation as entertainment, stayed at the Great Wolf Lodge, tried to ensure a future of chiropractic treatments at Six Flags in Dallas, "enjoyed" the Children's Museum in Waco, bought 84 pounds of beef jerky at Buccee's, walked all over the Texas A&M campus, cheered at Bombers baseball games, touched stingrays at the Houston Aquarium, eaten giant snow cones at an Astros game, visited the Baylor Bear, recorded our very own Call Me Maybe video, seen the Longhorns football stadium (sacrilege!), swam at the Flying L water park in Bandera, toured the Texas Capitol Building, and gone to the Texas State History Museum where Jackson learned it's a bad idea to shove your mother's face into the exhibit that demonstrates how sulphur smells coming out of the ground. (We blame budding hormones and incomplete frontal lobe development for that misstep.)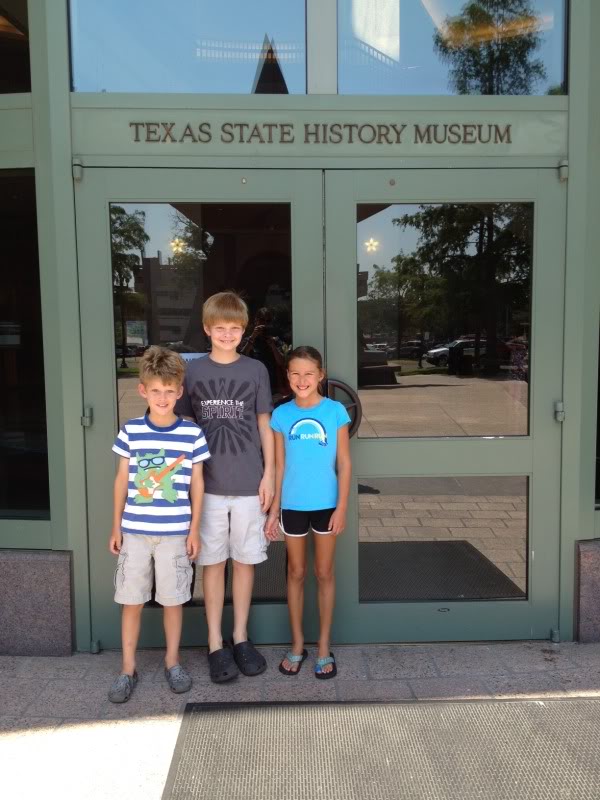 Along the way we've stopped at a Snake Farm, glass bottom boats, Barton Springs, a gas station/dance hall owned by Willie Nelson, several bakeries that sell kolaches, too many Dairy Queens to count, 6,075 public restrooms and 5,462 QuikMarts/7-11's/Stop-N-Go's. We've sang too loud, argued too much, passed some gas, thrown up on our neighbor and laughed enough to make it all worthwhile.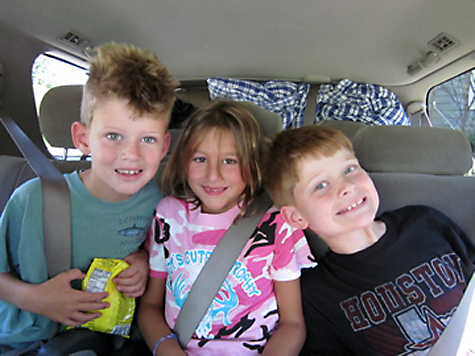 It's all about taking our time and being flexible enough to pull the car over when someone says, "Hey! We're in Waco! Let's go see the Baylor Bear!" or "Mom! I need to go to the bathroom again!".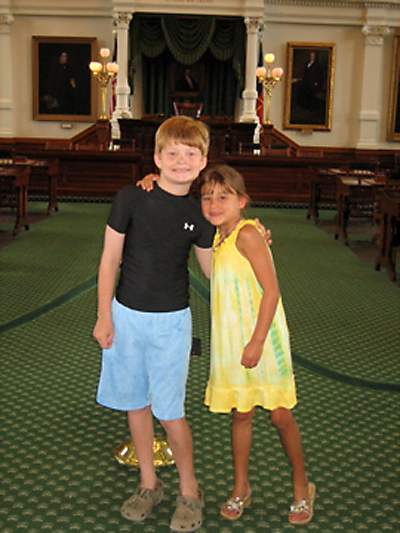 Bottom line, I do not recommend this type of road trip for those who may be Type A personalities and insist on a tight, well-scheduled agenda. It's a recipe for a meltdown.
5. Never underestimate the power of a good playlist.
Sometimes, just when you think you've reached the end of your mental rope, your best friend and co-pilot will put on Bon Jovi's Living on A Prayer and you'll decide that life is worth living again.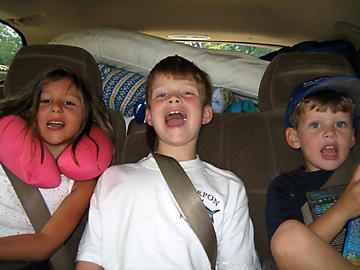 We usually go around the car and let everyone take turns making song requests, but the moms always have the right to veto a song choice if the thought of listening to Little Big Town sing Boondocks one more time is going to cause a grownup to assume the fetal position for the rest of the day. Same goes for Taylor Swift, specifically You Belong to Me. However, if a mom would like to listen to some old school Bobby Brown songs a few times in a row, then it's her prerogative.
6. Splitting costs and staying within a budget.
I'm sorry if this led you to believe that we make any sort of spreadsheets or pie charts. See above about Type A personalities. It just means that we do try to keep things fairly inexpensive. Last summer we finally caved and did Six Flags and that's probably the most expensive thing we've ever done, but we felt like the kids are now old enough to appreciate it.
The year we went to Great Wolf, our friend AJ had won some passes so that was inexpensive with the exception of the food that gave us food poisoning once we got there. And then we try to look for passes or coupons for other things we may want to do. The good news is that riding the elevator up and down in the hotel is free. As is trying on sunglasses at Target.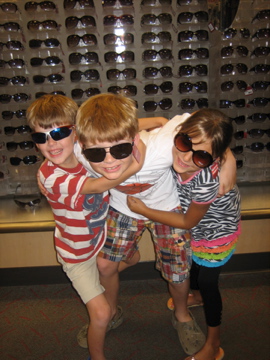 Speaking of hotels, we always have good luck with Priceline. You can search according to how nice you'd like your hotel to be and the price you're willing to pay. Some cities have more to choose from than others, but we've always found a decent deal. It also became apparent last summer that the five of us can no longer pile into one hotel room because everyone just keeps getting bigger and more aware of concepts like modesty and personal space. But we did one room for a long time and just brought along a sleeping bag and requested a rollaway for our extra person.
As for other costs, Gulley and I just do our best to split everything down the middle. There again, there is no exact formula. She pays for gas one time and I pay for it the next time. One morning she buys breakfast and snacks and the next day I buy lunch and Sonic drinks. We believe it all comes out fairly even in the end. And I also try to keep in mind that any activity is more expensive for her because she has one more kid than I do.
7. Google is your friend
After we determine the main cities we'll be visiting, we consult the Google to research possible interesting stops between home and our destination. It doesn't mean we'll actually stop at all of them, but it gives us an idea of what our options may be.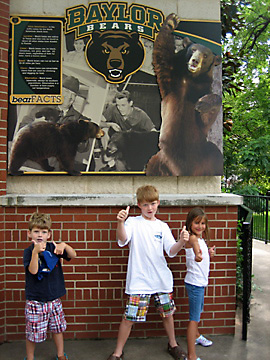 This can be as exotic as a gas station that sells tacos or as routine as a McDonald's with a playground.
8. Brushing your hair is optional.
Exhibit B: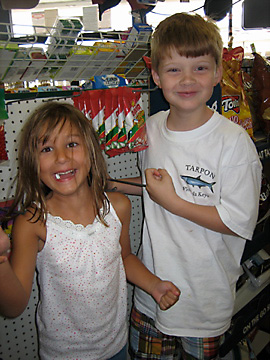 But in all seriousness, we try to make it feel like a fun adventure. Even though we occasionally have to lay down the mom smack, our goal is to be fun and leave a lot of our normal rules at home. This involves a lot of candy, ice cream as a meal, no set bedtime, swimming late night at the hotel pool, and optional grooming. However, showers and brushing teeth are still required.
9. We're lovers, not fighters.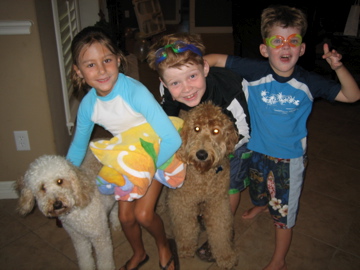 Sadly, this isn't always true for the kids. Although it is for Gulley and me. However, it stands to reason that time in the car plus tired plus hot plus lots of activity can equal ill tempers. In the case that there are grievances to be aired, we try to opt for the "Y'all need to work it out" method. Sometimes this works and sometimes it leads to more tears and yelling.
In which case we opt for the "Everyone is going to their separate corners" approach. This is usually about a thirty minute break from each other until we can regain composure and/or not want to "kick someone as hard as I can". There was also a time when Gulley's boys pushed her to the edge and caused her to declare she was "on the verge of a nervous breakdown". At that point we sent her to her room to regroup and offered to let her go get a pedicure.
Desperate times.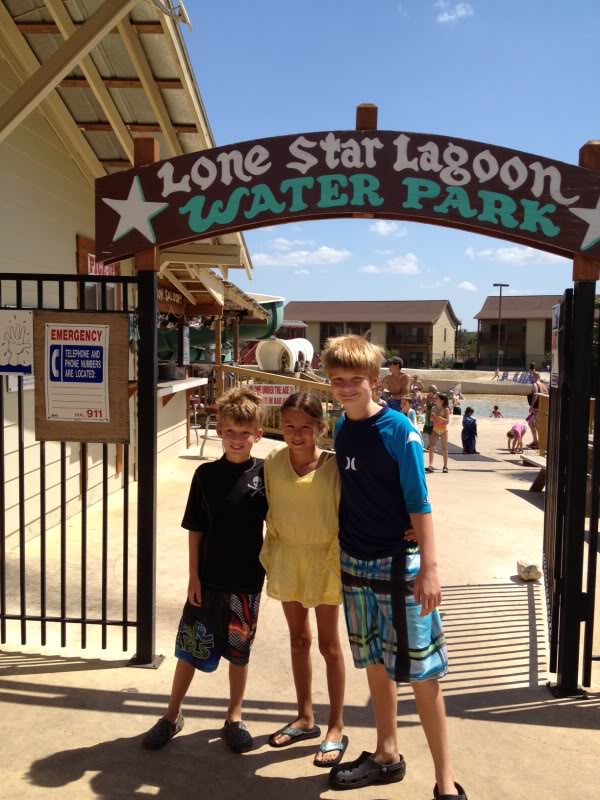 But, in the end, we always do our best to love our road trip neighbor because as Gulley and I continually remind the kids, the road trip will go on even if we have to leave someone with a bad attitude behind.
10. Have fun and make memories.
I'll be honest. We've hit some lows on the road trips. People have gotten on each other's nerves. Some have overreacted when their song didn't get chosen as the next one played. Some times kids act ungrateful after their moms have spent a day at a water park being pummeled by waves. It's real life, but in a car.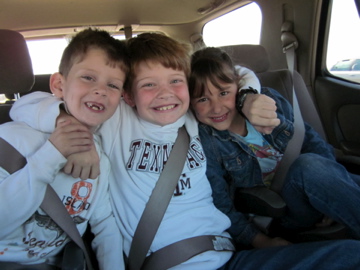 But we've achieved our goal over the last seven summers. We have memories that make us howl with laughter. We have pictures that make us smile. We have stories that would make some people want to recoil in horror and fear.
We have logged a lot of miles together and we don't regret a single one. More than anything, the summer road trip is our reminder that some times the best things in life are the simple things.
And plastic bags from the grocery store.
Copyright secured by Digiprove © 2014