Today I want to introduce you to my friend Jeannie Cunnion. As long as the term "friend" can include someone I haven't actually met in real life. There are some things you can just tell by a phone conversation.
Jeannie has a new book out today called Parenting the Wholehearted Child: Captivating Your Child's Heart with God's Extravagant Grace. And, listen, I'm not one to recommend a lot of parenting books. Mainly because I don't read many (or any) parenting books. But this one is different because I love Jeannie's message.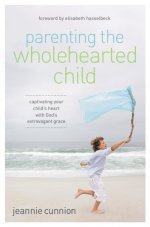 Here's the description of the book:
Your kids aren't perfect. And you don't have to be either.
Are you exhausted from the pressure to be a perfect parent raising perfect children in this imperfect world? Do you ever wonder, 'How did these precious children get stuck with a parent like me?' If so, let these grace-drenched pages saturate your heart with God's unfailing love while also equipping you to be a vessel of God's unconditional love to your children.
With authenticity, conviction, and a lively sense of humor, Jeannie guides you on a transformative journey into raising wholehearted—not perfect—children, who live from the freedom found in being wholeheartedly loved (and liked!) by God.
Parenting the Wholehearted Child equips you with biblical wisdom and practical ideas to teach your children that they are fully accepted by God, not because of anything they do or don't do but because of everything Jesus has already done for them.
Woven throughout the book is the good news that it is God's extravagant grace—not your perfect performance—that transforms the hearts of children.
You can find out more about Jeannie by checking out her blog here.
And, even better, today I have the chance to give away two copies of her new book. All you have to do for a chance to win is leave a comment on this post. One comment per person please. I'll leave comments open until Wednesday at noon and then draw two winners at random.
Copyright secured by Digiprove © 2014