Caroline and I spent part of the afternoon making puppets out of brown paper bags. It's all part of my SUMMER OF CRAFTS initiative and I figured Memorial Day weekend was a good time to kick it off.
I got out all our craft stuff, which is basically a plastic shopping bag from Michael's filled with markers, dried up glue, scraps of yarn, and googly eyeballs in various sizes.
We got to work, gluing and drawing our little puppets to life.
And then I noticed that Caroline was using pom-poms on her puppets.
"What are those?"
"It's their boobies!"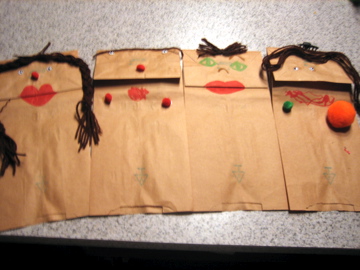 I hate to be critical, but I think the one on the end could use some kind of cosmetic surgery.
You know, just to even things out.