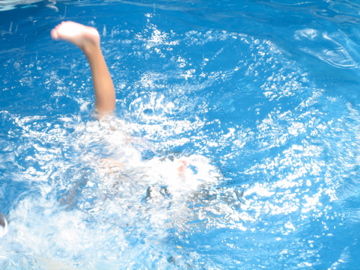 Our Memorial Day weekend can pretty much be summed up in one word.
Sunscreen.
If that doesn't sound very exciting to you, then we're on the same page.
Forget gas prices, it's the Banana Boat SPF 50 (TEAR FREE!) that's going to eat away at our discretionary income this summer.
On Saturday, we all hosed ourselves down with sunscreen (SKIN CANCER! AGE SPOTS! PREMATURE WRINKLING! THE OZONE IS A DISTANT MEMORY!) and headed to the neighborhood pool which was filled to the brim with members of the floatie brigade in their swimmie diapers.
I think we all know that those swimmie diapers are nothing more than a placebo to make us feel better. They're poop catchers at best.
And now that I've thought about it in those terms, I feel the need to go bathe in Clorox.
In all honesty, in spite of the lack of swimmie diaper effectiveness, I truly love the neighborhood pool. It provides guaranteed activity and social interaction every single day of the summer, not to mention BEAN AND CHEESE NACHOS at the snackbar. And really what makes you feel better in a swimsuit than eating a big plate of tortilla chips covered in refried beans and cheese?
Especially when you chase the nachos with a Country Cone.
So we kicked off our pool season in a big way. We swam, we jumped off the diving board, we went down the slide, we ate nachos. And by "we", I mean P and Caroline. Well, except for the nachos. I participated in the nacho eating activity.
By 6:30 that evening, Caroline could barely stand from the exhaustion. When it comes to the pool, she doesn't ever want to stop. She'll literally swim until her legs give out on her, which isn't necessarily a bad thing because she will fall into bed and sleep for twelve hours.
The problem lies in the time it takes to get her from the pool to the bed. A time that is marked by exhaustion and complete lack of reason. As we got in the car I asked, "Are you done with your lemonade?"
"Yes, I'm done."
"Are you sure?"
"YES."
I did the sensible thing and poured the remaining three teaspoons of lemonade in the parking lot.
TEARS. SOBBING. WAILING.
"I WANTED MY LEMONADE!!"
Well, I want a sedative. We can't always get what we want.
We continued to have these kind of precious moments until I finally wrangled her into her monkey nightgown (NOT THE KITTY-CAT PAJAMAS! NOT THE PRINCESS PAJAMAS!!!) and got her in bed.
And then we woke up the next day and did the exact same thing.
Except I was smart enough not to pour out the rest of the lemonade.
I'm officially ready for summer.