So I believe I've mentioned that I've been working on a new book. And also that it was due yesterday. The bad news is I'm not quite finished with it, the good news is the nice people at Tyndale are giving me a little bit of grace and I have a few more days before they follow through on their threats to lock me in solitary confinement until I finish.
But today I get to tell you a little bit about it.
The title is Nobody's Cuter Than You: A Memoir About the Beauty of Friendship and it will be released in April 2015.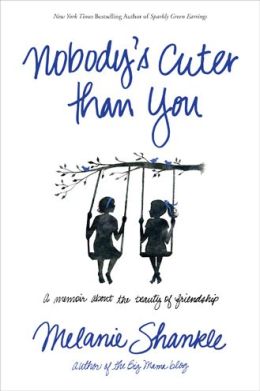 Here's a brief description:
There are probably only a handful of times in our life when someone walks in who will change us forever, when we find someone we can love with our whole heart who will challenge us and shape us and make us feel like the world is safer and brighter just because they are in it. A person who loves you for exactly who you are, yet teaches you to be better because of who they are and how they live their life. A person who will listen to your stories and hold your hand as you go through heartbreak and joy and figure out all that life throws your way.

This book is about my friendship with my best friend, Gulley, and how we've managed to sustain our friendship over the last twenty-five years. But it's more than that. It's about all the friendships we develop over a lifetime and the influence they have over who we were, who we are and who we will become. The ones that wounded us and the ones that taught us to love better.

And on a day when our jeans feel too tight, our chins have decided to embrace hormone-related acne reminiscent of our teen years, and our kids have tested the limits of our sanity, they are the ones who will look at us and say, "Nobody's cuter than you!"
Ever since I knew this new book would be about friendship, I had a dream. Granted, it's a lesser dream than that of Dr. Martin Luther King, but a dream nonetheless. I wanted a way for you to be able to share a picture of you and your best friend because, ultimately, this book isn't just about my life and my friendships but how our friendships make all of our lives richer and better.
To celebrate friendship, I'm kicking off a share your photo activity. I want to feature images of you and your dearest friend in the video clip trailer for my next book Nobody's Cuter Than You. So, get with your best friend and rifle through the hundreds of photos you have together to find that one special photo of the two of you (I would love to see old prom pictures or some bad hair. Don't be afraid to walk down memory lane because those are often the best.) – or go get your friend and snap that picture today! (Note: the photo that you submit has to be a photo you've taken – that you have the rights to use; so no perfectly photo-edited wedding photographer images, etc.) There will be 100 randomly selected photos which will be promoted and shared conspicuously via various social media activities and video recording(s) related to the TheBigMamaBlog.com.
Here's how you can enter your photo:
Email photos to [email protected]
– Include a subject line "Nobody's Cuter Than You Photo Share"
– Tell us about you and your friend. I love a good story. Please provide your first names and town where you met.
– In the body of your email, please include your name, date of birth, mailing address, and your email address so that we can reach you if your photo is chosen.
Or you can send your photos by regular mail.
To enter via this method, place your photo in a secure stamped envelope and send to the following address:

Tyndale House Publishers
ATTN: Nobody's Cuter Than You Photo Sweepstakes
351 Executive Drive
Carol Stream, IL 60188
(Photos will not be returned so don't send them this way unless you're willing to say goodbye forever.)
The Legal stuff:
– By email submission of the photo, you hereby agree to the Terms & Conditions. For full rules, click here.
– Entries may be submitted until midnight on October 31, 2014. Winner's photos will be chosen at random.
– As the content provider, by uploading the photo, you agree that you are the sole rights holder in the content provided, and that you have permissions from all individuals and/or parties depicted.
– You also waive all rights to the content, and you allow Tyndale House Publishers and thebigmamablog.com to use both the image and/or the likenesses of the individuals depicted in advertising, promotion, and publicity use.
– Any photos submitted will not be sent back to their original recipient and become the property of Tyndale House Publishers.
To kick things off, here are a few pictures of Gulley and me.
This is a picture from the Christmas formal where Gulley and I first really got to know each other. I think it's obvious she was drawn to my ability to create a hairstyle that was bigger than my sleeves.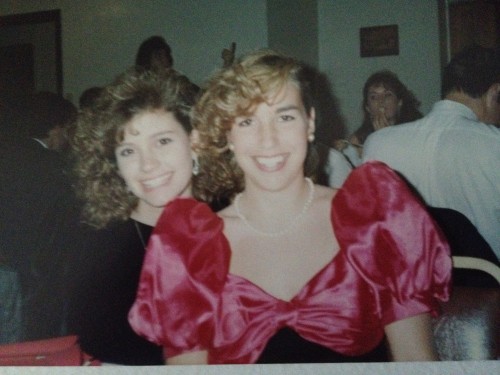 And here's one from a night in college when we decided it might be fun to swim in every fountain on the Texas A&M campus. This was before I really worried about things like bacteria in the water.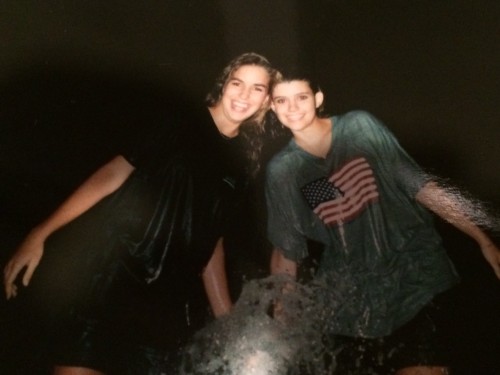 Finally, this is a picture of us on Gulley's 40th birthday and is one of my favorites.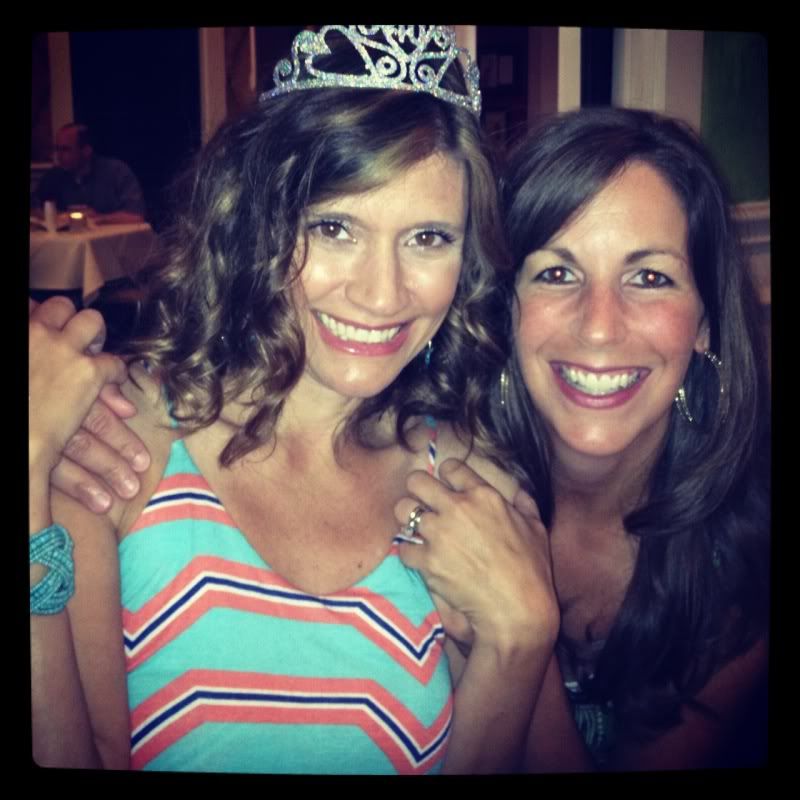 Just remember you have until October 31 to get your photos in. I can't wait to see them and to hear your stories. Hope you have as much fun looking through old photos as I did last night!