I'm going to go ahead and make a declaration right up front. I can't guarantee that I am going to be a faithful blog writer over the next three weeks because I have every intention of fully immersing myself in all the Christmas festivities and can't promise that on any given night I won't be in the throes of some type of sugar cookie/egg nog/mint M&M stupor. I need to give myself permission to enjoy it to the fullest before the New Year arrives along with all my striving to be a better person who eats vegetables and works out.
All that being said, I need to discuss a pressing issue.
I'm having some hair issues. Specifically, I have these little baby hairs that are growing in at a rapid rate along my temple. I regret to inform you that to add insult to injury, the majority of them are gray. And they don't really grow long. They just fill in and stick up all along my hair line. Which means I wake up every morning looking like a cockatiel.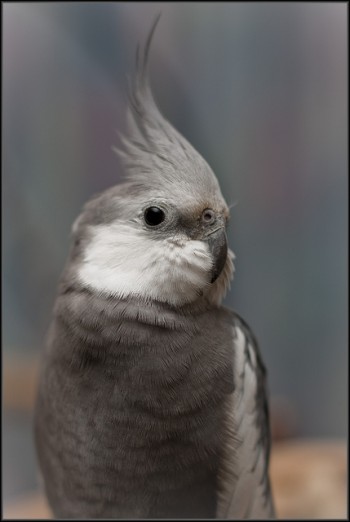 Actually, I don't look that good.
This is very reminiscent of the baby bangs I had during pregnancy so I'm assuming this is something along those same lines, except much more glamorous because these are apparently perimenopausal bangs. With any luck they come with a discounted subscription to AARP and a side of Metamucil.
The good news is I'm getting my hair cut and colored this week. I needed to have it done about a month ago but my fabulous hair person has been out on maternity leave and I totally mis-timed my hair situation leading to an abundance of gray and split ends right now. She won't be able to do anything about my cockatiel situation because she's only human, but at least I'll look like a brown cockatiel instead of a gray one after Thursday.
Also, speaking of glamour, something just really made our living room stink and P asked, "Is that you or one of the dogs?" What I'm saying is don't hate just because romance and mystery are alive and well at my house.
In other news that may confirm this is becoming a blog for the elderly, I went to the dermatologist today. I initially made the appointment because I have a touch of the rosacea and some discoloration, but I've also reached the age where people need to have things cut off that look suspicious. Fortunately, she didn't see anything that looked too suspicious today because I wasn't really up for being sliced up before Christmas. Or ever.
And so that's what's been going on around here.
P was at the ranch this past weekend and Caroline and I did a whole lot of not much. Last week felt like it lasted for a sweet forever and so it was nice to have no schedule or pressing commitments and just spend a lot of time in our pajamas watching movies. I have to say we excelled at it. Which made Monday morning that much harder.
But now we're on the downhill slide to Christmas break. Caroline has three and a half days left of school and then we are officially on vacation and free to make cinnamon rolls and toffee and stay up way too late.
My gray bangs and I can't wait.
Copyright secured by Digiprove © 2014