On Thursday night we were going to bed and P remarked that our bedroom didn't seem as cool as it usually does. And, yes, we had our air-conditioning on because the weather here is already to that point and we like our room really cold when sleep. We are the people who will crack our bedroom windows open when it's 28 degrees outside and never have the heat on at night.
You know the Polar Bear Club where people go jump in freezing cold water as an activity? We are like that but with sleeping. Maybe we'll make t-shirts. The Polar Bear Sleeping Club.
Anyway, we'd had some A/C repairmen come out in December to look at it and they told us then that it was on its last legs and would need to be replaced sooner rather than later. But we opted to wait it out because you know what's more fun than spending money on a new air-conditioner? Basically, everything.
But we realized Thursday night that its lack of cooling properties was concerning and agreed we needed to call a repairman to come look at it. So I spent all Friday morning waiting on the repairman to show up and they looked at it and said our options included spending a lot of money to fix a really old unit or spending a lot of money to get a brand new one. We chose the second option and so the sales team came out to the house to give us the run down on all that is new in the air-conditioning world since the last time we bought one.
Here's one big thing, the EPA is all in your air-conditioning business now. There are all manner of rules and regulations and terminology about energy-saving and the ozone, but P and I were only concerned with the bottom line which for us was which one would make our home feel most like an Igloo cooler.
And so we decided on the right unit for us and even went for the bonus clean air option which is supposed to help filter allergens and odors and help us live more like we're John Travolta in that Boy in the Bubble movie. Plus, we're finally pulling the trigger on some radiant barrier paint in the attic. If you've read The Antelope in the Living Room, you know that P has long dreamed of better insulating our attic from the heat and that day has arrived. According to the literature, our attic will never get over 85 degrees no matter how hot it gets outside. I may turn it into my home office up there, just me and the "squirrels" who occasionally infiltrate to chew on some stored Christmas decorations.
The best part was they agreed to come install it on Saturday because we had friends coming in from out of town on Sunday and didn't want them to deal with our lack of proper air-conditioning. So they arrived at our house at 8 a.m. Saturday morning. P had already been up for hours but Caroline and I were still in bed. In fact, she had crawled into my bed with me.
All of a sudden I heard Piper and Mabel going crazy and I knew this didn't bode well for the poor A/C installers in our backyard. P didn't realize the men were just going to walk in our backyard in spite of being warned we had dogs and they clearly couldn't have imagined that Piper and Mabel tend to view a kid riding his skateboard past our house as a viable threat so two large men entering our backyard unaccompanied was like their best dream come true. It was as if all those hours of patrolling the backyard in search of men with beards and hats had finally paid off.
P ran outside to get the dogs and bring them in, but there were people coming in our house as well. So the only real option at that point was to let them in the bedroom where Caroline and I were sleeping. And when I tell you it was like we were attacked by two Tasmanian devils, I'm downplaying the situation.
They came tearing in, ears flapping and covered in mud, and LEAPT into the bed. I'm pretty sure Piper landed on Caroline's head. I can't remember ever having a more jarring wake up call. They were all keyed up on the adrenaline of having just saved the family from the air-conditioning repairmen and began jumping down from the bed and jumping back up and rolling around while I tried to wake up enough to remember who I was and where I was and why I had a dog licking my face.
I grabbed my robe and wrapped it around me as I got out of bed and tried to get some control of the situation. By that point P realized they hadn't just calmly walked back in the room and gotten in their doggy beds and so he'd come in to help. I noticed Piper chewing on something and realized she'd helped herself to a couple of the Halls cherry-flavored cough drops I keep by my bed, meanwhile Mabel had completely buried herself under the covers and Caroline was loudly proclaiming, "I JUST WANT TO GO BACK TO SLEEEEEEP!"
It was all very calm and peaceful. Just like a rainy Saturday morning is meant to be.
The good news is we are now the proud owners of a brand new air-conditioning system which falls solely in the category of adult purchases that are absolutely no fun but totally necessary. My thoughts are best summed up in this photo.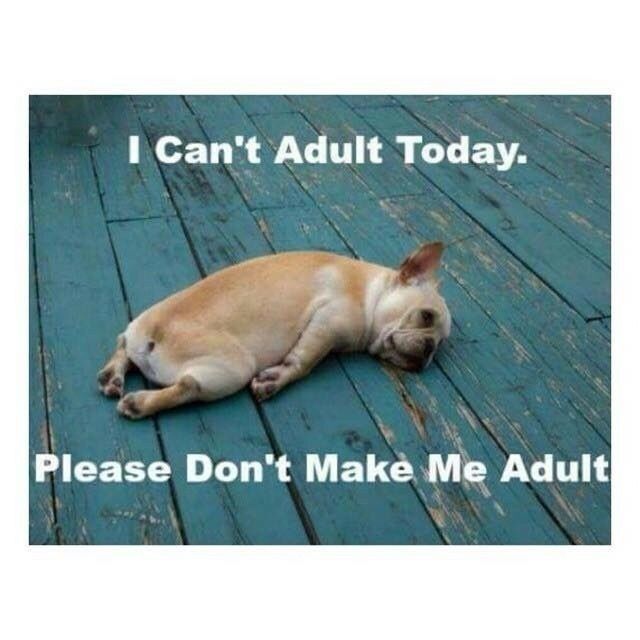 If you happen to be in my house some time, it'll make me feel a little better about it if you maybe mention how nice and clean and cold it feels.