My legs had their first outing of the year this weekend. Although I guess I don't really mean my legs because my legs have gone everywhere with me all year long. I mean my legs in shorts. And so I apologize to anyone who was blinded by their whiteness. I'm a little behind on my self-tanning game because it stayed cool so much longer this year than it usually does and so I was a little unprepared for the warm temps this weekend.
But now I'm aware that the time for self-tanner has come, mainly because I also have my first shorts tan of the year which matches nicely with the sunburn I have just on my forearms thanks to the three-quarter sleeve shirt I wore with my shorts to Caroline's soccer game on Saturday. It's going to take some dedication to even this whole thing out.
Anyway, we had ourselves a nice little weekend around here. It began on Friday when P's long-awaited dream of having radiant barrier paint sprayed in our attic was realized. Yes, that's right. Men came and sprayed our attic with some sort of paint that is allegedly used in the space shuttle even though I guess not anymore since we aren't sending any more people to the moon. That just means more radiant barrier paint is available for attics everywhere. I know this comes as a huge relief to us all.
P and Caroline went to watch the high school girls in a playoff soccer game that evening and we were all so wiped out from the week that I'm not sure we even stayed up until ten. It's a good thing Friday Night Videos doesn't exist anymore or I would have totally missed out on the new Madonna video.
We had a lazy Saturday morning before we headed out to Caroline's soccer game. Every game she'd had up to this point this spring required me to wear my puffy coat and a scarf, so I was thrilled to sit out in the sunshine even though I'm out of sunshine practice which is how I made the rookie mistake of getting a terrible shorts tan. But the game itself was awesome. Caroline played her heart out and even scored the first goal. I attempted to take several pictures, but the sun was so bright that I couldn't really tell what I was taking pictures of and so I basically ended up with fifteen pictures of girls on the team who aren't my child and just one decent one of Caroline if you use the word "decent" loosely.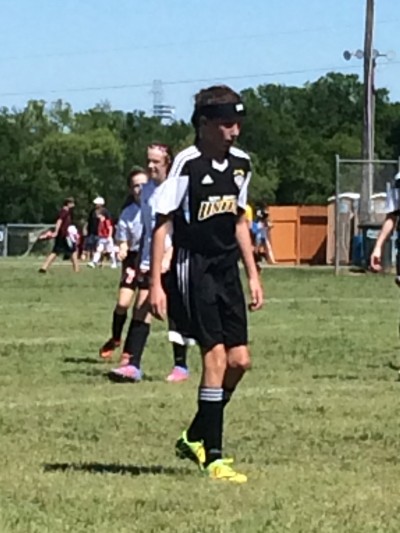 After the game we all came home and showered and then Caroline went to dinner with Mimi and Bops while P and I went out on a date. We tried a new Cajun place we'd been hearing about called The Cookhouse and we give it a thumbs up in case you're looking for Cajun food in San Antonio. We had to sit at the bar because we didn't make reservations, but had a great time and thought the food was really good.
Then on Sunday afternoon Caroline was working on some homework for school and you cannot even imagine the amount of grievances she was airing as she declared she had searched for the median household income for Japan on the internet and didn't find ANYTHING. I finally had enough of it and said, "Just type that exact phrase into Google and a million things will come up. You have NO IDEA how easy you have it. When Dad and I were in school we'd have to get out the "J" Encyclopedia to look up Japan!"
We also had to walk barefoot to school. In the snow. Uphill. Both ways.
So this led to a whole discussion about what an encyclopedia even was and I had to explain it was a large set of books that we kept on our bookshelves next to our record albums and 8-track tapes.
Gulley called me a little bit later because I had plans to go over to her house and look through her old photo albums (Y'all. I can't not even deal with how hard we laughed over some of these pictures. I'll be sharing some in the next few days and weeks and I just ask that you keep in mind those were dark times when we all wore jeans way above our belly-buttons.) and I told her what I said to Caroline about the encyclopedias and she said, "YES! And we didn't even have a set at my house so I had to go to Nena and Grandaddy's to use theirs and they were so out of date!"
And that made me remember that the set I used up until I was in high school was the same set my Me-Ma and Pa-Pa bought for my dad. I couldn't use them to write a report about the Vietnam War because it hadn't even happened yet. And I couldn't research John F. Kennedy's assassination because according the encyclopedia he was a U.S. Senator.
So you know what I don't want to hear from my kid who has access to all the information in the ENTIRE WORLD at her fingertips in a matter of seconds? That she can't find the median household income of Japan.
It happens to be $25,600 in case you're wondering.
Hope you had a great weekend!
Copyright secured by Digiprove © 2015