I hope you all had a great Easter weekend. My only complaint is that it went by too fast. I could use about two more weeks of downtime but, considering that I have a new book that releases TOMORROW, that doesn't appear to be a reality in my near future.
On Friday morning, we got up and relaxed a little bit before we got Caroline ready to head to Austin for her best friend's birthday party. They were going to iFly which is an indoor skydiving type place and she's been super excited about ever since last year when she had to miss the exact same outing because she came down with a stomach bug the night before. And you know what isn't a great activity post-stomach bug? Indoor sky-diving.
As soon as they picked Caroline up, I started cleaning the house a little bit and may have watched an episode or two of Friday Night Lights and then eventually got out to run some errands. Specifically, I needed to find Caroline some sandals to wear on Easter. Which is how I ended up needing to return five pairs of sandals on Saturday afternoon.
I also took advantage of the quiet house to record a new podcast with Sophie. As usual we discussed new beauty treatments including using frankincense as in the three wise men brought baby Jesus, mascara, the resurgence of cauliflower and flare jeans.
You can click here to listen. Or here. You can even listen right here.
Or, as always, you can subscribe on iTunes
We picked up Mexican food on Friday night because we didn't feel like getting out and then on Saturday morning P loaded up the dogs and he and Caroline picked up her friend and they headed to the ranch for a day of fishing and just hanging out. R had never fished before so she was super pleased with her big catch of the day.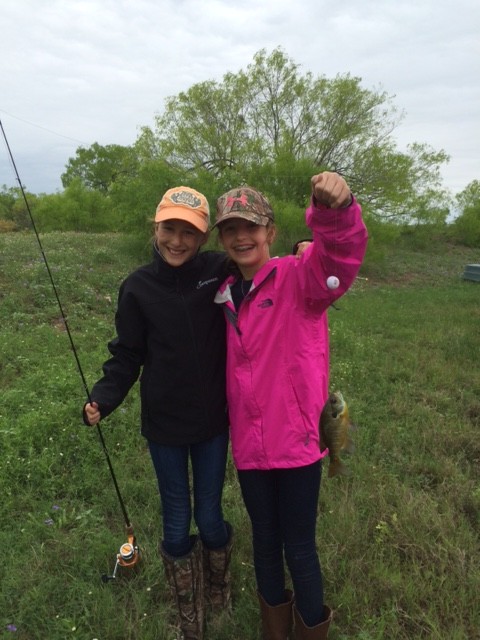 Meanwhile, I ran to the grocery store and got things ready here for Easter brunch on Sunday. And I also may have watched a couple of more episodes of Friday Night Lights.
They got home later that evening and picked up dinner on their way into town. Then, after dinner, we all dyed some Easter eggs.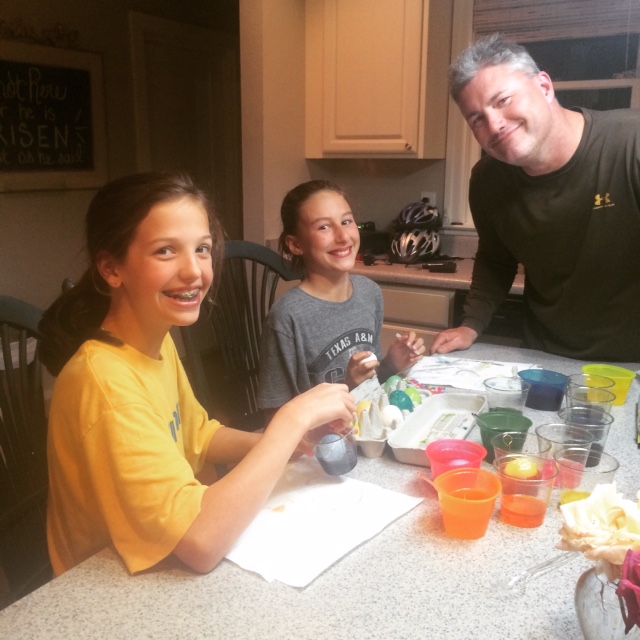 It's safe to say that our efforts wouldn't win any contests or be anything people would pin on Pinterest, but we had fun and managed to not ruin the countertops with Easter egg dye so that felt like a win. At one point I told Caroline we needed more pink eggs and she said, "You've gotta let the creativity flow, man" in a voice that indicated she stopped just shy of giving me a peace sign.
On Sunday morning we woke up to see what the Easter bunny brought. And Mabel helped herself to a few leftover carrots that the bunny had left behind. She also tried to get a chocolate egg, but we caught her just in time.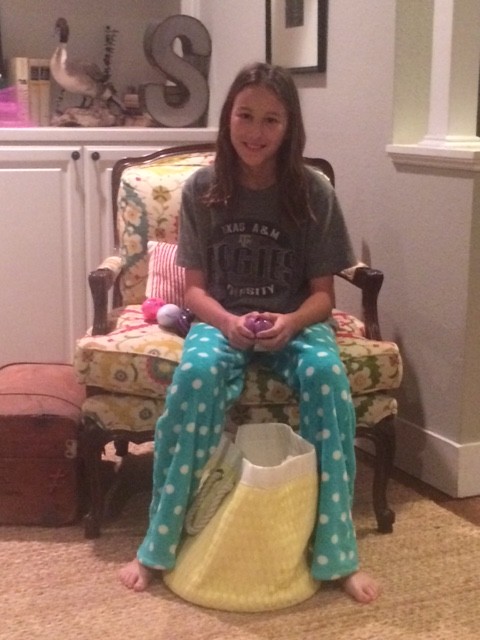 The Easter bunny also brought everything in a large bag this year because I might have been overzealous during a clean out earlier this year and thrown out all our Easter baskets. So the bunny had to run to Michael's to choose from what was left in the way of baskets at 5:00 p.m. on Saturday evening.
(This is also when I made one last trip into Nordstrom Rack to see if I could find a shirt for P. I found one that was hot pink and white gingham but just didn't know if he'd wear it. Fortunately, he texted me from the ranch right about that time and so I sent him a picture and asked if he'd wear it. He immediately texted back "yes" with no sarcastic comment included and, while I was surprised, I took it at face value. Of course later that night when I showed him the shirt in person, he admitted he'd thought it was red but agreed to wear it anyway.)
Anyway, we went to church and then came home and my sister and her family and Mimi and Bops all came over for Easter brunch.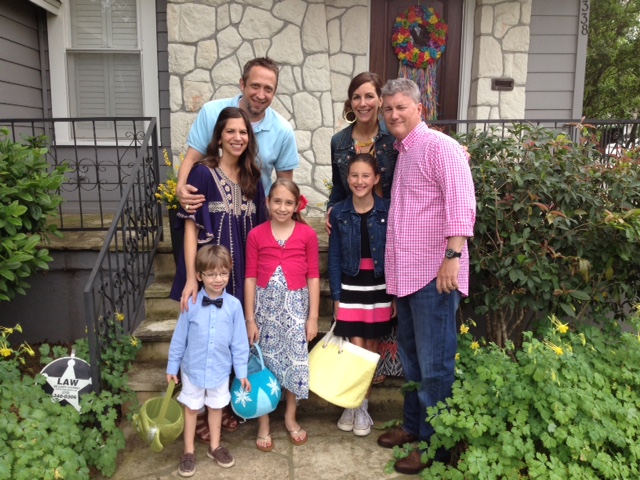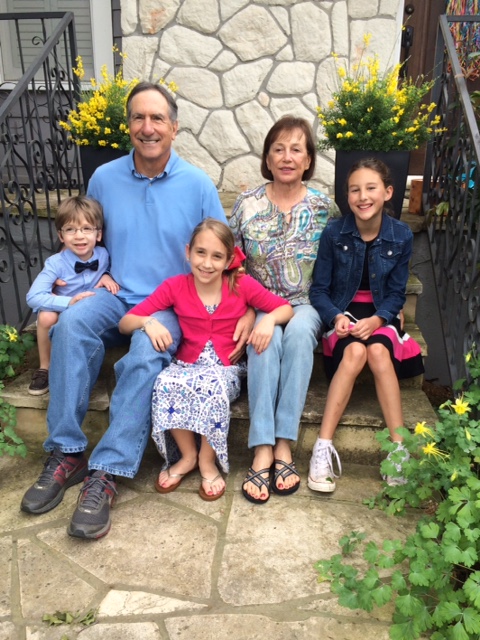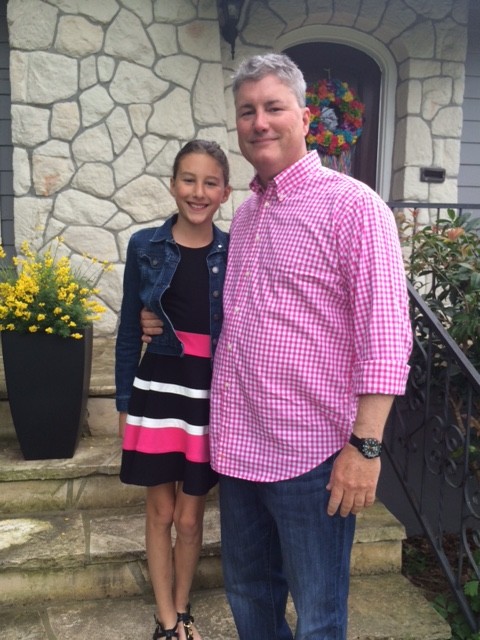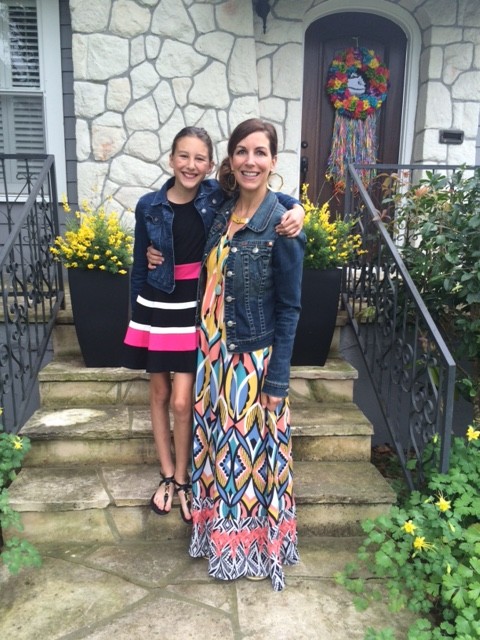 Please note that Caroline started off in the sixth pair of sandals I brought home. They made it through church and a few photos but were immediately switched out for her high-top Converse in time for the Easter egg hunt.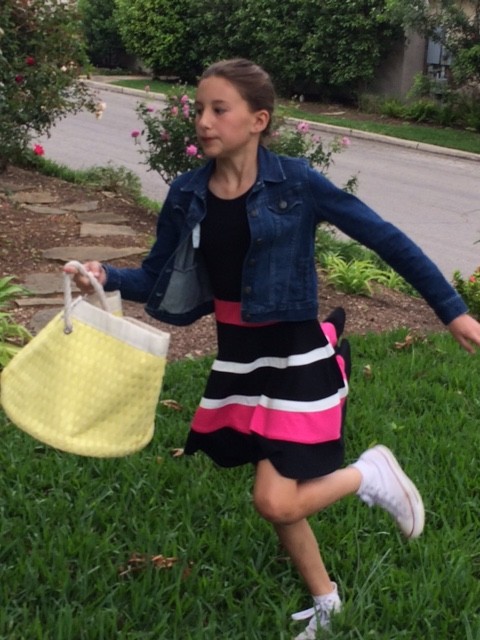 Because sometimes a girl needs to be able to run without being hindered by a sandal.
Especially when there's chocolate at stake.
Hope you all had a great Easter! I'll be back tomorrow with all manner of book release day excitement and giveaways!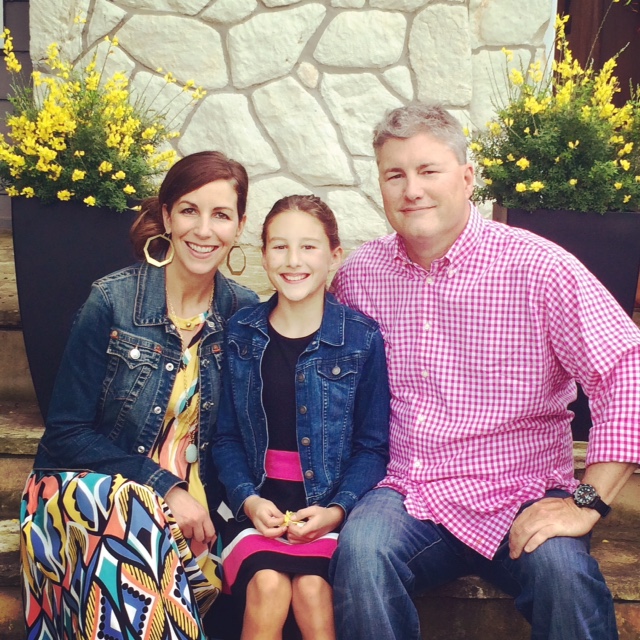 Copyright secured by Digiprove © 2015