Last Thursday, P headed down to South Texas with a group of men from our church to help rebuild a church that was damaged by Tropical Storm Dolly.
Or was it Hurricane Dolly?
I can't remember. Poor Dolly was the second runner-up in the Hurricane race this year and no one ever remembers the second runner-up.
If you don't believe me, ask anyone who has ever been one.
When P called home on Friday night, he mentioned that they had attended a dinner for the National Rifle Association.
Church group, mission trip, NRA.
It's like a bad right-wing cliche'.
Anyway, I helped host a baby shower on Saturday night so I was literally walking out the door to go to the shower as P was coming in from his trip. He said he was exhausted and would probably be in bed by the time I got home.
I arrived home a little after 9:00, set my purse down on the kitchen island, looked up and saw this hanging on the wall.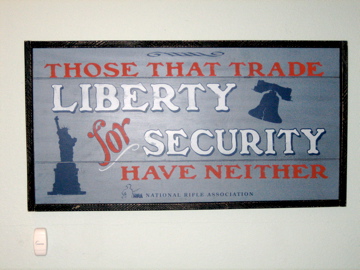 Where am I? What is happening? Did the ghost of Charlton Heston come to call?
Apparently, P failed to mention that he was a big winner at the NRA banquet.
And considering the prize, I am playing fast and loose with the word "winner".
I walked into the bedroom and he was still awake.
"What is that thing hanging on our wall?"
"I won it!"
"I'm not sure 'win' is the word I'd use."
"I thought I'd hang it in the kitchen."
"Why do you hate our kitchen?"
We went to bed with the "art" still hanging on the kitchen wall because we've been married for eleven years and, clearly, P knew it would be relegated to the backhouse within 24 hours. He even bet our associate pastor that it would take me less than three seconds to notice that he'd hung it on the wall.
He underestimated me by a half second.
Yesterday morning, Caroline woke up and came into the kitchen. She immediately noticed the new picture and started to cry, which gives me great hope for her future in art appreciation.
But the main reason she was upset is because this is what normally hangs in that spot.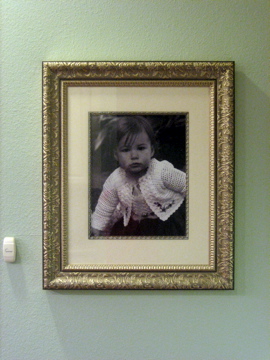 So as she began to cry she said, "But where is the beautiful picture of me?"
The good news is she appears to have both liberty and security.
The NRA would be so proud.