So remember about six weeks ago when Piper got spayed and the vet called me to let me know she was a non-compliant patient and I should probably come pick her up earlier than planned? And so I did and just chalked up Piper's nervousness to the fact that she'd basically had what was a surprise hysterectomy and wouldn't we all be a little out of sorts if someone surprised us that way? As it is, we have our whole lives to prepare for menopause and it doesn't seem to make that process go any smoother from what I can gather.
And Piper had never been at the vet without her sister or been for an overnight stay other than when we boarded her and Mabel last summer, whereas Mabel has had various stays at the vet due to her penchant for chasing down a pack of javelinas and overestimating her size.
But it did begin to occur to me that we might need a better option for boarding the sisters now that they are full grown dogs and not puppies like they were last summer. And so I've spent the last month or so doing some research to see what options might be available. Several people, including our vet, recommended a certain doggy daycare/boarding facility and so I scheduled us for a trial visit.
Our interview/orientation was yesterday morning and I had HIGH hopes about how well the girls would act. A new dog park just opened in our neighborhood about two weeks ago and I have been pleasantly surprised at how well they have played and interacted with their fellow canines each time we've visited and so I – FOOLISHLY – thought this would translate into them being awarded STAR CAMPER at the doggy camp.
I will tell you that things went awry from the very beginning when Caroline and I had one heck of a time wrangling them out of the back of my car and into camp. Piper somehow wrapped her leash around my legs and I fell. On the concrete. Fell. As in I skinned my knees, my hand and an elbow. It was at this point that I began praying the camp counselors couldn't see what was proving to be a very inauspicious beginning to Piper and Mabel's camp experience.
We eventually got the girls through the door and into the check in area. They checked all our paperwork, asked a few questions which I answered very optimistically, and then told us they would take it from here and the girls were welcome to stay all day. "No news is good news!", chirped the camp counselor as I limped toward the exit, nursing both my skinned knee and my pride. "But we'll call if there's any problem!", she added.
Caroline and I drove back home, I poured myself a cup of coffee and not even ten minutes later my phone rang. It was the camp. "Um. Mrs. Shankle, Piper and Mabel are not really responding well to the camp environment. They are very stressed out and we haven't even been able to work with them to the point of introducing them to their fellow campers."
I asked, "So should I come get them? Do we give it more time? I'm happy to do what you think is best."
She replied, "I think it's best if you come get them now."
And so that's how my girls got expelled from camp.
I made the drive back to the camp to pick them up and I swear Mabel was smiling at me as she trotted into the check out area. Mabel and Piper 1, Camp Counselor 0.
They didn't appear to be traumatized at all, although by the time I got them back home they did exhibit some signs of shame. Piper kept giving me the side eye.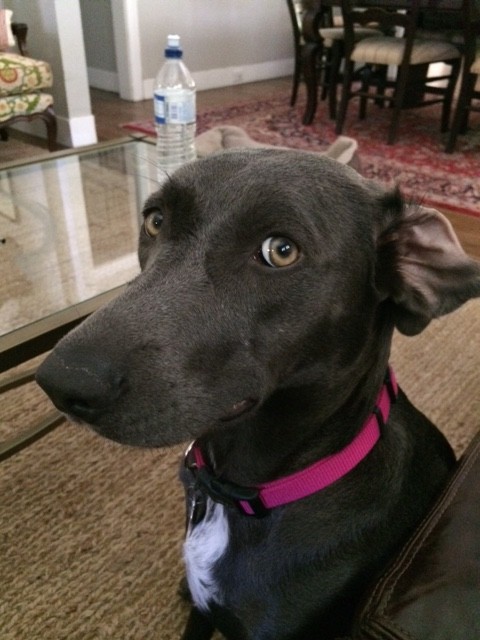 And Mabel curled up in her bed and wouldn't even look at me.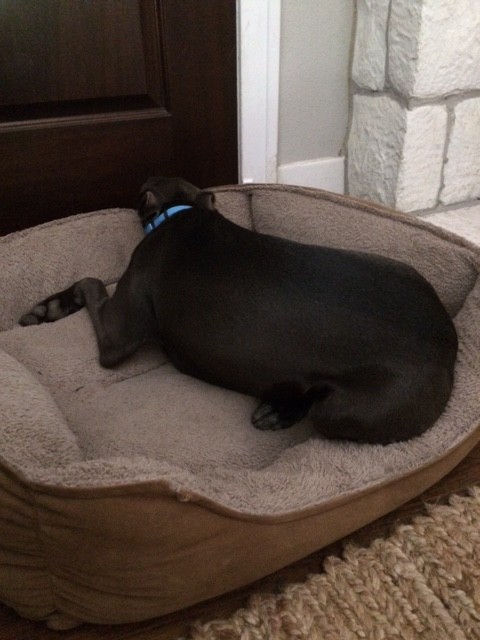 Of course later I discovered she'd been busying writing some haikus in her journal.
Camp could not be worse
I have no need to make friends
Didn't even get s'mores
Billed as summer fun
Lying liars telling lies
Pack my bags, I'm out
But in a sign that this camp experience brought out her most creative side, Mabel also changed the lyrics to the classic Hello Muddah, Hello Faddah and composed her own version.
Hello muddah, hello faddah
Here I am at Camp Bow Wowdah
Camp is very, very draining
And I would rather be in my own backyard even if it's raining
I went hiking with a terrier
Wished to bite him in the derriere
You remember I hate shepherds
There's one here that thinks he's faster than a spotted leopard
All the counselors smell like biscuits
And the kitchen has no triscuits
And the head coach has a shitzu
So he thinks we should all just do what he do
Take me home, oh muddah, faddah
Take me home I hate Bow Wowdah
Don't leave me here with just my sister
I even miss Scout and he's not my favorite mister
Take me home, I promise I will not make noise
Or mess the house with all my toys
Oh please you hold the power
And I managed to get kicked out within an hour
And I appreciate her ability to write some catchy lyrics, but it still doesn't solve the problem of where they can stay this summer when we go on vacation.
Copyright secured by Digiprove © 2015