In case you're wondering if we are full up on Christmas merriment around here, then let me tell you about how we've spent the last week and half trying to figure out if something had died in our walls. And by something, let's just say I was telling myself it was a squirrel because the alternative, frankly, wasn't a train of thought I wanted to pursue.
It actually all started about two weeks ago when I detected a faint smell of unpleasantness in the laundry room. I mentioned it to P and he determined that it was Caroline's soccer cleats. This will make total and complete sense to you if you've ever had a child who plays sports. Our days of "sugar and spice and everything nice" have been replaced by "hot garbage smell isn't so swell".
So we bleached her cleats and placed them in the hot sunshine to air out, yet the smell in our laundry room continued to get worse. In fact, it made it's way to Caroline's closet which is in the same proximity of the house as our laundry room. Our house is pier and beam foundation and it's not unheard of for various rodents to meet their maker from time to time under our home. These are always squirrels. ALWAYS. Do not tell me differently or I will have to put my fingers in my ears while singing "LA, LA, LA, LA" until you quit talking. And so P crawled under our house in search of the smell but didn't find anything which is when we reached the tragic conclusion that something had chosen to die in our walls and we'd just have to let nature take its decompository (this is not a word, but I'm going with it) course while keeping plenty of candles lit and the air vents constantly blowing in our house.
And really nothing says it's Christmas time like the smell of a fresh, pine Christmas tree combined with the rotting stench of a dead squirrel.
The problem was the smell seemed to be getting increasingly worse and was spreading throughout our house. P crawled back under the house on Sunday afternoon to have another look around and that's when he discovered that the pipe connecting to our kitchen sink had come loose. For those of you not doing the math in your head, that means that every thing we were washing down our kitchen sink was ending up under our house and then staying wet. This is what some people may refer to as a yuck cocktail.
Since our plumber couldn't come out until Monday morning, we opted to spend the next eighteen hours not using our kitchen sink lest we make the problem worse. You know what's super convenient? Not being able to use your kitchen sink. We actually resorted to washing some silverware in Caroline's bathroom sink like savages. And it did dawn on me that maybe feeling like you must have distinctly separate sinks full of fresh, running water to serve different purposes might fall solely into the first world problem category.
Anyway, the plumber fixed the pipes and dumped a box full of kitty litter under our house to dry the whole thing out and absorb the smell and it's already significantly better than it was eight hours ago. You can actually walk into our laundry room without wishing you didn't have a nose.
In other news, I did have a really fun weekend in spite of the house issue. It was the annual Christmas shopping weekend for Gulley and me and I knew it was going to be fun when I pulled up to her house to pick her up on Friday afternoon and she was sitting out by the curb with her suitcase and wearing these glasses.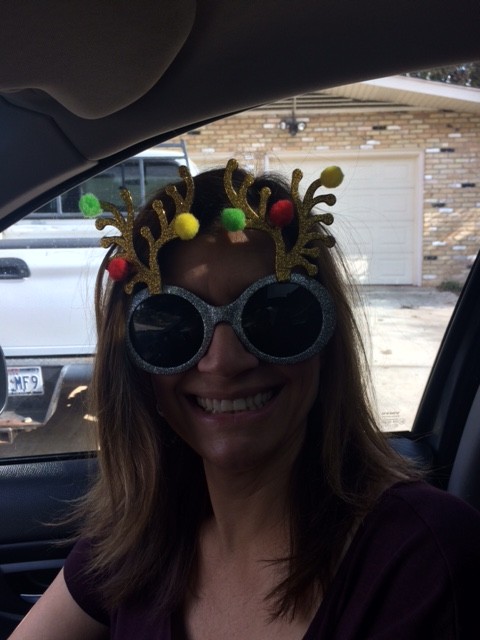 We'd just flown home from Dallas that morning after a quick visit to see Jen and managed to get a second wind and spend most of the day shopping in spite of the fact that Lincoln woke us up in the time honored manner of four-year-olds everywhere by walking into our bedroom at 6:45 a.m. and flipping on the overhead light while yelling, "GET UP, AUNT MARSHMALLOWS!" (That's what he's taken to calling us. We are both Aunt Marshmallow.) And he comes by his soft and subtle wakeup technique honestly because I'm pretty sure that's exactly how his mother used to wake us up when we were roommates in college.
Gulley and I started at Nordstrom, worked our way through La Cantera, Dick's Sporting Goods, Academy and Target before finally calling it a day and rewarding ourselves with pizza and wine at one of our favorite spots. And then we were up and at it again Saturday morning after making a comprehensive list of everything we still needed to do. Normally we spend the whole weekend at my house, but P and Caroline came home on Saturday and so we opted for a hotel on Saturday night which was kind of a fun change but meant that we weren't able to get our presents wrapped. So we are scheduling the wrapping portion of our tradition for another day sometime between now and Christmas Eve.
On Sunday morning I met P at church which was when he told me about the declining smell quality of our house and then spent the afternoon catching up with my people and cleaning out the laundry room since we'd torn it all apart anyway looking for a possible smell source.
Speaking of smells, the oranges on our orange tree are ripe so Caroline picked some after school on Monday. She was peeling one to eat and I told her to save the peel so I could put it in the disposal. She asked why and I said, "Because orange peels have a lot of natural oils and it'll make the house smell good." To which she replied, "Looks like somebody is embracing their inner hippie."
Which totally explains why age twelve might be my new favorite.
One last thing since I talked about visiting Jen. She was a guest this week on the God Centered Mom podcast and did such a great job of telling her story. So many of you have been so faithful to pray for her and I thought you might enjoy listening to it all in her words. You can find it here.
Copyright secured by Digiprove © 2015