I'm going to be totally honest with y'all today and say that I just don't have much funny in me at the moment. In fact, I feel a little bit like I'm having the missionary version of post-traumatic stress syndrome, but without the trauma or the stress.
If I had to compile a list of my talents it would probably be a short list. However, chief among my gifts would be my ability to compartmentalize certain things. If there is something I don't want to think about or talk about, then I just go all Scarlett O'Hara and decide I'll think about it tomorrow.
Yesterday I had the opportunity to speak to a group of high school students about Compassion and my trip to the Dominican. I've spent the last few days reading back over the posts that all the bloggers wrote about the trip and then this morning I googled "Everett Swanson" who is the man that founded Compassion back in 1952.
The last night of our trip, Shaun told us the story of how Compassion came to exist. The short version is that Everett Swanson was an American evangelist who went to Korea during the Korean War to minister to the troops. While he was there, he began to notice all the orphans everywhere. They were huddled in doorways trying to stay warm and starving to death.
One morning he saw a sanitation truck driving down the street. The workers would jump off the truck, kick what appeared to be piles of rags and then throw them in the truck. It turns out they weren't just piles of rags; they were orphans who didn't make it through the night being thrown away like garbage. Everett Swanson knew he had to do something.
Because of his commitment, Compassion is now in 24 countries and sponsors over a million children.
I shared that story with the high school students, along with my personal experiences from the trip.
After I was done there, I drove out to my church to record a short video where I was interviewed about the difference Compassion has made in countless lives.
Needless to say, yesterday was like the Big Mama Compassion Tour '08. (Not coming soon to cities near you!)
Last night, as I drove to meet some friends for Mexican food, my heart was so heavy and I could feel tears right below the surface. I don't know if it's because I had talked about it all day or if it's just taken this long to sink in, but I just felt a heavy weight of sadness settle over me.
It's a strange experience to see everything we saw that week, the extreme poverty, the sadness, the presence of hope in spite of the bare minimum of material possessions, and then come back to America at a time when everyone is freaking out about our economic crisis and big industries are requesting multi-billion dollar bailouts.
We're a week away from celebrating Thanksgiving, which should be a time to reflect on our many blessings, yet we're inundated by Christmas catalogs with the sole purpose of making sure we want more than we already have.
Caroline and I look through the catalogs while she picks out what she wants Santa to bring on Christmas Eve and then I'll feel guilty because do we really need any more toys in her already packed playroom?
Do I really need any more clothes in a closet full of things?
What's the balance between my reality and the reality of the kids in the Dominican Republic?
Why do I have moments where I fully realize I've seen the worst and yet still have moments where I feel discontent with what I have?
Am I an idiot?
Don't answer that. It's intended to be hypothetical.
Most of all, I can't get this precious girl off my mind.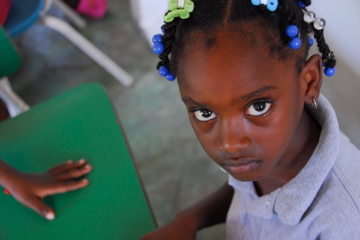 Because the one question she asked me was, "Can I go home with you?"
And two weeks later I'm still wishing I could have said yes.