So we had a big Thanksgiving weekend around here and I'm not just talking about my new jeans size. Although I could be, considering I managed to finish off the last of the leftover dressing and broccoli rice casserole without much, if any, assistance.
What can I say? Starch = YUM
You can't fight culinary science.
On Thursday, we went to Mimi and Bop's house for Thanksgiving lunch where we ate until we were stuffed. And then had dessert.
This picture was taken before all the eating because I had no desire to repeat Thanksgiving '05 when Caroline sat on my lap and declared "My mouth feels funny!" right before she lost her lunch all over me.
Boy, was that good times.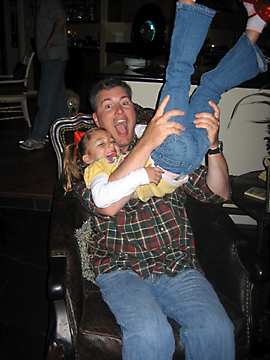 After lunch we went outside to play some made-up version of basketball/dodgeball/hot potato. It doesn't really matter what you call it as long as you know that Caroline is free to change the rules at any given time and you have to stand exactly where she tells you to.
It's a good thing she's cute.
And that I was high on ice box pudding.
We finally headed home and Caroline declared it "The BEST Thanksgiving EVER!"
And it was.
Until I started watching the football game that night.
If you're not sure what game I'm talking about then you must be new here. Welcome. I hope you'll stay.
The Aggies.
I haven't talked about them much this year because, let's be honest, there just isn't much to say. Actually, there's a lot to say but I try to keep it family-friendly around here.
Before the game, I thought I had managed my expectations. I mean, we lost to Baylor (Seriously? Baylor?) by 21 points. That's THREE touchdowns for those of you keeping score at home.
And when you lose to Baylor, you really can't expect that you're going to hang with the #2 team in the nation. (#3 now, suckers) I knew this in my head, but I couldn't accept it in my heart.
So I watched the game filled with hope. Hope that lasted until I realized that we had exactly -1 yard of offense, which doesn't really equate to winning football games.
P sat quietly in support next to me while I watched because I believe he could sense my internal sadness. Or maybe it's that he could hear me sobbing as I curled up in the fetal position and yelled that I liked Jesse Palmer better when he was on "The Bachelor".
Whatever.
I'm over it.
The good news is that, with the exception of Mike Sherman's Unfortunate Series of Events, we had a great holiday weekend filled with plenty of friends, family and food.
Of course the part about the food is debatable. I'll let you know how much I loved all that pudding when I hit the elliptical machine on Tuesday morning (Why start today?) because I promise on a stack of starches and non-complex carbohydrates that I am resuming my workout program this week.
Although can you say "resuming" if it's been longer than eight weeks?
Let's just say yes.