**** Edited to add: The Giveaway is now closed and the winners are being notified by email! Thanks, everybody, for participating! ****
So I haven't really mentioned this but we are getting new kitchen cabinets. I'd hoped it was all going to happen in mid-October but life happens and now my kitchen will be completely torn up for Thanksgiving. Timing is everything.
But it kind of works out because we eat Thanksgiving at Bops and Mimi's house and my contribution is always a pecan pie and I think I can still cobble that together and then bake it in their oven when we get there. I'm just hoping it will be all finished by early December so I can bake cinnamon rolls and make Chex Mix and all that Christmas hoop-de-doo.
Anyway, P and I were doing some of the demo of the cabinets last night because we are basically like Chip and Joanna Gaines except we don't live in Waco and we're not that cool. I let Piper and Mabel in while we were in the midst of this process because I clearly had a lapse in judgement. They were very excited by all the chaos and the breaking apart of countertops and cabinets and began to run back and forth through the house. I realized a few minutes later that it had gotten very quiet and I walked into our bedroom to discover Piper and Mabel up in our bed. This is not allowed.
Not only were they up in our bed, but they had completely disemboweled the comforter that P sleeps under every single night. There was stuffing and fabric everywhere. They were very pleased with their accomplishment. It was almost better than finding abandoned cupcakes at the park.
(Yes, P sleeps under his own comforter. We have a temperature/blanket weight issue and have slept under separate covers for the entirety of our marriage with the exception of the first two weeks when we were trying to be polite.)
(Also, the dearly departed comforter was a twin comforter that I used throughout college. So I feel that it had a more than adequate twenty-five year run.)
Mabel did write a haiku about it though:
Don't tell me no no
You destroyed the kitchen
I ate a blanket
She has a valid point.
Here are five things, including a fun giveaway, for today:
1. Luke's Diner Paper Coffee Cups Giveaway!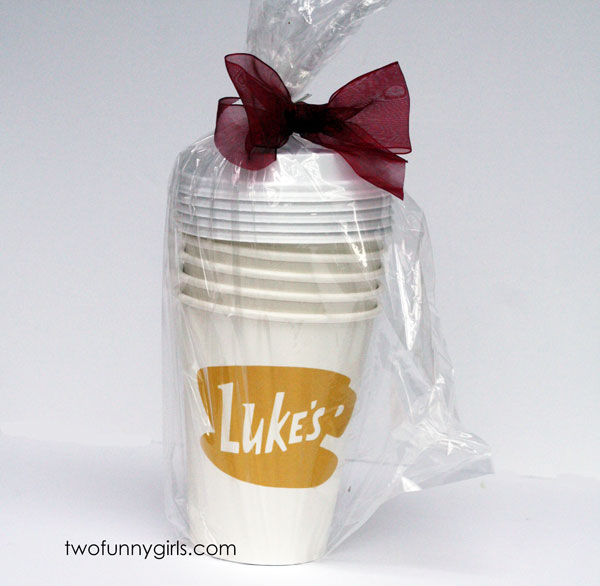 Just in time for the November 25 premiere of Gilmore Girls on Netflix, I am giving away these darling Luke's Diner paper coffee cups. They are the perfect item for all your Gilmore Girls watching and coffee drinking. 5 winners will get a sleeve of 5 paper cups.
All you have to do for a chance to win is go follow Two Funny Girls on Facebook or Instagram and then leave a comment here letting me know you did or that you follow them already or that you would totally follow them but you don't have Facebook or Instagram.
They have so many cute personalized party goods that would make great gifts or items for entertaining, assuming your kitchen isn't torn up.
If you are a San Antonio local, then this is for you. Holiday Traditions has a Christmas tree lot that will be open beginning November 26th at 3700 Broadway Street. You can go there, pick out your tree and then schedule a day to have it delivered. As in to YOUR HOUSE.
I think this is essentially the greatest thing ever because you know what's more fun than trying to unload a Christmas tree by yourself? EVERYTHING.
3. Jamie Ivey's 2016 Holiday Gift Guide
I loved this holiday gift guide from Jamie Ivey. It's full of tons of great gift ideas from unique businesses. It helped me check a lot of things off my list.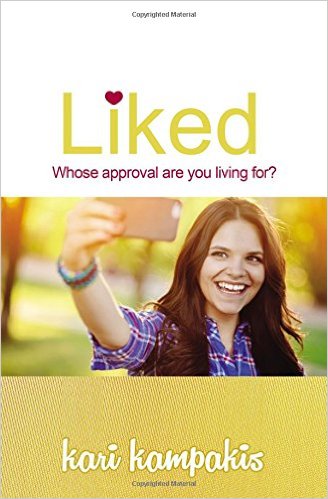 Kari Kampakis is the mother of four daughters and I admire her so much. She is so full of wisdom about the challenges that teen girls face and this book is all about the importance of remembering that we don't live for the approval of others. I can't recommend this book enough if you have a tween or teen girl in your life.
5. Unseen: The Prince Warriors 365 Devotional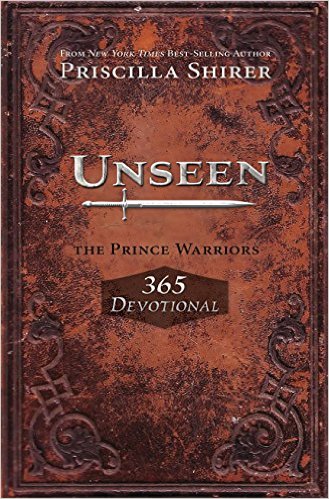 And if you happen to have a boy around 8-12 years old or a girl who enjoys a lot of action and adventure type books (I have one of those), then I recommend Priscilla Shirer's The Prince Warriors Book series. Book 1 is here and Book 2 is here.
They are full of action, adventure, battles and spiritual truth. And this devotional book is a new companion addition to the series. The collection would be a great Christmas gift for a kid.
That's it for today.
I'm off to go find P a new comforter to sleep under.
Have a good Thursday and don't forget to enter the giveaway for a chance to win the Luke's Diner coffee cups!
Copyright secured by Digiprove © 2016