Normally I start Fashion Friday with some kind of light-hearted anecdote that somehow relates to fashion or something like that, but not today because I have something serious to discuss.
Y'all there is an epidemic sweeping across the nation and we can no longer turn a blind eye.
I'm talking about the Snuggie and/or the Slanket.
It was bad enough that it has made its polyester way into my own family, but then many of you owned up to your own Snuggie/Slanket issues in the comments. The final straw was when I read this post by Melissa about how the Slanket has infiltrated her family as well.
It's just not right.
Look people, I know what it's like to feel cold. I spend a good portion of my life wrapped in some sort of blanket, but are we really at a point in society and, more importantly in fashion, where we need a blanket with sleeves?
Really, some of the blame for this lies with the Amish. Ever since they limited the purchase of their patented Heat Surge Roll-N-Glow Electric Fireplace to just two per customer, people are looking for new, inexpensive ways to stay warm.
I also think the economy being in the toilet is to blame and we're all looking for a way to return to the comfort of the womb, but I just don't believe the Slanket/Snuggie or a $920,000,000,000 bailout is going to make that happen.
(Actually, I would probably feel a lot better if the government would just send me my share of that check.)
Then last night I received an email from Brenda at Family Revised that included this picture.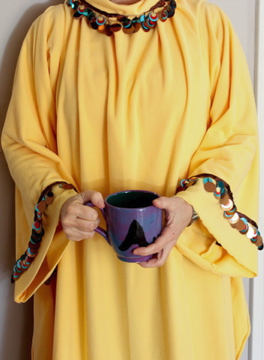 picture from curbly.com
That, my friends, is a pimped-out Snuggie/Slanket.
Yeah, like that makes it better.
Now for the questions.
1. Laura asks: "I live up the road in Austin, and as you know, it's currently 80 degrees in January. I can't possibly get out my springtime clothes right now, as my mother who lives 900 miles away would KNOW if I wore linen, pastels, or white before Easter. So my question is, what's a Texas girl supposed to wear when it's unseasonably warm in the winter?"

Laura, I would hate for your mama to have to drive 900 miles just to yank some pastel linens off your body before you brought lasting shame to your family. And you and I both know that could totally happen.
The key to seasonally-appropriate dress when the weather isn't seasonally appropriate is to look for lightweight tops and t-shirts in fall/winter colors. Also keep in mind that layering is your friend because sometimes the mornings start out chilly and then warm up quickly.
This winter, as we all know by now, I have made much use of the scarf as an accessory. You can pair a lightweight scarf with a long-sleeve or short-sleeve t-shirt and a pair of jeans. Start off the day with a light sweater or cute coat over it and you've got an outfit that will take you from a low of 42 to a high of 78, which just happens to be tomorrow's forecast.
On the bright side, at least you won't be tempted to buy a Snuggie.
2. Amy asks: "My question to you is this…is it ok to wear jeans, a sweater, and open toed pumps?"
Yes, I believe that it is as long as you're ready to deal with any possible frostbite issues. Just make sure that it's more of a peep-toe shoe that shows just a hint of toe as opposed to any sort of sandal.
My advice is to stay away from full-toe nudity in the wintertime unless it's a formal occasion.
3. Sylvia asks: "I've been a stay at home mom for a while (years) and my uniform consists of jeans and t-shirts. I'm going back to work three days a week and have a very limited budget. So, what do I HAVE to have, where do I get it, how can I get it as cheaply as possible and how do I wear it once I get it?"

There are a lot of issues packed into this one question, but I'm going to do my best to help you out.
The first thing I'll say is that I wouldn't go buy a whole bunch of stuff until you've worked there a few weeks and gotten a good feel for the office dress code. Once you have a better idea of what other people wear, you'll have a better idea of what you'll need.
A few basics that I'd suggest are a good pair of black pants. They don't have to be expensive, but they should fit well and be comfortable. If you can afford it, you would also be well-served to get another pair of pants in either a charcoal gray color or some shade of camel. I'm not going to link to any specific pairs because I think your best bet is going to be someplace like Kohl's or TJ Maxx and possibly Target. Just dig through the racks and try on a bunch of different pairs even if they don't look great on the hanger. They might surprise you.
Once you have those foundation pieces then you can look for a few different tops. Since you have a limited budget, I'd suggest sticking to a simple palette of shirts that you can change up using various accessories like scarves, necklaces, or sweaters. Another great thing to have would be a nice trenchcoat and maybe a few different jackets that you can wear with various skirts and pants.
My last suggestion is to go look at the Outfits section on the Ann Taylor or Ann Taylor Loft site. You can find looks that you like and then go look for similar pieces at various discount stores.
I hope that helps!
4. Kim asks: "I'm about to have baby #2 by scheduled c-section and would like to look good in the hospital. I'm planning on getting my hair blown out and having a pedi/mani the day before. My question is what should I wear? I don't want to be stuck in a hospital gown for those first pictures of baby and mama."

Amen, Kim. Amen.
I cannot tell you how much I appreciate a woman who wants to look her best immediately after giving birth. Those pictures will be around for years to come and dragged out at every high school graduation and rehearsal dinner video montage and there's no reason to suffer for eternity in a bad hospital gown.
Target has really cute gowns and pajamas these days. You might be able to find something there in a few sizes larger than you'd normally wear.
When I had Caroline, I ordered a pair of pajamas from The Cat's Pajamas. They have really good sales in their outlet section and they are so soft. One last site you may want to check out is Sleepyheads.
And one last piece of unsolicited advice, bring your own pretty pillowcase to the hospital. It will make your pictures look that much better, plus you'll have a little piece of home with you instead of scratchy, sterile hospital linens.
5. Amy asks: "Is it true that you shouldn't wear black to a wedding?"
No, it's an urban myth. I just wouldn't wear any kind of black armband which might lead folks to believe you're in some kind of mourning, but a little black dress is always appropriate.
6. Megan asks: "I've noticed a ridiculous increase in the number of Bender Ball, 8-second Abs, 'I lost 437 pounds of belly fat in 3 weeks', etc. commercials. Combine these commercials with the swing in the political climate and the economy in a state where most of us can only afford half a shirt anyway…Do you think that 'the ab' is going to make a comeback as a desirable fashion accessory?"
I don't know about the rest of y'all, but my abs are way past making any kind of comeback.
Frankly, I'd rather wear a Snuggie or a Slanket, especially if it's pimped out.
Okay, that's all the questions for this week.
Like I mentioned last week, I'm adding a Mr. Linky to the bottom of this post. Please feel free to link to your very own Fashion Friday tip or fashion find. Just please make sure that you link to your specific post and not just the url for your blog. You have until Sunday to post your link and then I'll shut it down.
Y'all have a great Friday.