I felt like I should at least check in from the house of knee rehab and let you know that as of this moment we are all still alive and Piper hasn't thrown up again. I have a theory that her stomach was nervous because she was worried about P and his knee. Dogs know these things.
Fourteen years ago when I was pregnant with Caroline, we had a dog named Jem. He was always by my side and, when I was about six weeks pregnant, he started throwing up every day. I took him to the vet because I was worried about him and she said he was stressed out because he knew something was going on with me. And I watched enough Lassie when I was younger to know that the vet was probably right. Except instead of being trapped in a well, I had a human growing inside me.
I also watched that episode of Little House on the Prairie when Laura found that raccoon she named Jasper and he bit her dog, Jack, and Pa thought he was going to have to shoot Jack because they thought Jasper had rabies. But it turns out that Jasper was fine and it was a different raccoon that was killing the chickens and Pa didn't have to shoot Jack. My point is that dogs know things.
Although now that I think about that episode of Little House on the Prairie, the real lesson might be to not take in a raccoon as a pet.
Here's a true story. I typed those first four paragraphs over the last three days because I kept meaning to write a post and it's just been too busy around here and by the time I finally got everyone settled and in bed, I was too tired to write and just needed to stare into space while I drinking a glass of wine.
So here's what I will tell you. I wasn't cut out to be a nurse.
P had his knee surgery last Wednesday. When we got the pre-op instructions and realized he had to be at the surgery center at 4 a.m. we both agreed it made the most sense for him to Uber there and I'd meet him a little later. So I scheduled his Uber and totally felt like a Proverbs 31 woman because that's where I'm sure it says "…and she uses Uber to get her husband to surgery".
I thought this was so smart until 3 a.m. when my phone dinged to let me know the Uber driver was on his way. And then it dinged again at 3:15 to let me know the Uber driver was approaching my house and then my phone actually rang at 3:30 and it was my Uber driver telling me he was in front of my house. Normally I'd have my phone on Do Not Disturb, but I'd purposely left it on in case P needed to call me from the surgery center. And then just when I'd fallen back asleep, the nurse at the surgery center called at 4:45 a.m. to confirm that I'd be picking up P after his surgery.
What I'm saying is don't ever get a raccoon for a pet or think that sending your husband to surgery using Uber is a good idea.
Bops came over about 6:45 a.m. to help get Caroline to school and I left for the surgery center. He was already in surgery by the time I arrived but the doctor came out about an hour later to tell me that it had all gone well. Eventually, they called me back to the post-op room where P was in a full knee brace, but sitting up and alert.
That's when the nurses began to give me all of his post-op instructions. I'm not sure when the healthcare system decided normal people were mentally and physically equipped enough to care for their loved ones at home but I am not a fan. The whole thing stresses me out. The bandages, the rehab instructions, the stockings to prevent blood clots and detailed lessons on how a knee brace works. I feel like I signed on for a lot of things when I said my marriage vows but home healthcare seems to be a bridge too far. The burden for the future of P's meniscus feels like it's way above my pay grade. Not to mention that I can't even see the numbers on his knee brace that ensure he can't bend his knee beyond a certain angle unless I use my reading glasses.
One day you're a fresh-faced bride and groom looking at each other with stars in your eyes and the next day you're essentially patients in your very own assisted living facility. Except no one is there to assist you with your living and you're just an idiot who can't figure out how to put a waterproof stocking on your husband so that he can shower without getting his bandage all wet. Everybody's talking about healthcare reform right now and I'm casting my vote to go back to the days when surgery bought you two weeks in the hospital surrounded by actual professionals who know what they're doing.
And so that's what's been going on around here. P is pretty much immobile until at least Friday when we go back to the doctor for our first post-op visit, although he did get out of the house on Monday afternoon to watch Caroline play her last junior high school soccer game. They won the game and are district champs for the second year in a row.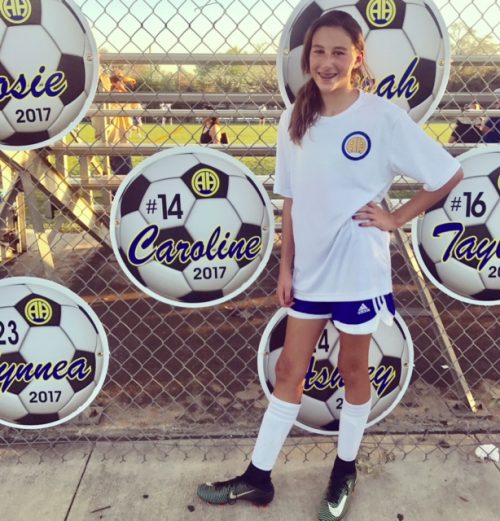 Oh. And in what is one of the most interesting developments of the last week, we are currently renting this sweet recliner.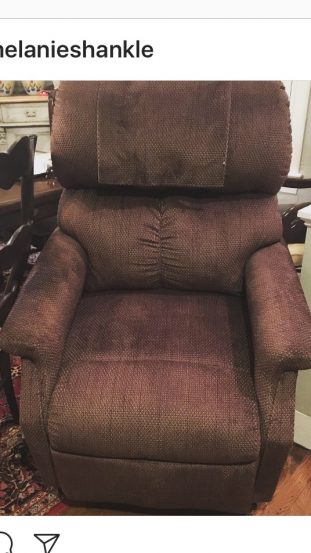 I know.
On the second day after P's surgery it became clear that we were going to need a better seating option than sitting on the couch and attempting to come up with the correct pillow configuration on the coffee table. It dawned on me that what we needed was a recliner and so I called Rooms To Go to actually purchase an inexpensive recliner, but they couldn't deliver until the following week. So I called around to some medical rental places until I found this bad boy. It's technically called a lift chair because it not only reclines but lifts all the way to a standing position. It comes complete with a remote control that plugs into the wall.
And I'm sad to report that Caroline is in it every chance she gets and thinks it's the best thing ever. It's like she's had no home-training.
But it makes me thankful that Rooms To Go wouldn't deliver us a recliner of our very own because then we'd be stuck with one forever and this one is going back from whence it came just as soon as P is feeling better.
The moral of the story?
Don't ever take in a raccoon. Or a brown velour recliner.
Copyright secured by Digiprove © 2017