So this little nugget started high school yesterday.
Untitled from Big Mama on Vimeo.
Which is so weird since it feels like that video I filmed the night before she started Kindergarten was like two years ago. So much has changed, except the fact that she still brings her lunch to school every day. She has never one time fallen for my suggestion that she might like the cafeteria food if she tried it.
And I honestly have been fine all summer about her starting high school, especially in light of seeing all the Facebook posts from so many of my friends dropping their kids off at college. Gulley texted me last night and said, "These college drop offs are killing me. I had to get in the wine." I totally agreed with her. It's reduced some of the toughest guys I know to posting things like "drove up to the house and realized her car wasn't in the driveway and wouldn't be again for a long time and broke down crying." But I do have to say that dorm room decor has come a long way since I was a freshman in college. I thought we were so fancy because my roommate had a giant pink and green Swatch watch that she hung on our wall, but now people have fabric headboards and rugs that aren't just a carpet remnant from a local flooring store and ambient lighting.
Anyway, all that to say, I was feeling totally fine and emotionally stable about Caroline starting high school. We woke up yesterday morning and I cooked breakfast, packed her lunch and drove her to school. Everything was fine until she hopped out of the car and I watched her walk through the front doors of the high school that we pass a million times a day and it hit me like a ton of bricks, MY BABY IS GOING TO HIGH SCHOOL.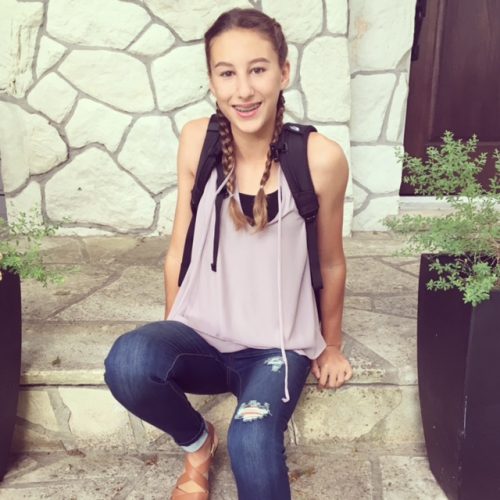 I cried a few tears and then drove to spin class at Cycle Hub because my fall self has made promises to my summer self about diet and exercise and "being an adult". After that I had an appointment to get my hair cut and colored because my gray hairs are relentless, but I really didn't worry about Caroline all day long. That feels weird because high school is a big step and she's at a new campus with boys that shave. But the truth is I knew she'd be fine. She's ready for this next step and I guess that's what parenthood is all about, preparing your kids for what's next and then cheering them on as they go. Like she told a friend of mine later in the day at Target as we lamented our babies growing older and eventually moving out, "Well, I could always just stay home forever and live in the basement."
This would be problematic. And not just because we don't even have a basement.
I picked her up after school and she got in the car with a smile and reports of a good day. Of course I wanted a play-by-play and instead got bits and pieces of information that she shared over the course of the evening and the bottom line is that high school is off to a good start, which makes me so thankful.
It also makes me not want to think about how fast the next four years will go by. For starters, I don't know that I'm capable of decorating a dorm room that's worthy of a spread in Southern Living.
Oh, there was also an eclipse yesterday in case you didn't hear.