Hello and welcome to Summer 2018!
I'm so happy that we are out of school that I will do my best to not even complain about how hot it already is for early June.
Except it really is so very hot.
But I don't have to pack a lunch for approximately the next 100 days and that feels like a victory.
Caroline got out of school last Thursday and she celebrated by going shopping all day with one of her best friends. Like mother, like daughter.
Then we headed to the coast on Friday to spend the weekend with some friends. P went down earlier than us because he had plans to fish with a friend and so this left Caroline and me to get everything packed up and get Piper and Mabel to the vet for the weekend by ourselves. I woke up early on Friday morning and began to finish cooking for the trip, doing laundry, buying ice, packing suitcases and coolers, gassing up the car and then taking Piper and Mabel for a long run at the park so they could burn a lot of energy before being boarded all weekend.
While I was accomplishing all of that, Caroline managed to basically only pack a pair of bathing suit bottoms, a toothbrush and some face wash. Apparently just being fourteen is exhausting enough.
I did have her help me get Piper and Mabel to the vet because, well, it's essentially a goat rodeo to get them in the doors. However, I'd come up with a strategy that involved leaving them in the car with Caroline until the vet techs were ready to take them back to eliminate the terrible waiting in the waiting room that only causes everyone involved to need a Xanax or a shot of tequila. Or both.
As I checked them in, one of the vet techs asked, "Do they still have a tendency to be a little fractious?"
Um. Yes. If by fractious, you mean more nerved up than a cat after thirty-four cups of coffee, then YES.
But they actually did pretty well during the drop off. Maybe they heard it was going to be 102 degrees this weekend and decided they should just enjoy their mini-vacation in an air-conditioned facility.
After that, Caroline and I made our way to Rockport. P met us there along with our friends and from that point on the weekend was full of eating, laughing, talking, floating in the water, playing cards and fishing. It was essentially the perfect kick off to summer vacation.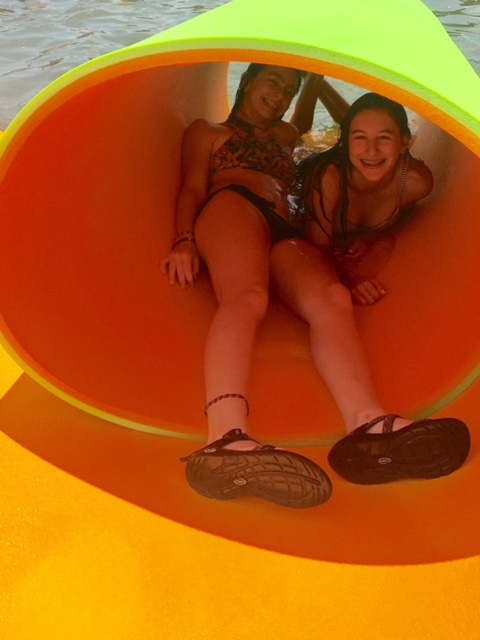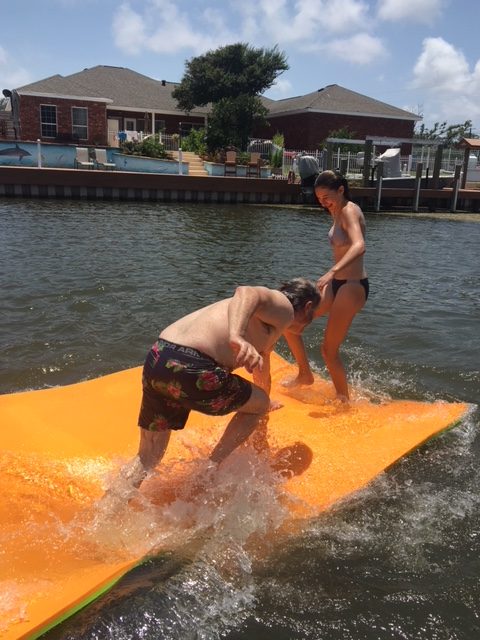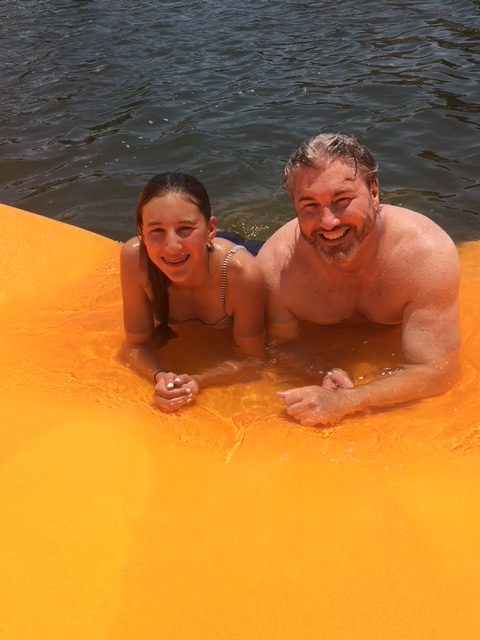 When Sunday came we were all relaxed, a little sunburned and sad that it was time to leave, but we packed up and made our way back to San Antonio. I woke up at 7:15 Monday morning to go pick up Piper and Mabel from the vet. Needless to say, they were a little overly enthusiastic at being reunited with their people and their yard. Mabel spent a full ten minutes running in circles around the backyard in between sticking her feet in her water dish. Why does she do that? I have no idea. Why does she do anything she does?
However, she did stop long enough to write two haikus about her weekend.
Some call it fractious
It's more like stranger danger
I don't need judgement
These dogs keep barking
Yet they have nothing to say
I feel so fragile
Anyway, we are all home and spent most of Monday unpacking and doing laundry and getting everything lined up for our summer calendar. Caroline is taking Drivers Ed (I know. I can't believe it.) and has soccer training and other activities planned. At some point I'm going to have to go to the grocery store like an adult and think about meals that don't involve me calling and ordering food to go. But I'm choosing to Scarett O'Hara that for now and think about it tomorrow.
For now, I'm sitting on the couch with Mabel curled up next to me. I'm about to get caught up on The Bachelorette before I watch a few episodes of Riverdale on Netflix because apparently summer for me means rotting my brain. I also just put some essential oils in the diffuser because I'm a little addicted to the combination of peppermint, eucalyptus and lavender. However, I just realized that I accidentally put in patchouli oil instead of peppermint and now I have the urge to put on a caftan and eat some avocado toast.
But I guess I'll settle for some peanut butter and chocolate ice cream instead and finding out if Becca has a chance at true love instead.