Do you ever have one of those moments where your child does something that is so frighteningly similar to something you would do that it kind of causes you to shiver at the power of DNA? Maybe it's the way they put their hands on their hips when they're talking or the way they laugh too loud at a joke?
Or maybe the way they organize their closet?
Last night before bed, Caroline wanted to show me something in her closet. She had developed some type of wardrobe labeling system that she wanted to share. The good news is that after four years of me saying "The clothes on this side of your closet are for WINTERTIME! and the clothes on this other side are for SUMMERTIME! You cannot wear a sundress when it's 30 degrees outside", she finally managed to embrace the basic concept.
The bad news is she labeled it in marker. Not with one of the vast amounts of Crayola washable markers that we have all over the house, but the lone Sharpie permanent marker that I reserve for emergency situations.
Behold, WINTER. She went with the phonetic spelling. And an exclamation point for emphasis.
And, Spring! Or rather "Sring" complete with a little flower illustration.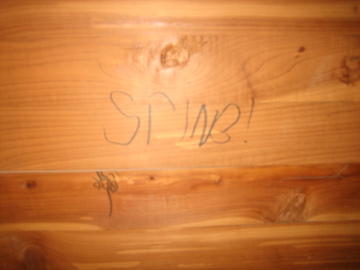 Thus, our almost 100 year old original cedar closet is forever changed.
And I've put the Sharpie marker up on a high shelf.
Now for the questions.
1. Several people have asked: "What are your thoughts on the maxi dress? Can it be worn by just anyone? Are they here to stay?"
Well, all I know is that when I wore mine the other day while hanging out with Jack, Chrissy and Janet at their apartment, I was really comfortable and felt very current. Oh wait, that wasn't me. That was Mrs. Roper on "Three's Company".
Oh it's just a little 70's humor.
I actually like the maxi dress even though I don't own one. I get the concept, but it feels very dramatic to me and I'm not sure where I'd wear it. It may be a little much for a PTO meeting. However, if I found one I really liked, I would definitely buy it. Well, except for the fact that I'm on a bit of a fashion fast and not buying anything these days.
The other thing to remember is that the maxi dress isn't going to work for everyone. I think you need to be a little tall to pull it off without looking dumpy. You can still get the same kind of look, but with a dress that comes to your knees instead of your ankles. Of course, technically, that would eliminate the "maxi" part of maxi dress and you'd just have a "dress".
And keep in mind that you can totally wear a fitted t-shirt under these dresses because, if you're like me, you can't really leave the house without a little invention known as the brassiere. I gave up on strapless bras a long time ago because I find them to be a concept that has proved to be way too ambitious.
Here are a few cute maxi dresses if you're ready to give them a try.
2. Megan asks: "We are no longer allowed to wear open-toe shoes at work. We are limited to closed-toe shoes only. My office is in Houston and obviously not run by men, hence the no open-toe shoe policy thing. What are your suggestions for us?"

I guess in this precarious economy it's not a good call to quit your job over the shoe issue. The folks at the unemployment office may not understand.
But don't despair. There are still good shoe times to be had. How about something like this? Or these? Or maybe these? These are cute slingbacks with a closed toe and if you really feel daring you could go with something like this.
That's all the questions for now because I need to go to bed. Caroline and I are taking a little road trip tomorrow and I am in desperate need of some REM sleep.
So, now for the giveaway.
A few weeks ago, Alison emailed me to let me know that she watched the scarf video and mentioned she happens to sell scarves in her online boutique. Well, I immediately emailed her back and begged her to do a giveaway because, oh my word, she has the cutest scarves. It seems fitting to give away a scarf since I've mentioned them a time or eight hundred in the last few months.
Here's how you enter:
1. Go visit the Ali J Boutique and check out all her beautiful scarves.

2. Come back here and leave me a comment about anything you want, but try to mention which scarf you'd really like to win.

3. Please, no duplicate comments because it makes my head feel like it's going to explode when I have to figure out if there are extraneous comments that need to be deleted.

4. I'll close comments on Monday, March 30th at noon and announce the winner shortly thereafter.
I'm putting up Mr. Linky if you have a fashion post that you want to link. Also, please make sure you post the link to your specific post and not just your blog. It makes life easier for everyone and by everyone, I mean me.
Y'all have a great Friday!