Last Friday, Gulley and I were talking on the phone. Her youngest son, Will, asked if she was talking to Mel. She told him yes and he said, "Tell her I need to get with her about a time she can pick me up from school".
Okay, Mr. Trump. Let's see when we can get that on the calendar.
I told Gulley to put him on the phone so we could work out the details of our impending date. As it turned out, Tuesday was a good day for both of us. Our calendars were wide open, which isn't easy when you're dealing with a four-year-old who has a social schedule jam-packed with time spent eating fruit snacks and remembering to go potty.
Seriously, I love both of Gulley's boys like they are my own, but there is something about Will that just does me in. He is a little bit of a rebel with charm to spare. Apparently, my taste in men hasn't really changed over the years.
This is Will giving me what he refers to as his "sweetest smile".
I'm powerless to resist him.
The thing about Will is that he reminds me so much of Caroline. Gulley and I often marvel at how similar their little personalities are. They both have a flair for the dramatic, can hold a grudge for days, and will make you laugh out loud about twenty times a day. And when you get the two of them together they are like fire and ice.
At Will's birthday party this year, Gulley was talking to P and said, "We better hope Will and Caroline never decide to date each other because there would be way too much drama. They're either loving or fighting".
P replied, "Sounds like a perfect marriage to me".
I have no comment.
Anyway, Caroline and I picked Will up after school yesterday so he could spend the afternoon with us and then go to Caroline's t-ball game where Gulley would pick him up. I took the kids straight to a nearby candy store because the Easter Rodent only brought about three pounds of candy and that would never get us through an afternoon.
We secured our bags full of gummy butterflies, rattlesnakes, and one SugarDaddy sucker that proved to be an unfortunate decision, and headed back to our house to play. I don't know why I was caught by surprise that they were so wound up considering that I'd let them eat massive amounts of sugar and they both tend to be overenthusiasts even without the high fructose corn syrup, but they hit the house like a pair of Tasmanian devils.
Caroline suggested they roll a ball back and forth to each other across the kitchen, which seemed harmless enough until I realized that by "roll" she meant "hurl across the kitchen with force". Fortunately, the picture frame and toaster managed to survive intact, if not a little battered and bruised.
I sent them to the backyard in the hopes they would run enough to sweat some of the sugar out of their bloodstream. They immediately began to chase each other around, climb trees and make an attempt to pull Bruiser around in our red wagon. It was turning out to be a wonderful afternoon unless, of course, you were Bruiser.
After checking to make sure they were okay, I called Gulley to finalize our plans for the t-ball game. We were in the middle of our conversation when I heard the unmistakable sound of shattering glass.
The word that came out of my mouth when I heard it was not a word I learned in Sunday School.
I hung up on Gulley and ran outside to see what had happened. Caroline was standing by her t-ball tee and crying hysterically. Will was standing a few feet away from her with a look of shock and awe on his face.
Our bedroom window was completely busted.
There is no doubt that I am a true South Texas girl because my first thought was "How on earth am I going to make sure that my room doesn't lose too much air-conditioning tonight?" High maintenance much?
I attempted to calm Caroline down while I did what I always do in situations that require some type of solution and organized thought process, I called P.
"Hello?"
"CarolinewaspracticinghittingtheballandbrokeourwindowandwhatamIsupposedtodo? WHAT DOES THIS MEAN FOR OUR AIR-CONDITIONED ROOM?"
"You need to settle down. It's no big deal."
"Really?"
"Yes. Tell her it's no big deal. Accidents happen. See if you can clean up the glass and I'll be home in a little while."
"Oh. Okay."
He has no sense of drama.
The kids danced around me while I picked up the shards of glass. It helped the situation some, but there was still a big gaping hole in our bedroom window.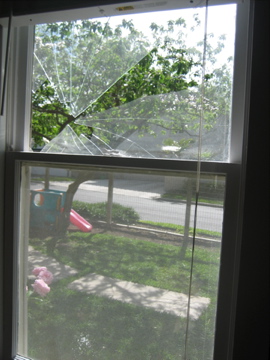 In the meantime, Caroline began to feel a sense of pride over her accomplishment and told me she'd like to call Bops to let him know how hard she hit the ball. She and Bops have really been working on her swing and, judging from the window, their work has really paid off.
I'm so proud.
And also probably a few hundred dollars poorer.
My knight in shining armor pulled into the driveway and immediately pulled out the duct tape. He taped what he could, but it was obvious we needed something to cover the window for the night. Because did I mention the need for maximum air-conditioning?
He disappeared behind the garage and came back with a solution.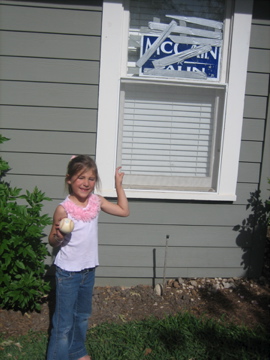 At least it's good for something.