This time last week I was coming to you live from Snovid '21 and this week it was in the 80s two different days and I wore shorts to walk the dogs. The weather is as confused as the rest of us.
But I'm clearly thinking about spring and summer at this point because this week is heavy on white shirts. Granted, most of them come in other colors, but I am drawn to a white shirt like the proverbial moth to a flame.
Here are some cute things I found this week:
1. universal thread julianna cork wedges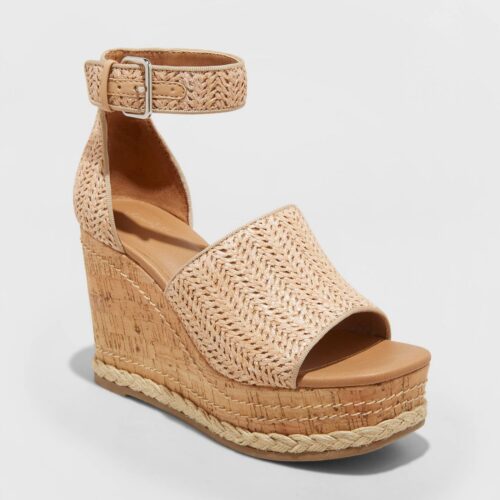 I saw these in Target and they stopped me in my tracks. They are the cutest wedges and look much more expensive than just $39.99.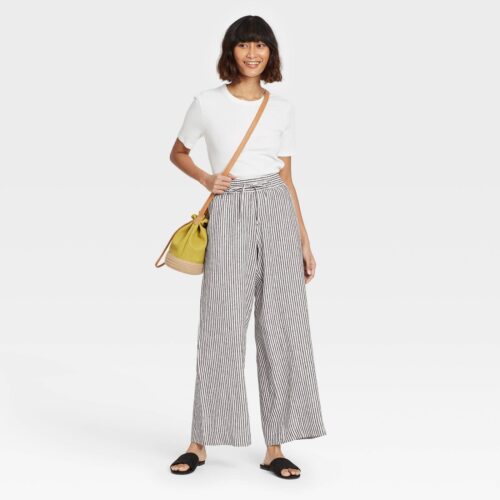 I also saw these pants in person and they are super cute. They are soft and flowy which are two qualities I appreciate in a pair of pants. Oh, and they have an elastic waistband.
They come in some solid options as well, but I love this stripe. They are $25.
3. old navy scoop-neck tunic tee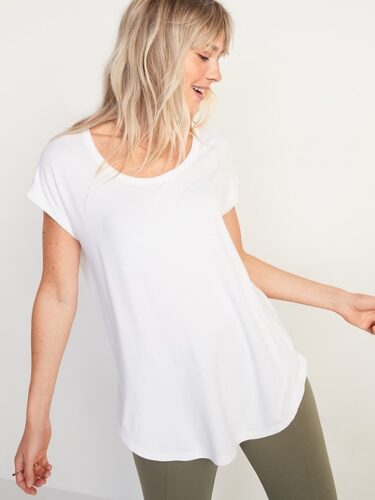 These Old Navy tees continue to be my favorite. They're a great length, super soft and come in a bunch of color options.
They are $24.99 but an extra 20% off with code SWEET.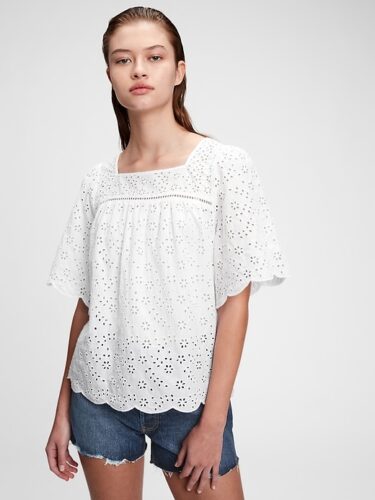 Gap has an eyelet top every year, but this one is especially cute. It reminds me of much pricier tops at Anthropologie.
It's on sale for $48 but an extra 20% off with code YOURS at checkout. It comes in several color options.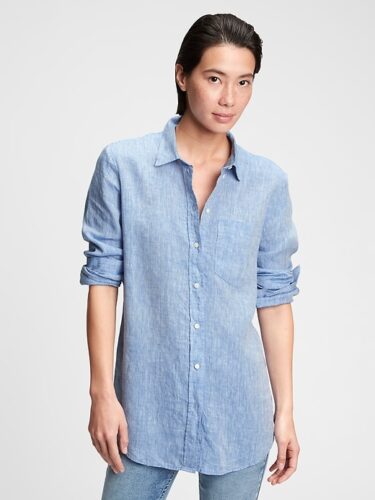 I cannot resist a good boyfriend button down shirt. You can wear it with leggings or over a swimsuit or tied at the waist with jeans or shorts. It's just a great versatile basic.
This one is $59.95 but an extra 20% off with code YOURS at checkout. It also comes in a beige flax color.
6. madewell whisper cotton striped crewneck tee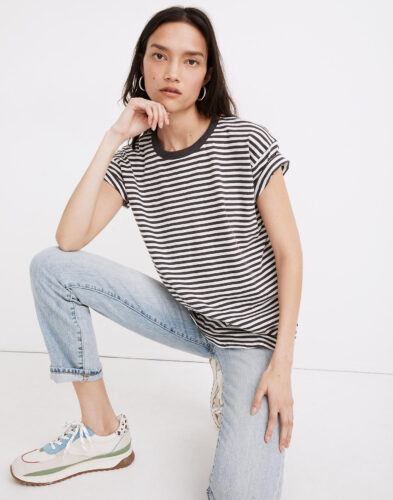 Madewell makes great tees and this striped one is a winner. It's $24.50.
7. madewell tassled bucket bag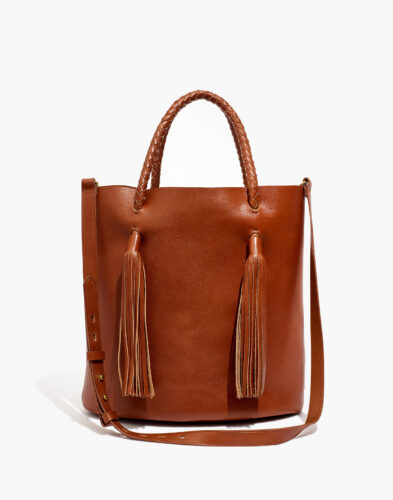 I think this bag is so pretty. I love the tassel detail.
It's $178 but 25% off with code FAVES.
8. where we're going white ditsy floral top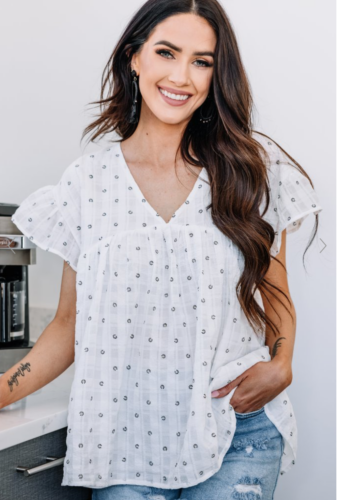 I know. Another white top. But they're all unique in their own way. I really love this one.
It's $44.
9. free people sweetheart sweater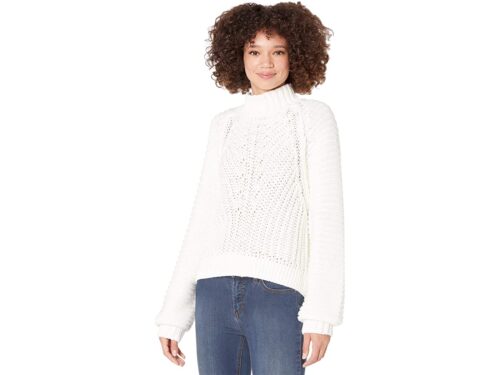 I enjoy a white sweater to transition into warmer months and this one is really cute and has good reviews.
It's normally $78 but on sale for $50.08 and it comes in other colors.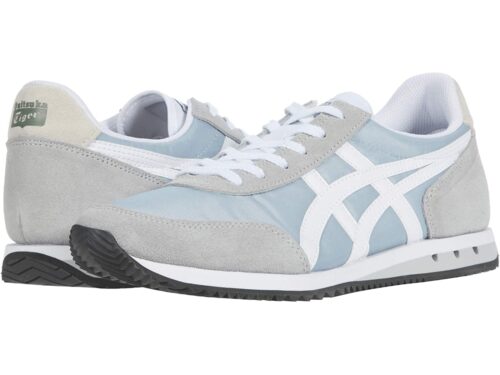 I feel like all I wear most of the time these days are sneakers so I'm looking for some good spring options. These are such a pretty color and on sale for $75.99. They also come in black and white
But I also love these tretorn rawlins 3 sneakers.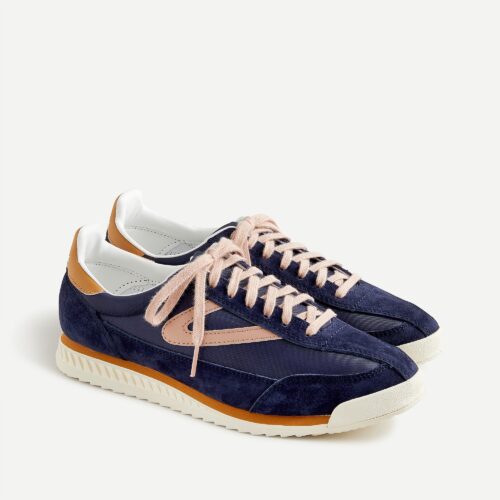 They are $85.
And these gola sneakers are so retro and fun. They come in a bunch of color options and even some fun prints.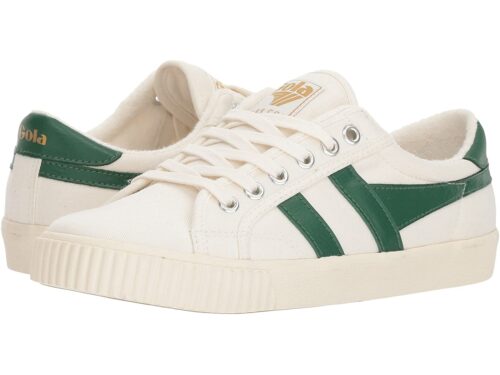 They are $65.
That's it for today.
Have a good Friday.