It doesn't really take a media savvy person to realize that there are two evil pandemics sweeping the country right now: the swine flu and Jillian Michael's 30 Day Shred.
I don't know much about the swine flu, other than the fact that I believe pigs everywhere are being slandered for reasons that are beyond their control and we may all turn into Howard Hughes if the media doesn't shut up and find something else to obsess over.
Here's a new topic for them: Why won't Anthropologie send me a dishtowel since I link to their site constantly? Is it some sort of haberdashery prejudice because I am a thirty-something mom and totally uncool in their eyes?
I believe the answer is yes and that, my friends, is fashion profiling.
Anyway, unlike swine flu, I do have some experience with the 30 Day Shred. As a matter of fact, yesterday was Day 2 for me and, if I live to see the sun rise again, today will be Day 3.
God willing and my quadricep muscles don't explode.
I can't remember when I first heard someone mention the 30 Day Shred, but I remember thinking they were kind of overly dramatic about the whole thing. And if there is one thing I cannot tolerate, other than reruns of "Golden Girls" and water chestnuts, it's someone being too dramatic. It makes me WANT TO PULL OUT ALL MY HAIR AND SET IT ON FIRE.
In fact, I vaguely recall thinking that I was the master of the "Fat Burning Pilates" DVD and have reached the point where I easily keep up with smug girl in the green sports bra (as I so affectionately refer to her), so what could 30 Day Shred possibly have to offer me?
Then I read this post by Vicki where she mentioned that she was on Day 11 of the shred and her teenage son walked in and mentioned that she had developed real live ab muscles. I haven't seen my ab muscles since the second month of my pregnancy with Caroline so I figured the 30 Day Shred might be worth looking into.
But then I just felt too tired to order the DVD from Amazon. Not to mention all the effort it would take to actually open up all the cellophane packaging and place it in my DVD player.
However, Jillian and I had a date with destiny because as I innocently walked the aisles of Target last week, I happened up on the exercise equipment aisle where I saw her staring me down, perhaps even taunting me. I had no recourse but to buy the 30 Day Shred and some lime green hand weights. Thankfully we have a nice padded oriental rug in the living room so I didn't have to buy a mat, although I wanted to because it was hot pink and oh-so-cute.
I decided to wait until Monday to start my new workout regime because I am firm believer in procrastination, especially when it comes to anything regarding physical exertion. Why sweat today when you can sweat tomorrow?
Then all of a sudden it was Monday and I knew it was time to shred. In a pure stroke of fortuitousness, I talked to Sophie on the phone and she mentioned that she'd also purchased the 30 Day Shred and was going to do it for the first time that afternoon. I believe that each of us laughed and said, "It's ONLY TWENTY MINUTES! How hard can it be?"
I got off the phone and turned on the DVD. There was Jillian going on and on about pain is fear leaving your body and blah, blah, blah. She suggested that everyone start at Level One. I decided I'd start at Level One to appease Jillian and her cut-off sweatpants, but figured I was really way past that since I've been fairly consistent with my Fat Burning Pilates and elliptical workouts.
And by fairly consistent, I mean I've done them four or two times each.
Level One was an experiment in PURE HATE. I can't confirm this, but I am fairly certain it is something akin to what the CIA uses to get terrorists to talk. The static lunges with bicep curl combo is enough to get me to admit to anything I've ever done wrong in my life, including the time I stole a Brach's peppermint candy when I was four years old.
To add insult to total muscular injury, Caroline stood by as my cheerleader/heckler. Do you know what's more aggravating than some muscular girl from a T.V. show taunting you with the fact that a 450 pound person can do more jumping jacks than you?
A five-year-old girl that you gave birth to asking if you "FEEL THE BURNING MAMA" over 100 times in a three second time period.
She even got the camera and took some pictures of me while I was working out.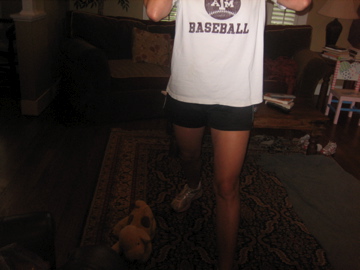 This is the only one that's fit for public viewing because in all the others you can see the profanity coming out of my head like the little thought bubbles in a cartoon.
When I finished, I collapsed in a big heap on the couch and in the words of Fred Sanford said, "I'm comin' Elizabeth. This is the big one."
But I survived and felt compelled to do Day 2.
In fact, I am determined to complete all thirty days of the shred even if it leaves me completely incapable of standing upright or reaching for a bag of Cheetos.
On the downside, there is a muscle in my upper arms that I never knew existed but is now screaming in pain and has requested abdication from the rest of my body.
On the upside, I'm not afraid of any kind of swine flu.
If anything is going to kill me in the next thirty days, my money is on Jillian Michaels and not some lame pig virus.
Make sure you head to Compassion Bloggers to read all the posts coming out of India. They are phenomenal.