I'll just go ahead and confess that after Caroline left for school yesterday, I crawled back in bed with the remote control and stayed there for the next three hours. It was my belated Mother's Day present to myself. I would have preferred to give myself a gift certificate for a one-hour massage, but apparently I'm cheap.
Eventually I realized it was almost lunchtime and I was in dire need of a caffeinated beverage, so I made my way to the kitchen only to discover we were down to our last Diet Coke which meant a trip to HEB was imperative even though I was hoping to put it off for one more day. Of course, P had started a list but his lists never really count because I always feel like we can go one more day without another box of Nilla Wafers or Q-tips, whereas a home without Diet Coke is a tragedy waiting to happen.
I waited for Caroline to get home from school because on her Mother's Day questionnaire she said that one of her favorite things to do with me is go to the grocery store. Personally, I think she's in it for the guarantee of a donut.
After a sweet forever, we finally made it home from HEB. Ever since they remodeled our store, I just roam the aisles endlessly because I can't find anything. The layout makes no sense at all, starting with the fact that all the baking supplies are on two different aisles causing me much sorrow and anger at whoever the genius was that came up with that design.
Anyway, I don't know why I'm telling you all this because the whole point of this post is to tell you about the delicious Blackened Chicken Pizza I made for dinner last night when I realized the cooking elves weren't going to show up and prepare a fabulous, home-cooked meal for my family and the burden for nourishment lay squarely on my shoulders.
So I'll quit rambling and share the recipe, complete with intermittent photos that really don't do a very thorough job of showing all the steps.
Blackened Chicken Pizza (Paula Deen)
3 teaspoons blackening seasoning, divided (found on the spices aisle)
1 boneless, skinless chicken breast, pounded to 1/4 in. thickness
4 tbs. butter, divided
4 cloves garlic, minced
1 shallot, minced
2 tbs. all purpose flour
1/4 cup white wine
3/4 cup milk
2 tbs. chopped fresh basil
1 1/2 cups shredded mozzarella cheese, divided
1/2 cup fresh spinach leaves
8 slices of bacon, cooked and crumbled
1 cup grated Parmesan cheese.
Pizza crust

Sprinkle 2 teaspoons blackening seasoning evenly over chicken breast. In a large skillet, melt 2 tablespoons butter over medium-high heat. Add chicken, and cook for 2 to 3 minutes per side or until done.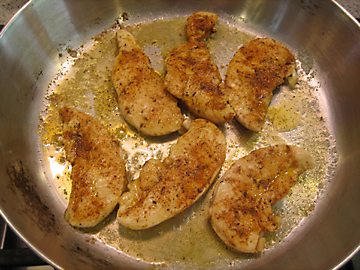 You will notice that I used chicken tenders instead of a whole chicken breast because I like to minimize my contact with raw poultry and didn't want to have to pound it to 1/4 inch thickness.
Remove from heat, cool and cut chicken into bite-size pieces.
In large skillet, melt remaining 2 tablespoons butter over medium heat. Add garlic and shallot, and cook for 2 minutes. Stir in flour, cook for 2 minutes, stirring constantly. Gradually whisk in wine and milk.
It's totally optional but you may want to take a swig of the wine for yourself if you spent over an hour at HEB because you couldn't find the powdered sugar.
Continue to whisk the mixture constantly for 4-5 minutes or until thickened. Stir in basil and remaining 1 teaspoon blackening seasoning. Remove from heat.
Preheat oven to 450.
Spread cream mixture evenly over prepared, unbaked crust. (I didn't make a homemade crust, but bought a pre-made one at HEB because you know that old saying about how Rome wasn't built in a day? That's because they were too busy making homemade pizza crusts.)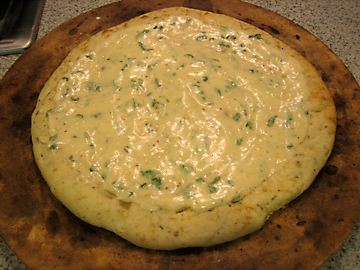 Sprinkle with 1 cup mozzarella cheese.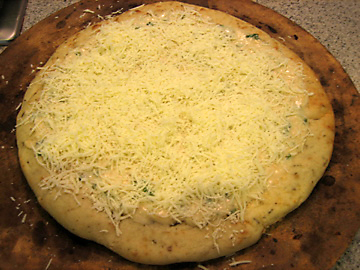 Top evenly with spinach, chicken pieces, and bacon.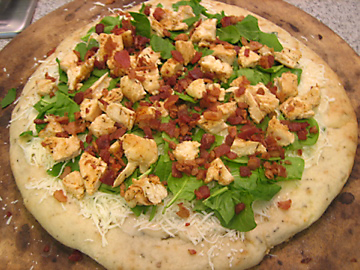 Sprinkle another 1/2 cup mozzarella cheese and 1 cup grated Parmesan cheese over the top.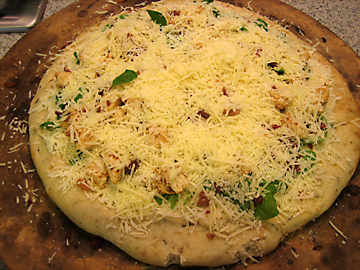 Bake for 15-20 minutes or until lightly browned.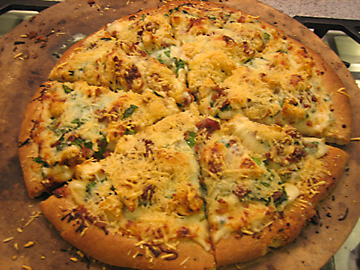 Caroline declared this "the BEST PIZZA I've ever had!"
Of course, she said that same thing last week about a frozen DiGiorno pepperoni pizza so you may want to take her culinary recommendations with a grain or six of salt.
But it actually was really good which is fortunate because I made two of them and we're eating it again tonight.
Look P! It's not even daylight yet and you already know what's for dinner.