I realize I'm posting a little later than usual today, but I am trying to overcome my OCD ways and the inevitable twitch that comes when I don't have something scheduled to go up by 6 a.m. every day. It's a sickness really.
And before I continue, can we please have a moment of silence for Ed McMahon? I erroneously announced he was deceased about a year ago, but now that he is actually gone I feel I need a moment to reflect.
Okay, I'm all done.
Anyway, I mentioned that I was in Oklahoma for a little girls' getaway. Ree from The Pioneer Woman invited Sophie, Shannon and me to come spend a few days at the ranch so I spent the morning working cattle.
There's a sentence I never thought I'd write.
Actually, I didn't so much work the cattle as stand around and watch the cowboys work the cattle while I said helpful things like, "Man, that looks really hard" or "Wow. You get really dirty working cattle."
However, I did ride a horse.
Let's all have another moment of silence for my bottom. It may never be the same.
I was a little hesitant about riding a horse but then Ree emailed and said she assumed I'd be riding. The night I read the email, I turned to P and said, "Ree assumes I'll be riding a horse. Do you think I should ride a horse?" He looked at me and said, "Maybe you should ask if they have a small donkey you could ride."
I don't know why he didn't feel my four years of riding trails at summer camp combined with various pony rides as a child didn't qualify me for true horsemanship status.
Apparently they aren't kidding around with this whole cowboy thing because Ree told me she'd be around to pick me up from the Lodge around 5:15 a.m. I didn't even finish watching "The Bachelorette" last night so I would be rested and ready. Let the gravity of that sink in. I've only been here 24 hours and ranch life has already changed me.
Also, I can watch "The Bachelorette" on my DVR when I get home.
When I walked outside it looked like this.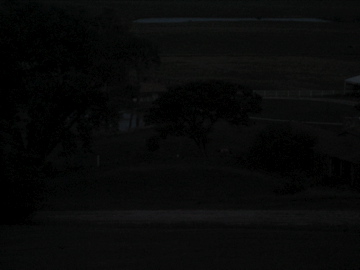 Who knew that's what 5 a.m. looks like in the middle of nowhere?
Ree drove me over to where the cowboys were waiting with the horses and that's when I met Peso for the first time. Peso is the horse that her four-year-old son normally rides and all he really likes to do is eat and walk. In other words, we were a match made in heaven.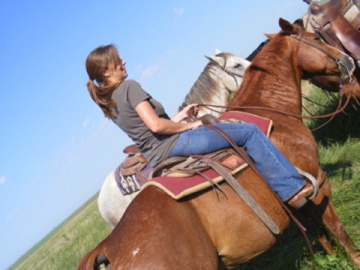 The other good news is that Peso was content to just follow along behind Marlboro Man and his horse, so I was able to not really think about where I was going and instead imagine that I was in a scene from "Lonesome Dove" except without Robert Duvall and Tommy Lee Jones.
Before the cattle round-up or whatever it's supposed to be called was over, Peso and I had both trotted and loped while I repeatedly murmured the Lord's Prayer. It was seriously so much fun, but have I mentioned that my bottom will never be the same?
Once all the mama cows and their babies were in the pens, they began to separate the mamas from the babies so that they could vaccinate, castrate, and brand the calves. Just another day at the office.
Look at this one giving me the eye. I think he was hoping I might help him.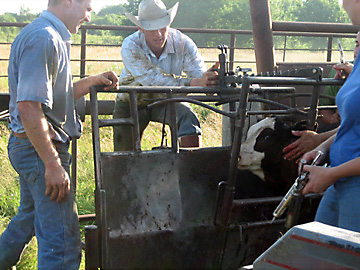 There's nothing I can do for him now.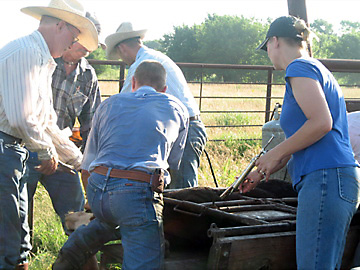 But I think he held a grudge because he kept staring at me with disdain.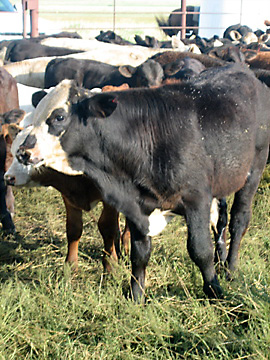 Seriously, quit looking at me. I am helpless here. For goodness sakes, I can barely ride a horse.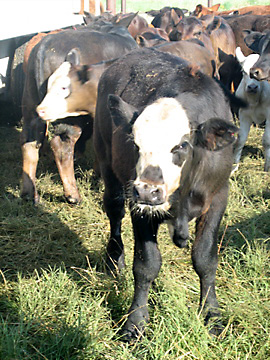 If you don't believe me, just ask my bottom.