I have a confession to make and it involves a disco ball.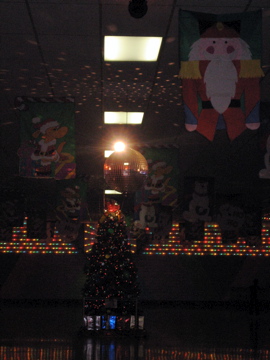 See? I told you.
I realize the most realistic scenario to explain the presence of a disco ball in my life is that I've been spending my Tuesday afternoons filming a remake of Saturday Night Fever and all I can say to that is DON'T I WISH. The truth is we've been spending the lion's share of our Tuesday afternoons at the Rollercade.
I know.
It all started this summer when Caroline was invited to a birthday party at the Rollercade and she fell deeply, madly in love with rollerskating. And, really, who can blame her? If rollerskating doesn't have an irresistible pull on the heart of people everywhere, then how do you explain the Olivia Newton-John classic, Xanadu?
I totally understand where she's coming from, man, (Why am I talking like it's 1976?) because once a girl discovers the feel of the wind blowing through her hair while she fast skates around the rink, it's hard to stay away.
After her initial introduction to skating, she immediately began to beg to go back again. Fortunately for her, one of her friend's moms emailed me to let me know that Tuesdays are half-price day and that a group from school planned to start meeting there almost every week.
So for the last month or so, we've spent several Tuesday afternoons skating. And yesterday was no different.
Except that I really didn't feel like going to the Rollercade. There are just those rare days when a girl isn't in the mood for the flashing lights of a disco ball, Michael Jackson music blaring overhead and the smell of old skates. I call those days Tuesdays.
But I'd promised we'd go and that she could bring a friend. So after school I brought the girls home for a quick snack, asked them sixteen times if they needed to go to the bathroom before we left, and then packed them in the car and headed to the rink to skate it out.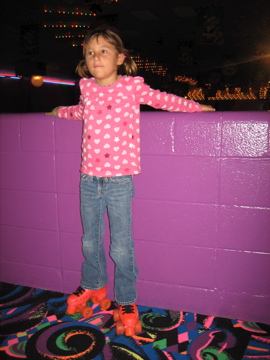 I decided I was going to forgo skating for the day and just watch them from a terribly uncomfortable bench on the side of the rink, but I told them to wave at me if they needed help. Just when Caroline got to the furthest point away from me, she began to wave. I walked over to see what the problem was and she informed me she needed to go to the bathroom. Apparently she didn't hear any of the sixteen times I'd asked before we left the house.
And here's the worst thing about the Rollercade, there are no doors on the bathroom stalls. I don't think I need to elaborate on all the ways that disturbs me. Bathrooms need doors. I have no doubt that would have been one of the ten commandments if the Israelites had public restrooms in the desert.
Anyway, I escorted her to the restroom and then she fell on the way out and then she didn't want to skate anymore unless I was going to skate too and so I paid the extra $2.50 to rent skates and put them on and then she decided she was fine and when could we order some nachos and she didn't want me to skate anywhere near her and I could just free skate by myself.
(Do you see how that run-on sentence just wore you out? That's because I'm trying to do the same thing to your brain that the entire experience did to mine.)
The good news is about that time the computer began to play Boogie Shoes by KC and The Sunshine Band. If you can be in a bad mood when KC and The Sunshine Band plays, well then my condolences. Maybe it will help if I tell you I did a tap dance routine to that very song when I was in fourth grade and wore a chocolate brown leotard with gold fringe, gold tap shoes, and an enormous gold headpiece. (Hello, 1979.) Needless to say, I was fierce.
I told the girls they could eat pizza from the snackbar for dinner. When I placed my order for four slices of pizza, the girl behind the counter informed me they don't sell pizza by the slice on weekdays and I'd need to order the whole pizza.
"How much is that?"
"Nine dollars."
"Sold. I'd like a pepperoni pizza, please."
And with that, she took my money, reached into a mini-freezer and pulled out a frozen HEB pepperoni pizza that I happen to know for a fact costs $2.50 at the store. If I could do the math I'd tell you the percentage of that mark up, but I can't do the math so I'll just say IT'S A LOT. Of course I also noticed that they charge $2.00 for a pickle which is criminal and also why I've decided to get into the concession stand business.
Once the pizza was finally ready, she pulled it out of the oven and handed it to me without cutting it, so I asked in my nicest voice if she could please cut my $9.00 pizza into slices and she did, although she was a little surly about it. I really can't blame her though. I'd be surly too if I had to wear a uniform that made me look like a referee. That's why I never pursued a career with Footlocker. Well, that and my complete phobia regarding other people's feet.
And so with that, we sat down to a nutritious, healthy dinner that will cause moms everywhere to admire my parenting prowess.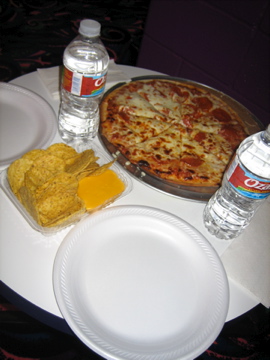 The girls had a little bit more time to skate once they were finished eating and Caroline even managed to find a sweet twelve-year-old girl who helped her finally let go of the wall and begin to actually skate a little bit. And I'm telling you, this girl could skate. She even played the air drums while she zoomed around the rink which in the land of the Rollercade is the equivalent to being the queen.
Just ask Olivia Newton-John.