I haven't mentioned a few things that have been going on around here lately. For instance, have I mentioned that my sister is pregnant? And due any second now? And by due any second, I mean that her due date was yesterday?
I cannot tell you how much I wanted to take a picture of her at Thanksgiving lunch, post it on the blog, and announce that my sister had ruined our Thanksgiving by swallowing the turkey whole. But I refrained since women who are forty weeks pregnant tend to frown upon a good Thanksgiving turkey joke.
So instead I've spent the last week being incredibly supportive and calling her every day to ask, "Hey, what's the deal? When are you going to have that baby? Why is it taking so long?"
Sometimes I dispense helpful advice like that I heard eating eggplant parmesan can cause you to go into labor. I'm not sure where I heard it or if I actually ever heard it anywhere as opposed to just making it up in my head, but it makes me feel like I'm doing my part in trying to get my nephew to show up.
Her doctor is out of town this week, but he scheduled her to be induced this Monday if the baby hasn't left the building of his own free will by then. I tend to think he's going to stay put because have you ever heard of a man who leaves early when he can relax all he wants and the food is free? Plus, thanks to my brother-in-law, I'm pretty sure he's getting a steady feed of ESPN in utero.
In other news, about six weeks ago, AJ, our dear friend and official Big Mama family photographer (I just made up that title. I'm pretty sure she doesn't have that on her official resume.) took family photos of us down at her ranch. As chief photo stylist for the shoot, I'd dressed us all in a variety of wintery attire even though it was blazing hot outside.
P walked outside in his sweater and announced, "You have me for three minutes". We spent those precious three minutes trying to act candid and like it was perfectly natural for us to all walk through a field, throwing our heads back in laughter and dressed like we were in the Arctic Tundra instead of South Texas.
It was a tender moment.
Two days later, all of AJ's camera equipment was stolen out of the back of her car. They got everything, including our Christmas card photos which were probably exactly what they were after. So if you receive a Christmas card that features a picture of a family walking through a field and looking very hot (I mean temperature hot, not looks hot. Just wanted to clarify. Although P was totally rockin' his sweater.) there's a good chance the people who sent you that card are thieves.
The good news is that insurance reimbursed AJ for everything that was stolen, except for my dream of mailing out my Christmas cards by December 2nd. It's not like I've ever achieved that dream before, but THIS WAS GOING TO BE MY YEAR.
Anyway, she was in town last weekend and sweet enough to come by and take a few pictures of Caroline. I gave up on the family photo dream because, honestly, it was short notice and I didn't feel like fixing my hair. Not to mention that P was on his way out the door to the ranch as evidenced by this picture that AJ snapped.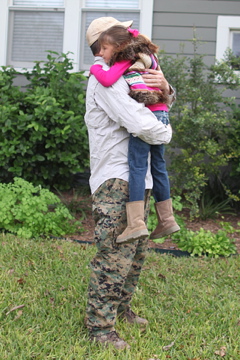 Oh, and did I mention that P was wearing his digital camo pants? Not that they don't scream STYLE SAVVY because, OBVIOUSLY, they totally do.
Also, when did my daughter get to be six feet tall?
I'm pretty sure the following picture won't make the Christmas card cut.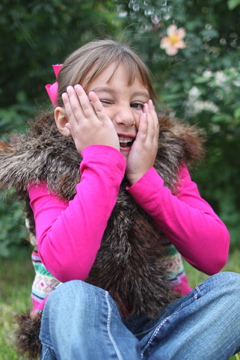 And I promise you this one won't.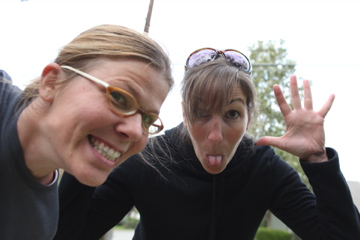 If you ever grow concerned that your prayer life isn't what it should be, I totally recommend watching your child take pictures with someone else's very expensive camera.
And after seeing this picture, I'm also praying for some type of miracle cure to even out my skin tone. My word, sun damage much?
By the way, if my sister is reading this, WHEN ARE YOU GOING TO HAVE YOUR BABY?