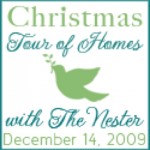 "Can I refill your eggnog for you? Get you something to eat? Drive you out to the middle of nowhere and leave you for dead?" Clark Griswold
For the third year in a row, I seriously debated whether or not to participate in the Christmas Tour of Homes but then I remembered those famous words spoken by Clark Griswold to Cousin Eddie and I was swayed by the sentimentality of the season.
But before I show you basically the same pictures I show every year, I wanted to make you aware of two things:
1. There is a fabulous giveaway going on over on my Giveaways page. It's courtesy of the nice people at CWDKids. They'd like to give one of you a $100 gift card for Christmas!  Ho, ho, ho!  (I don't know why I did that.)
2. P is writing another post that I'll put up tomorrow with answers to all your questions. There were too many for him to answer in the comments. Is it just me or are y'all sensing a blog spin-off reminiscent of when George and Weezie moved on up and left All In The Family?
And is it just me or did I just use the most dated spin-off reference in the history of forever? I should have gone with Three's Company and The Ropers. Much more current. Unless you were born after 1981.
Okay, let's start with the tour.
These are the windows in my kitchen.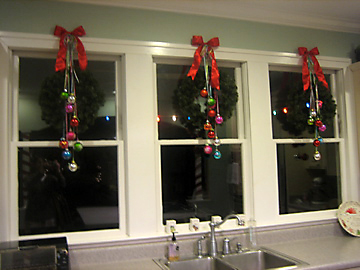 Here's a close-up shot.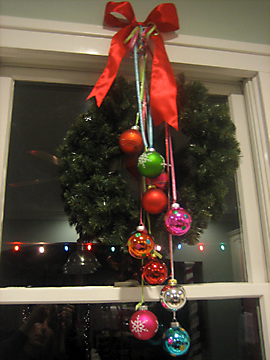 (I feel the need to explain that the red bow on top looks much looser and free in person. I'm not sure why it looks weird in the pictures, but maybe it got nervous from all the attention.)
In the past I've just tied the wreaths with a red ribbon, but it has long been a dream of mine (since at least 2008!) to incorporate some hot pinks, greens, and blues into my Christmas decor. And thanks to Michaels and their vast array of 50% off ornaments and ribbon, I made that dream come true this year. I'm embarrassed to admit how much time I spent debating various ribbon widths and lengths of ornaments. Let's just say that Mama may get some Xanax and a book called Keeping It In Perspective in her stocking this year.
Next up is the island in my kitchen.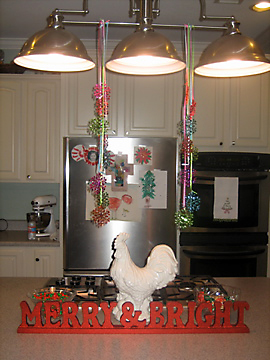 It took me a while to figure out how I was going to tie those snowflakes. In the meantime, Caroline picked up the scissors and just began to cut ribbon all willy-nillyish. I used my calmest voice full of holiday cheer to explain, "You can't just start cutting the ribbon. First you need to get a vision of what you want."
She looked right at me and said, "I HAVE A VISION OF WHAT I WANT". And so we went with her vision and used all the random lengths of cut ribbon to tie the snowflakes onto my light fixture.
Speaking of random lengths of ribbon, here is the chandelier in the dining room.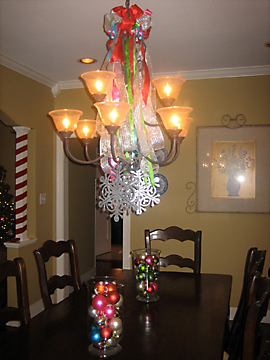 I used a decorating technique called tying a whole big mess of ribbon together and hoping for the best.
Caroline was in charge of putting the ornaments in the glass vases and obviously she had a vision because they turned out lovely, even though it took a bottle of Windex to get rid of all the fingerprints.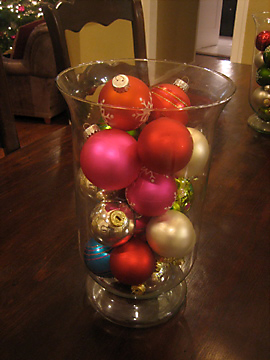 It's hard to tell in this picture, but I surpassed some type of lighting record this year. I honestly lost count of how many strands of lights I wrapped around it, but I can guarantee you that P would be horrified to know how much voltage I'm running on one circuit. Let's hope he doesn't read this.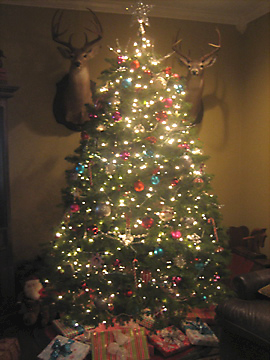 The important thing is all the lights with my new pink, green and blue ornaments added in make me so happy. I also love that the deer next to the tree is like a scene straight out of a wildlife book, if deer were stuffed and mounted on wooden plaques in the wild.
Oooh shiny.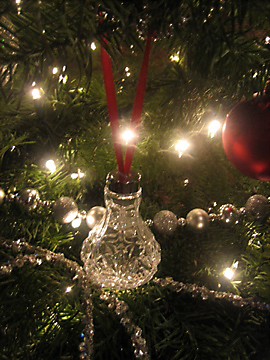 Sparkly.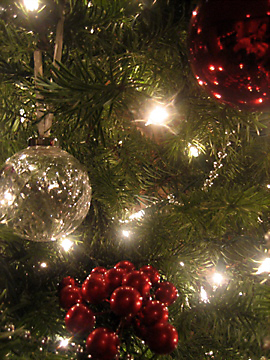 I always put a few pictures of Caroline with Santa around the house and on the mantle. And the flowerpot nativity she made when she was three is my favorite decoration of all time. Seriously, if I could only decorate with one thing it would be Mary with her disheveled hair and baby Jesus in his little pot with a sparkly halo made of pipecleaner.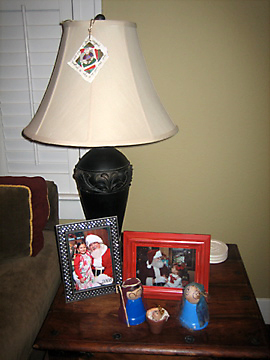 Here's our mantle. In the dark.
Maybe all the wattage from our tree is causing our living room lights to dim.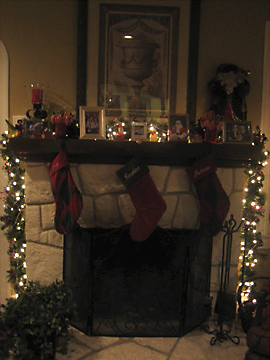 I added a some berries and bling (does anyone still say bling?) to the faux greenery this year to give it a little pop. And I had big plans to find some hot pink and blue candy canes for the mantle to add to my color scheme, but it would have required a trip to the candy store was obviously low on my priority list because it never happened.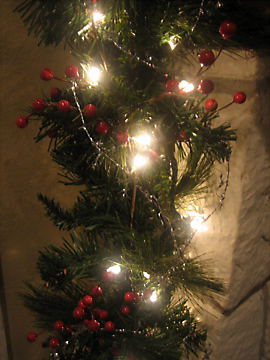 This is a sweet little nativity that I bought several years ago and you aren't going to believe this but that lace that it's on came from Nena. Which means someone was selling it in a garage sale. And now it's mine. I'll be honest, it needed a little Febreze, but I think it looks sweet and it came from Nena and that makes me happy.
Of course maybe I'm just happy that it's not a fleece men's shirt in an XXL.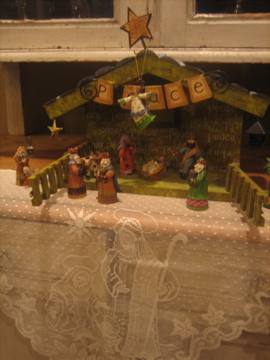 And finally, this is the view from the living room.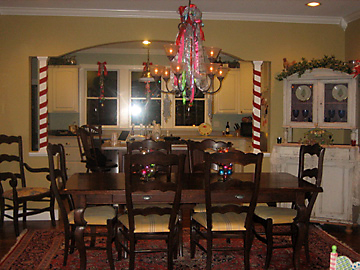 With a blinding light from my flash adding just the right touch.
It's the little things that say "Hey, I'm a terrible photographer".
For more fun and probably a lot more true decorating inspiration, go visit the other homes over at The Nester's Christmas tour.
And don't forget about the CWD Kids giveaway on my giveaway page.