On Thursday afternoon I drove to Austin for my dad's retirement party. He's worked for the same company since 1972. To put it in perspective, I was one year old when he started. And now I am significantly older than that.
I'm not sure what I was expecting since I've never been to a retirement party before, but it far exceeded my expectations. My dad has always been my hero and to hear a room full of people talk about his integrity and character and what he has meant to them was an incredible experience. An experience that about sent me straight into the ugly cry. Seeing him honored that way will go down as one of the best nights of my life because he deserved every minute of it.
We drove back to San Antonio on Friday morning and I was supposed to fly out to Nashville later that afternoon for my friend Travis's 40th birthday party. His sweet wife had been planning a surprise birthday celebration complete with an 80's theme for months, but the real surprise ended up being almost a foot of snow in Nashville which meant there was no way I could make the party unless I flew into somewhere south of Nashville and procured a team of speedy sled dogs to take me the rest of the way. And don't think I didn't consider it.
Instead of being at a fun 80's themed birthday party with several of my friends, I spent Friday night sitting on my couch, catching up on DVRed television, and eating a Frito pie made with Hormel chili out of a can. So it was pretty similar to how I spent many Friday nights in the 1980's except there was no DVR back then so I would have been waiting for Friday Night Videos in the hopes they'd show some awesome Wham! videos and I could wonder if George Michael might fall in love with a fourteen year old girl from Beaumont, Texas. (Bless my heart, it was a naive time. I thought being fourteen was my biggest obstacle to long-lasting love with George Michael.)
And I was usually home because I was grounded for breaking curfew the previous Friday night. Now I'm just home because I'm lame and also old enough to be Lady GaGa's much older sister.
(I know that because I looked her up on Wikipedia while watching the Grammys last night. She was born in 1986. NINETEEN HUNDRED AND EIGHTY-SIX. Otherwise known as my sophomore year of high school.)
Anyway, I was so disappointed because it's a major letdown to think you're going to spend time with some of your favorite people, only to find yourself at home alone with can of Hormel chili and an 80's outfit that took weeks and several trips to Forever 21 to put together.
Look at what I now own. Again.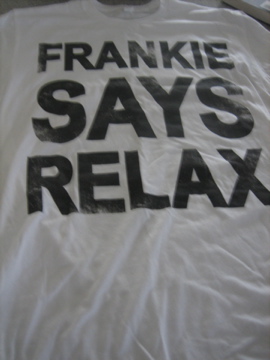 But wait. There's more.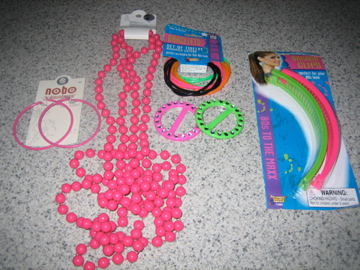 And these gems that I found on the sale rack at Forever 21 for $4.99.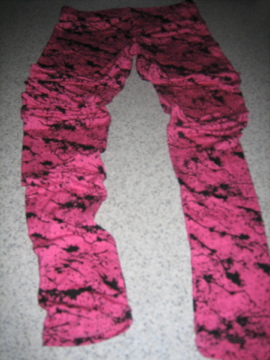 It was a final sale so I guess I'll have to save them for the next PTO meeting.
They'll look great with my new blue eye makeup and hot pink lipstick.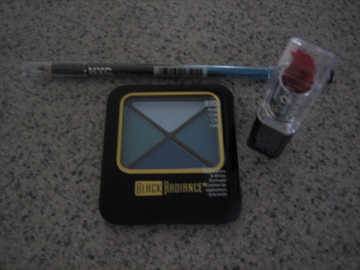 I even bought a can of Freeze It! to ensure that I could attain maximum hair volume before I pulled it all back with a banana clip.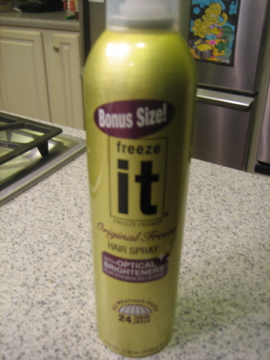 Don't ask me how I thought I was going to get it on the plane in my carry-on bag. I guess I figured I could sweet talk security and maybe tell them that Frankie says RELAX.
The most shameful purchase of all was a Miley Cyrus brand dress that I purchased at Walmart last week. If you'd asked me a week ago for a list of things I would never do, that list would have read:
1. Will never eat dark meat from a chicken again. Ever.
2. Will never marry George Michael. (Guilty feet have got no rhythm)
3. Will never purchase any sort of Miley Cyrus clothing for myself.
But, yet, here is the Miley Cyrus dress.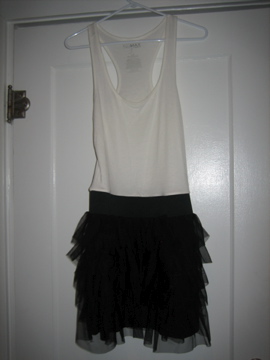 In my defense, I bought it solely for the skirt. And it was on sale for $10.00.
Which now seems like $10.00 too much.
Ultimately, here is what the entire outfit would have looked like had Nashville not had the biggest snowstorm in the history of me knowing anyone who lives in Nashville.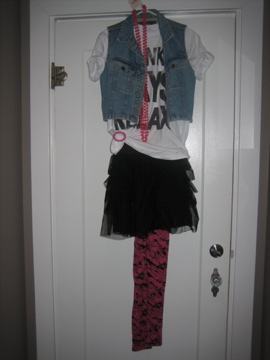 By the way, I already owned the denim vest. There are some items of clothing that are too sacred to be thrown out even if they haven't seen the outside of your closet in seventeen years. (Okay, fifteen years. It was hard for me to give up on the vest. As evidenced by the fact that I still own it.)
So happy birthday, Travis. I hope you got some new dentures and a gift certificate for your 4:00 p.m. dinners at Captain D's. And maybe a nice cardigan to ward off the chill.
As for me, I had a lovely Friday night at home thinking about all the fun I was missing with sweet friends.
And I also have a daughter who has discovered the banana clip and the beauty of a flipped up collar.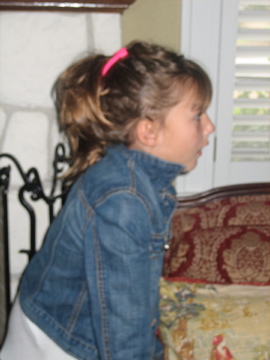 Which kind of worried me until I remembered what Frankie says.