There is nothing I really try to avoid more than stirring up some controversy. It makes me feel all itchy and uncomfortable. I don't know how to handle all the opinions and thoughts. Which is why I rarely bring up anything controversial. In fact, over the years, the only controversial subjects I've brought up are the velour jogging suit and my general dislike of Sleepless in Seattle.
I'm not saying that Meg Ryan wasn't precious in the movie. She totally was. It's just not my favorite. If it was your favorite, then I'm truly sorry. Sorry you have bad taste in movies.
See how I made a little joke because the controversy makes me nervous?
Anyway, I rarely see the point of stirring up anything here. I mean what are the odds that we're all going to agree that Bo Duke was the cutest Duke boy? Actually, those odds are pretty good because it was really no contest between he and Luke. And I'm not even generally a fan of men with blonde hair.
But none of that has anything to do with what's really been weighing on my heart.
I need to talk about HEB.
For those of you who aren't familiar, HEB is a huge grocery store based in Texas. Some might say they have a monopoly and/or stronghold on the South Texas market and those people would be right. The letters are one of the original founder's initials, so you say H. E. B. They also have their own clever marketing campaign that uses the letters to declare "Here Everything's Better!" I don't know what those marketing folks are getting paid but clearly it isn't enough because that is pure genius.
And it used to be true. Everything was better at HEB. The sky was bluer, the aisles were brighter, the clerks were friendlier. It was my happy place.
Before I had Caroline I never really paid any attention to the grocery store. Obviously I must have shopped for food on occasion because I don't remember P and I foraging in the backyard for nuts and berries, but we were young married people without a child and our grocery list basically read like the total opposite of the suggested food pyramid. We were fueled by high fructose corn syrup and artificial dye with a cheap bottle of wine thrown in for good measure.
But then I had Caroline and grocery shopping became an event. I made actual lists with things like diapers and formula and vegetables and dairy products. We'd go to HEB several times a week and were always greeted by our favorite manager, Dwayne, who doled out the HEB Buddy Bucks to Caroline like a crack dealer making sure he lured in a new loyal customer. "HEB" was one of her first words, quickly followed by "Dwayne" and "Buddy Buck". He'd bring us balloons, made sure I knew what was on sale, and always ensured everyone was getting great customer service. I even wrote a letter to HEB about Dwayne and it's not very often that I write an actual letter and mail it instead of just drafting something in my head for my own amusement.
(Dear Gap, I regret your decision to put pockets on the side of what would have otherwise been a really cute dress/tunic. No woman wants extra bulk in her hip area. And if she does, then I hate her. Love, Melanie)
It was inevitable that Dwayne moved on. In words from Don McLean's song Starry, Starry Night, this world was never meant for one as beautiful as Dwayne. Except he didn't include Dwayne in the lyrics. And Dwayne didn't pass away, but was instead promoted to a position that took him away from our local store.
I'll admit that I was disheartened by the loss of my favorite HEB manager. The grocery store experience just wasn't the same, but people move on and I understand that. Everything was fine until HEB added to insult to injury and quit carrying my beloved Tyson skinless, boneless roasted chicken breasts. How was I supposed to deal with the loss of Dwayne and handling raw poultry all at the same time? It was too much to bear.
And, yet, I persevered. Mainly because there isn't anywhere else in this city to grocery shop unless you count Target and Walmart. Which I don't.
That's the way it's been for the last three years. I grumble and complain about HEB, but I continue to shop there because they do have lovely produce and also happen to have a store less than a mile from my house. But then two pivotal things happened.
The first life-changing moment occurred when I almost accidentally purchased a bottle of HEB's Bravo detergent instead of Gain because the bottles look exactly alike. It's very deceptive. And had I ended up with the bottle of Bravo, I might have been tempted to return to the store and have a spaz. (That's right. I just said "have a spaz".)
Exhibit A: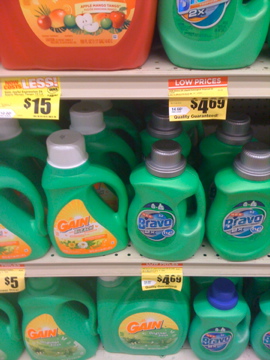 But it goes deeper than that. See how they make the powdered detergent look like the Tide box?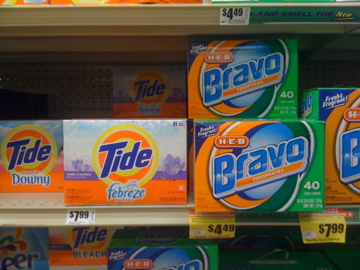 So because I am all about the research and the conspiracy theories, I began to notice a few other products that are labeled to look eerily similar to the popular brand name products.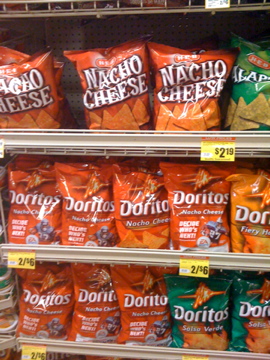 Oh. I know you aren't getting deceptive with my chip selection.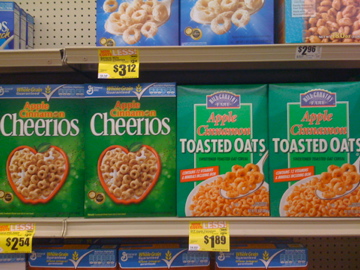 Et tu, Cheerios?
(By the way, I took these pictures with my iPhone while trying my best to look like I was just texting or checking email. I was totally paranoid about getting thrown out of the store because it would have ended like the scene from An Officer and A Gentleman where Richard Gere yells at Foley "I GOT NOWHERE ELSE TO GO. I GOT NOWHERE ELSE TO GO!)
The other thing that happened was Gulley's confession that she's been doing some grocery shopping at Walmart. It's like I didn't even know her at that moment. But she said she was tired of not finding various name brand items that she prefers to buy and there was an entire incident involving a lack of Philadelphia Cream Cheese that completely pushed her over the edge.
But, conveniently, they had HEB Cream Cheese packaged in a very similar silver box.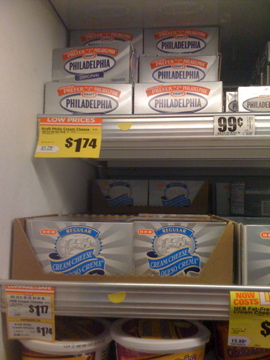 And I think she might have shed some tears as she shared a tragic story about buying the wrong enchilada sauce.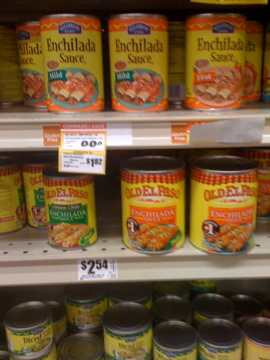 I know that some people don't mind buying the store brands. They are less expensive and can be a little more budget-friendly. But I am not one of those people. I don't play any sort of grocery game or clip coupons or take advantage of the weekly "Combo Locos" at HEB. I probably should, but I don't. Mainly because in the past this has led me to have three boxes of Keebler crackers that I'll never eat or two bottles of Ken's Steakhouse Caesar Salad Dressing when I'm not even familiar with Ken or his steakhouse.
And, honestly, there are some HEB brand items I love. You can't go wrong with their marinated fajita meat or any of their baked goods. Their produce is gorgeous and always fresh.
I just want my Tyson chicken breasts back.
And to be able to shop for my laundry detergent and cream cheese without having to double check that I'm buying the brand I want.
And for them to please move the sushi counter away from the produce.
That's all.
I would ask for Dwayne back, but I feel that he's probably in a better place. By which I mean the corporate office, not heaven.