One day last week on She's Still Got It, Lindsay talked about hair. Specifically, she talked about twisting your hair into an onion formation while it's still damp, sleeping with it that way and waking up to a head full of gorgeous waves the next morning.
The concept isn't new to me. I have my own version of the onion that I do to my hair on the nights I don't feel like blowing it dry, which is to say that I do this about two to three nights a week. And I'll be honest, the results are mixed. Some mornings it looks great, but other mornings I look like Chaka Khan. On those unfortunate days, I just pull the whole mess back in a bun and pretend like it never happened.
But it's never occurred to me to try it on Caroline's hair. So last night I asked her if she wanted to try something new with her hair and she agreed. It helped that I told her she could play Mario Kart on her Nintendo DS while I fixed it. You may say I resorted to bribery, but I say it's just creative parenting in the name of releasing my inner beauty stylist.
I put some styling serum in her hair, divided it into four sections and twisted them into the onion formation. Then we headed into the bedroom, read a story and then it was time for prayers.
She prayed, "Dear Lord, thank you for everything you give us. I hope I sleep good tonight. Please let me have a good time at my soccer game tomorrow. And please let this invention that my mom has put on my head turn out okay. Amen."
Yes, Lord. Please let the invention on her head turn out okay. I shudder to think of the drama that will ensue if it doesn't.
Anyway, I've been a little obsessed with purses and bags this week so that's our topic for today.
I feel like I need to clarify that I'm not talking about a vagrant wearing a sassy cowboy outfit.
Fringe is big right now and I particularly love it on a purse. It has that whole Bohemian/Rachel Zoe thing going on.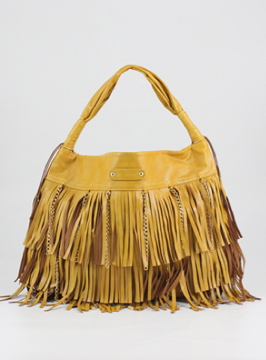 In other words, I die.
2. Straw clutch
This is an adorable little clutch that would be perfect with a sundress at a tea or a daytime wedding or a garden party. Not that I have any of those types of events on my social calendar right now, but you never know when something may come up.
Actually, I'm fairly certain my life doesn't require a delicate straw clutch, but the pretend life in my head likes to ponder the possibilities.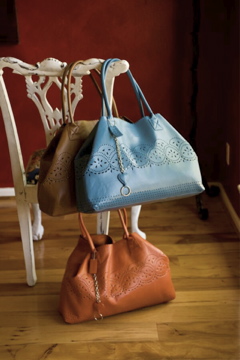 I love the floral eyelet detail on this bag. And it's on sale.
4. Big Buddha Sadie bag **I fixed the link. Sorry.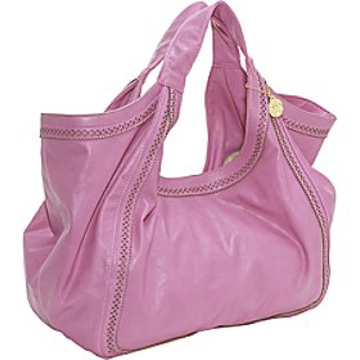 I've loved this purse for a while now and it comes in so many great colors for summer. I happen to own it in white because I am a risk taker. Fortunately it has yet to meet dirt that can't be wiped off. Who says there isn't an advantage to faux leather?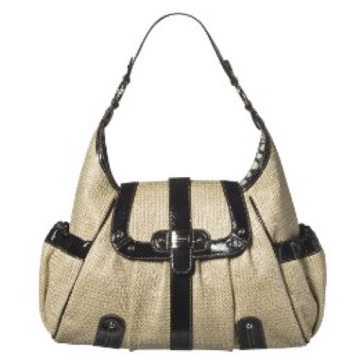 6. Statement satchel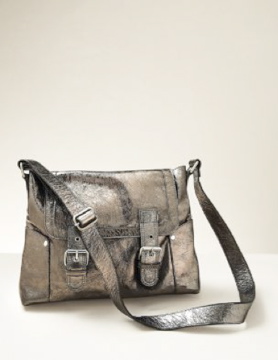 This actually comes in gold or pewter. I'm a big fan of the metallic bag because it can go with so many things and I'm not one to switch out purses on a regular basis. I have a fear that I'll forget to put my favorite lipgloss in the new purse and tragedy will ensue.
My motto is no lipgloss left behind.
7. Merona print canvas tote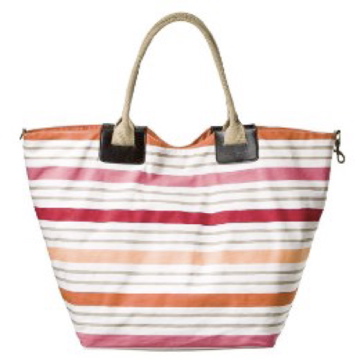 I haven't seen this in person so I don't know how big it is, but it looks so summery that it seems like a great bag to carry to the pool full of magazines, an iPod, and a good book.
Of course I have to carry a suitcase to the pool because we can't leave home without three beach towels, a snorkel and mask, eighteen different dive sticks and forty-two bottles of sunscreen. I haven't read a magazine by the pool since the summer of 2002.
8. Orla Kiely butterfly stem print bag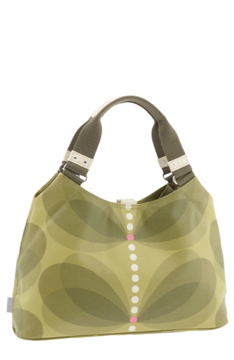 I have always loved Orla Kiely bags. And you can find this same bag in the stone print on sale at Piperlime right now
9. Melie Bianco Deborah bag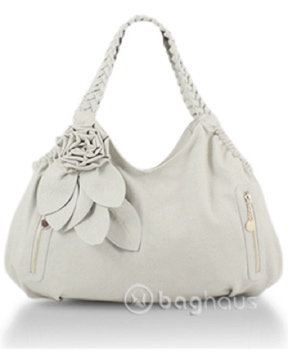 Love the little flower detail and the braided handle.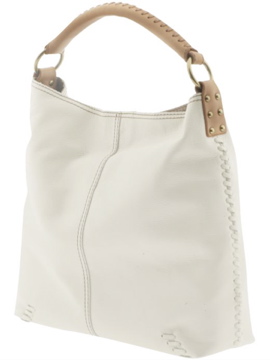 Wow. I've shown a lot of white purses. But this one has a tan handle so it's totally different!
Y'all have a lovely Friday.