Dear Caroline,
In just a few hours, I'll walk into your room with a plate holding a brownie with a candle on it. Daddy and I will sing Happy Birthday and tell you that we're so glad you were born. Later on, we'll have a big party, but this moment is just for the three of us. Daddy and I couldn't have imagined how much you would bless our lives. It's unspeakable joy.
A few days ago, you and I went out to La Cantera (or as I like to call it, The Mecca) to shop for new shoes. We walked through the outside shopping area and finally came to the playscape, which for you is the best part of the mall, although you are learning to appreciate a good shoe department. You ran over and began climbing on the play equipment while I sat on a bench to watch you. All of a sudden it dawned on me that you were the biggest kid on the playground. When did that happen?
In my mind's eye, I still see you as this little toddler with elbows full of dimpled baby fat and chubby little cheeks, but when I looked at you standing on top of the slide, I realized with the perspective of someone seeing something for the first time, that this past year you have shed whatever was left of the baby, and have become a little girl. Long and lean and oh so sassy.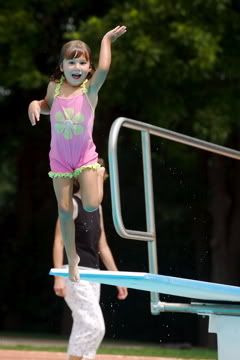 This past year has brought so many changes that I don't even know where to begin, but I will start by telling you that you make me laugh out loud every day. I never know what is going to come out of your mouth and when you begin telling me some long tale, I just hold my breath in anticipation because I don't want to miss a word. You are a character, in the truest sense of the word.
One of your favorite things these days is to tell me a story about when you were a little girl. It always starts with "Mama, when I was a little girl…" and ends with various statements. Yesterday's story was about when you were a little girl and went to Africa and rode a zebra all by yourself. I can't believe I have no recollection of such a momentous trip.
You wake up every morning ready to start the day. "Mama, get up! GET UP! Where are we going today? What are we going to do today? Let's go, Mama! Let's go." And you run in your room to get yourself dressed, which is a whole other issue. I am no longer allowed in the inner sanctum that is your closet. You are very particular about the attire you will wear each day and this is new for me. I spent 3 years and 10 months getting to dress you like I wanted, but a new day has come and you're in search of your fashion identity.
The other day you came out dressed for school in some pink plaid shorts with a long sleeve red shirt and knee high socks with your tap shoes. You looked like a bag lady on her way to perform at a Vaudeville show. I am trying to let you express yourself, but I have my limits. I told you that you couldn't wear that long sleeve shirt to school because it would be way too hot and I pulled out this darling, yellow dress from your closet and said, "How about this?" You looked at me, gave the dress the once over, and said, "No. I'm not wearing that. It's YELLOW and it's BORING." You are many things, but boring will never be one of them.
You are particular about when you want to talk on the phone, but anytime you hear me on the phone with Gulley, you want to talk and I hear shades of myself as you say, "Gulley, what is going on over there this morning? Is Will feeling better? Did he have a fever? Maybe he has the throw ups." It's such an articulate conversation and it tickles me every time.
The other day we were driving to deliver a meal to a friend that just had her second baby. You stated for the 1,000th time that you wanted a baby sister (and you're very specific about wanting a sister, not a brother). You told me that you told Daddy and "he said we'll have to see about that". I explained to you that a baby sister would mean that you'd have to share Mama and that sometimes Mama would have to take care of the new baby instead of being able to be with you. You thought about it for a minute and then said, "That's okay, Mama. I don't need you anymore."
I'm keeping that in mind the next time you want me to come rock you or hold your hand while you walk to the bathroom at 3 a.m.
In many ways, you don't need me as much anymore. It still amazes me that you run in your room and put on your own pajamas every night. It amazes me that you go to the bathroom and request your privacy. It amazes me that if you want a snack, you'll go get it yourself. And often, when I try to step in and do these things for you, you insist that you'll "do it MYSELF". I'm proud of you for that. I'm proud of you for your independence and your security in who you are and what you can do. You have no doubts about your abilities and my prayer is that you never do. You are unstoppable.
But as independent as you are, we still end each day with you snuggling in my lap as I read you stories. Then, we turn out the light, say our prayers and you contort your body until you're in a position where I can rock you for a few minutes. And just like when you were a baby, you bury your head in my chest, I breathe in the sweet smell of your hair, and I cherish this moment when I get a glimpse of the baby you used to be.
I love you more than you know. Happy 4th birthday, my sweet girl.
Love,
Mama