On Friday morning, Caroline woke me up bright and early whispering in my ear, "Mama! I see lightning outside!" As soon as my heart rate returned to levels of non-cardiac arrest, I mumbled, "No you don't. It's just the security lights outside". But then I heard the rain and realized she'd actually seen lightning.
And then I secretly hoped that it would mean the field trip to the zoo would be cancelled because I totally lack the motherhood gene that allows you to love the zoo, especially the zoo with three buses of second-graders.
Don't get me wrong. I have done my time at the zoo. We've even had some good times at the zoo. I think the fundamental issue is that I've never been very good at the proper timing of the zoo departure. We always stayed too long and by the time we got to the car, all hot and whiny and covered in melted ice cream, the precious memories of the elephants and the lions have faded away. And most of what I remember involves a meltdown and how bad the hippos smell.
Seriously. What is up with the hippos?
As it turned out, the thunderstorms were just passing through and the field trip was able to go on as scheduled but now WITH MORE PUDDLES! AND SAUNA-LIKE CONDITIONS!
I was in charge of a group of four girls including Caroline. Their teacher had given them a scavenger hunt sheet to fill out with information about various animals and things about them. Our group kept up that painful process through about five animals, but I felt my soul dying inside by the time I had to spell "mammal" for the eighth time in four seconds. Plus I realized I was the only parent who was still actually making the kids fill out the sheets which BUZZKILL.
So I ended up putting the sheets in my purse and forgot to give them back to the kids before they got on the bus. Then Caroline came home from school on Friday and told me her teacher wants the sheets back and the Ziploc bags they came in. Which I would be more than happy to return except for the fact that I threw them all away in a trashcan outside of Joseph's Bakery after I ordered myself a celebratory hot chicken salad sandwich and large Diet Coke when the field trip was over.
Basically, chaperone FAIL.
And now I guess I have to go in and explain what happened and hope that I am allowed to chaperone future field trips even though I basically participated in the elementary school version of the Enron scandal.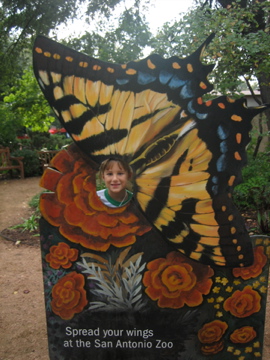 In other news, my friend Paige was in town this weekend and we spent the whole day together on Sunday. Caroline and I picked her up in the morning and we met P at church. Then we all went to breakfast at Taco Garage where she got to experience the wonder that is chilaquiles for a late breakfast. After that, P knew to make his escape and the girls headed out with the sole purpose of finding Paige a pair of cowboy boots.
I am happy to report that after visiting three different boot establishments, we returned to our original destination of Cavender's Boot City and Paige bought some boots that will cause me to have boot envy anytime I see them.
But one of my favorite parts of the day was when Paige, Caroline and I were all sitting around the food court at La Cantera taking a quick snack break. There was a little Madonna playing on the overhead speakers and Paige was kind of dancing in her seat. She asked Caroline, "Little gal, do you like to dance?"
Caroline answered, "Yes, I love to dance. I have some good moves."
Paige said, "Oh, I'd love to see your moves."
To which Caroline replied, "Oh, I'd show them to you but they're too dangerous for the mall".
Too dangerous for the mall.
I don't even know what else to say.