Before I even begin with all the holiday cheer and what not, my Achilles and I want to thank you for all your recommendations. I'd also like to say that an ice pack on your foot is a tad chilly in the dead of winter. Or late fall. Since, technically, it's not winter time until December 21.
I also wanted to state for the record that Gulley is pronounced like gully washer or the semi-famous movie from 1992, FernGully: The Last Rainforest. It's actually her maiden name and what I called her all through college and still call her to this very day.
Lastly, I just want to let you all know that wrote most of this earlier in the day. And in the last hour I have managed to walk right into the claw foot of my iron bathtub. Unfortunately, I didn't have any shoes on at the time. On the bright side, it's the same foot as my Achilles problems so I can now consolidate all the icing of my injuries.
Then, since I've possibly broken three of my toes and P is gone hunting for the evening, Caroline makes me an ice pack and cooks her own dinner of Kraft mac and cheese. Bless her heart.
But then she decided she wanted more mac and cheese. So she put another thing of it in the microwave. I'm not sure what happened, but all of a sudden she yelled, "MAMA! THERE IS SMOKE COMING OUT OF THE MICROWAVE!"
Sure enough, there was smoke coming out of the microwave. And this is what we found when we opened up the microwave door.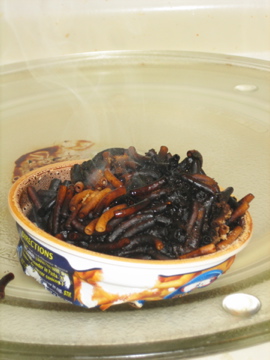 I think it was finished.
(Please tell me you see the smoke in the picture.)
And thus I spent the rest of the evening icing the front and back of my foot while airing out the house because the smell. MY WORD THE SMELL.
P came in from hunting and declared that our house smelled like a Spurs game. And I'm pretty sure he didn't mean that as a good thing.
So. A gift guide. I can't guarantee that you're going to find anything useful on this list, but you might and I think that's what really counts. I tried to find an assortment of ideas at various price points in the hopes there is something for all budgets.
Gulley's mama gave me this mug over the summer and I couldn't wait until it cooled down so I could drink hot choffee out of it every morning. And that's exactly what I've done ever since the weather has decided to cooperate.
I love the way it looks and that it's big enough to provide enough room to properly mix my coffee with my hot chocolate. And I immediately handwash it after I use it each morning because I discovered I felt sad if it spent any time in the dishwasher.
2. Herald Angel candleholder
I realize this is a Christmas decoration and some people may not like to give Christmas decorations as Christmas gifts. But I am not one of those people. I am a fan of both the giving and receiving of Christmas decor for Christmas. Especially when it's this pretty.
3. Hummingbird Lavender gift set
I put this on just about every list because I adore it and don't know how I'd live without the lavender in my life. The lotion? LOVE. The shower gel? P gets cranky and itchy when we run out.
And this spa treatment? I added it to my bath yesterday and my skin actually yelled THANK YOU.
4. Clothbound Penguin Classics for Children
I want to get every single one of these for Caroline. They are so beautiful and will look great displayed on her bookshelves whenever we're not actually reading them. One or two of these would make a perfect gift for any little girls you have in your life.
Seriously. Look at The Secret Garden.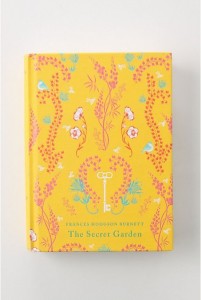 Makes me so happy.
Or a goat. Or vaccinations. Or clean water. Or farming equipment.
There are so many different ways you can give a gift through Compassion and make a difference in someone's life.
These are almost too pretty to use every day, but I'd use them anyway.
I am such a fan of Red Letter Words. There isn't really a canvas that I wouldn't love to have, but this is my current favorite.
Maybe it's because I've spent a lot of time in the last two days with ice on my foot, but these just look plain old cozy. I'd even wear them to the HEB.
The colors in this scarf are so pretty and would complement just about anyone's wardrobe. And who doesn't love a new scarf?
10. Flannel pajamas
Listen. I will never get tired of new pajamas. They are one of my favorite things. Which makes me wonder why I spend so much time in random flannel pajama bottoms and a Diamond Darlings Christmas Formal 1992 sweatshirt. It seems like maybe I should upgrade to something that matches.
11. From Head to Foot: All of you living all for Him
My friend, Annie Downs, wrote this book and it just released this week. First of all, I am so dang proud of her that I can hardly stand it.
Secondly, if you have a tween (isn't that what they call them these days?) or a teen or a young twenty-something in your life, then you need to get them this book for Christmas. It's about focusing on what God has given you and living for Him.
There is not a vampire to be found in the entire thing. Just wanted to make sure you knew that because I believe that makes it an exception among books that are currently on the market for teenagers.
12. Cavallini Daily Planner
This would be so much prettier and more fashionable than my current 2011 planner that consists of forty-two different post-it notes stuck all over my desk.
13. Meselu scarf
A scarf that helps women in Africa support their families? YES, PLEASE.
I think the post-it notes are starting to get to me because I am drawn to the calendars like a teenage girl to Justin Beiber.
There are so many different ones to choose from depending on your calendar needs and what your people may prefer. Like this personalized version or this one with a different scripture for each month.
I know you're thinking they aren't as classy as a mass of post-it notes, but what is?
I've had my eye on various necklaces with skeleton keys. This one is exceptionally great.
I don't know how to make coffee. And, furthermore, I don't want to know how to make coffee because then it would become one of my chores and why would I want to make coffee when P makes it every morning and leaves me just enough for my hot choffee?
The only time this has ever been a problem is when I have visitors over and they want coffee and I have to tell them TOO BAD.
Anyway, P has had an assortment of coffee makers over the years, but is go-to coffee apparatus is the French Press. He claims it makes a better cup of coffee for the coffee purist.
All I know is it tastes delicious when you mix it with some Ghiradelli Double Chocolate hot chocolate mix.
17. Williams-Sonoma Peppermint Bark
Speaking of being a purist, you might prefer to make homemade treats for your neighbors and co-workers and sanitation employees. And so do I. My kitchen cranks out enough toffee during Christmas time that I could give Willy Wonka a run for his money.
(That may be a slight exaggeration.)
But a few years ago, P found Williams-Sonoma peppermint bark on sale and ordered like six cases of it because P loves to order himself some items in bulk. I mocked him endlessly and was slightly annoyed that we'd spent a chunk of money on peppermint bark. And then I ate more than half of it all by myself because it is so incredibly delicious. It is the King Daddy of peppermint bark.
We also had a dear friend send us one of these Giant Caramel Apples last year and I wasn't sure what I thought about a giant caramel apple. It intimidated me with its largeness and caramelness. And then I tried it and OH MY WORD it is so right and good.
I love these watches. I love that they're cheap. I love that they come in every color of the rainbow.
19. Gold Houndstooth coat
Boden has a ton of stuff marked down to 50% off right now, but this coat calls out to me. And it is majorly on sale.
Spellcheck is trying to tell me that "majorly" isn't a word. To which I say, spellcheck hasn't seen that coat.
20. Cuisinart 11-cup food processor
Gulley would tell me that I am a fool for wishing for something as practical as a Cuisinart 11-cup food processor. She'd say it's a slippery slope that will lead to a Christmas where I receive power tools or a vacuum cleaner.
But I have long wanted a large food processor for all the chopping and shredding and grating and this one is way on sale at Macy's right now. If this all ends with me getting a dremel tool for Christmas someday, then so be it.
21. Amazing Grace necklace from Rusted Chain
There are so many pretty necklaces and charms that it's hard to choose. I'm partial to this Amazing Grace one because I am in need of much grace.
22. Old Gringo cowboy boots
You know those Zales commercials or whatever where they talk about how women just want jewels for Christmas? Those women have obviously not seen these cowboy boots. These are pure romance.
23. Sock monkey hat and mittens
Caroline is past the point of wearing a sock monkey hat and mittens, but I think these are so darling if you happen to have some little ankle biters in your life.
24. Fearfully and wonderfully made soldered pendant
Oh, the jewelry. What did we do before Etsy and the like? Love this.
See? This is the way to go with jewelry. It's sparkly and pretty and elegant. And inexpensive enough that maybe you could swing this and some cowboy boots.
26. Macbook Pro and a cute case
Okay, yes. EXTRAVAGANT. But sometimes you have to go big or go home. This would be on the top of my personal wish list this year. It doesn't mean it will happen. In fact, it most likely won't happen unless Steve Jobs decides he wants to send me a personal gift this year. Yet a girl likes to dream.
And that is all for this year. Unless I come up with something else.
Happy shopping.
I'll just be here icing my foot and burning Kraft mac and cheese.