Well, it's the night after Christmas and I'm sitting here on my couch with a few tears in my eyes because I just watched last year's season finale of Friday Night Lights for the forty-second time and I never grow tired of watching Landry kick the game-winning field goal. I realize that's probably a random thing to watch on the night after Christmas, but I'm officially over the Christmas movies and it seemed like a good choice.
I also seem to have a piece of glitter near my eye that I keep seeing in my peripheral vision and it's driving me a little bit crazy. Alas, it's the price you pay when you have a fondness for the ribbons with all the glitter.
So I'm going to go out on a limb and say that, other than Santa's poor judgement in bringing Caroline some Aqua Sand, this may have been my favorite Christmas. I'm also going to say that after engaging in more Just Dance battles on the Wii than I can count, I better keep my day job. Not that I really have a day job. I choose to believe that what I lack in actual dance ability, I more than make up for in enthusiasm.
I feel like I failed to recount a lot of things we did during the days leading up to Christmas and now I need to record them for posterity. Feel free to move on to something on the internet that's more interesting. I hear there's a site called You Tube that has all sorts of videos and something called Google that let's you search for all manner of information.
The Sunday before Christmas, Caroline and I drove down to the ranch to meet P. She spent some time with a little princess.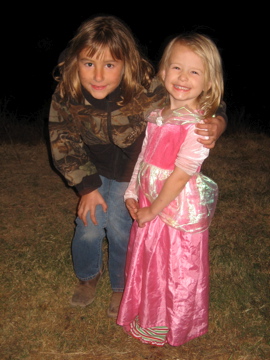 And the next morning she went hunting with her daddy and she shot a turkey.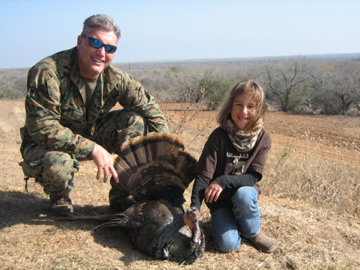 I regret to inform you that its tailfeathers are currently in a Ziploc bag in my freezer. I'm not sure what's going to happen to them, but I'm praying they don't end up as some sort of wall decoration.
We drove home later that day because we had big plans to go to the Riverwalk with Mimi and Bops, my sister and my niece to eat dinner at the Rainforest Cafe, home of the overpriced souvenir cup and occasional indoor thunderstorm.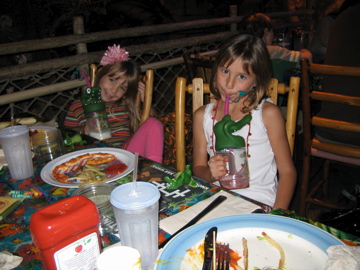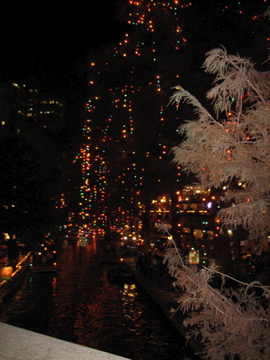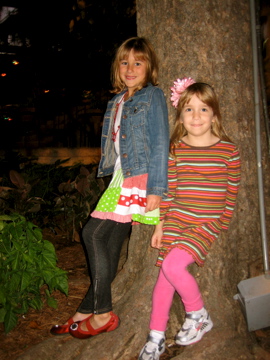 Please note that Caroline wore her jeggings. With a denim jacket. I don't really recommend wearing them both at the same time, but she hasn't heeded my clothing advice since she learned the word NO.
Later in the week we made sugar cookies while wearing our jammies.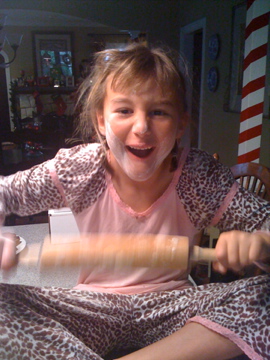 My kitchen will never be the same again. I just have to resign myself to the fact that I'll end up with festive sprinkles on the bottom of my feet anytime I walk through there until sometime around 2015.
I had a great girls' night out with my Birthday Club group on Wednesday night. There is no photographic evidence of this. You'll just have to believe it happened.
And then on Thursday, Caroline and I went over to Gulley's to exchange Christmas presents with the boys. Look what Gulley bought Caroline.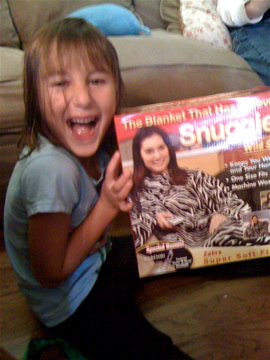 In Gulley's defense, I told her to buy the Snuggie because Caroline begs me for one every time she sees them at HEB. I just wanted to clear that up because otherwise Gulley would call me and worry that the people on the internet will think she is totally lame for buying a seven year old a Snuggie.
But I will have you know that when Caroline opened it up, she yelled, "FINALLY! FINALLY!!! FINALLY I HAVE MY VERY OWN SNUGGIE!!!!"
And at that point I thought I should just take back the rest of her Christmas presents and save myself some cash because her joy was complete. A snuggie. A zebra print snuggie. Who says $15 can't buy happiness?
I think the kids all liked their gifts. Or maybe they were just all hyped up on sugar cookies and Dr. Pepper.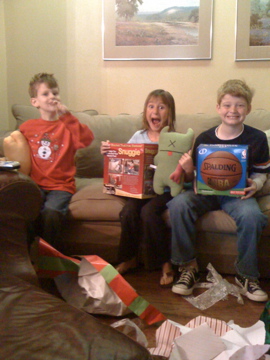 I feel like I've already used too many words and I haven't even gotten to Christmas Eve. Plus it feels like the Arctic Circle in my living room right now and I need to go get in bed. Or find Caroline's new snuggie.
I'll continue the story of our Christmas tomorrow. I'm sure at least two of you will find it fascinating.
_____________________________________
For a chance to win a $100 gift card, make sure you visit my MasterCard MarketPlace review page.