Y'all.
It is so cold.
I'm going to bookmark this post so I can look at it in July when I am totally over the heat and begin to believe I will never feel cold again.
Last night we all woke up at 5:30 a.m. (yes, I realize that's morning to some people, but not to me) when the electricity went out. It was immediately obvious because our house was suddenly dead silent. P told me to call CPS to let them know the power was out and so I began the process of trying to search the Google for the phone number for CPS while half asleep. It went as well as you might expect. And was totally worth it after I spent the next thirty minutes getting a busy signal.
And then the power came back on and it was pretty much time to be up for the day. Aces.
P left to drop Caroline off at school and I headed to our church for Bible study right after I stopped at Starbucks for a bucket of caffeine in hot beverage form. All the women were talking about the power outages. One of them even let us know that she'd heated her curling iron using her gas range. You have got to admire that kind of commitment to hair excellence.
Anyway, it was at Bible study that I discovered our power had gone out due to a mandate by the blah, blah, blah commission for rolling blackouts to preserve energy. About that time P texted me to let me know our power was out again. I called him to tell him about the rolling blackouts. I'd share his response here but I think there are some impressionable youngsters that read this blog. The short, family-friendly version was something along the lines of "I don't know why I pay for a service every month if I can't count on it to heat my home during the coldest days of the year. Isn't this America?"
The power went out about three or four more times throughout the day. The irony was I was finally able to live a version of "The Blizzard" episode of Little House on the Prairie, which has long been a dream of mine. And I'll tell you, I don't know how those pioneers did it because I'm pretty sure they didn't have a Snuggie or Smart Wool socks. Or an iPhone so they could continue to check the Twitter and play Words With Friends.
I salute you, Ma and Pa Ingalls. I salute you.
Here are a few quick bullets before I go put on another pair of socks and find an additional blanket.
1. The weathermen are officially predicting between 1-3 inches of snow for Thursday night through Friday morning. If they are wrong, then I'm sending Caroline down to their television studios to confront them in person for sitting on their throne of weather lies. Hell hath no fury like a seven-year-old who thinks she's about to see snow and ends up denied.
2. Some of you may remember that we got a new front door a while back. No, we still don't have the promised piece of replacement glass for the window. We also don't have any weather-stripping because he was going to do that when he installed the glass.
When I got home yesterday, P had taken our winter weather precautions up a notch.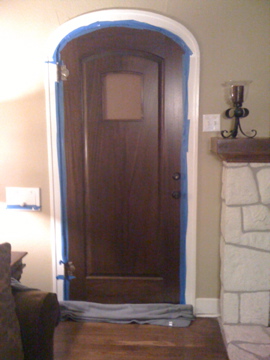 For a free estimate on your very own Redneck Weatherstripping, just drop us an email.
3. When I went to HEB the other day to prepare for WINTER STORM 2011, I was delighted, DELIGHTED, to find these.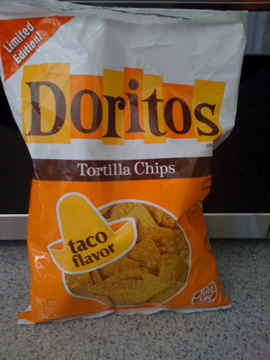 I hate to reveal my propensity to be a bit of a food snob, but one of my very favorite culinary treats when I was growing up was a chili-cheese sandwich made by my Nanny served with a side of taco flavor Doritos.
You may be thinking, "What is a chili-cheese sandwich?" and that makes me sad for you. A chili-cheese sandwich is Wolf chili from a can with a slice of cheddar cheese all melted together and served between two pieces of buttered wheat bread.
Over the years, I have attempted to recreate the sandwich with varying degrees of success, but it hasn't been the same because they discontinued the taco flavor Doritos years ago. But now, OH NOW, my life is complete. Albeit in limited edition form. I can totally replicate one of my favorite childhood meals.
It's too bad I can't replicate my childhood metabolism.
4. On a television front, I read that NBC will start airing the final season of Friday Night Lights on April 15th. However, that will be 10 days after the entire last season is released on DVD so you could just buy the season and have yourself a viewing marathon. Which may be what I decide to do even though I'm so torn between excitement over seeing what happens and sorrow over watching the end of Coach and Tami Taylor. I love them so.
Also, I have decided that Brad the Bachelor reminds me of Forrest Gump. "I may not be a smart man, Jenny, but I know what love is". I'm not sure what it is but he sounds like he's reading off cue cards.
Finally, I continue to love this season of American Idol. I would like to know what products J. Lo and Steven Tyler use on their hair.
5. My feet are cold.
I just thought you might want to know.
Wishing you all a great day filled with electricity and taco flavor Doritos,
Melanie