So we had a big weekend o' fun.
It all started on Thursday afternoon. I picked Caroline up from school early so she could go to Alamo City Church with me and help the LifeWay event team set up for Priscilla Shirer's Going Beyond conference. We unpacked boxes of t-shirts and unrolled large marketing posters and spread tablecloths on tables and a million other little things that I had no idea had to be done. Caroline had the best time and believes she has found her calling setting up posters and hauling boxes from one room to another.
We left there around 4:00 and had to make the final decision about the Bike Rodeo which was happening Friday morning. Caroline said she was too tired to practice and I informed her that if she didn't practice then she couldn't participate in the Bike Rodeo, especially since she'd just learned to ride four days earlier. She announced she needed time alone in her room to weigh her options.
Ultimately, the allure of the Bike Rodeo won.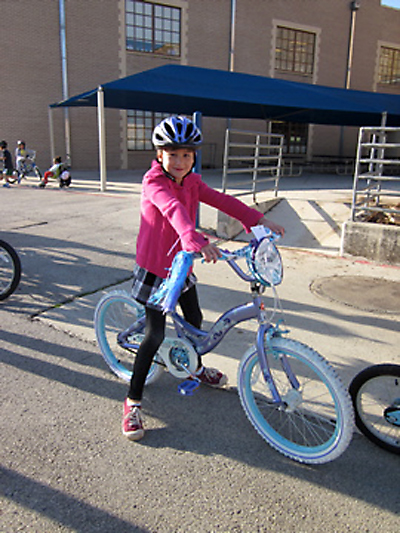 It wasn't a flawless performance but she never gave up and, most importantly, never threw her bike to the ground and cursed the day bicycles were created. It felt like a victory.
Friday evening I went back to the church to help with the conference and hear Priscilla speak. Y'all will be sad to know that I did not get my own walkie-talkie and headphones this time. Or maybe I was just sad about it and y'all won't care. They said it was because they'd only brought five of them along and gave them to more crucial team members, but I suspect it might have had something to do with my inability to figure out the difference between the talk button and the listen button. Whatever. It's not as easy as it looks.
I worked the merch table. Mainly because I like to talk about selling merch. It makes me feel like Andy Barnard.
And I got to slip in and listen to Priscilla speak. She taught an amazing lesson on Gideon and the Midianites that will stick with me for a long time. I'm sure I'll end up writing more about it later but I'm still processing some of it.
On Saturday morning I had to be back at the church at 6:45. For those of you doing the math at home, that means I had to set my alarm for 5:45. And because I am neurotic and tend to fret endlessly about oversleeping, I got a grand total of 15 minutes of sleep Friday night. Needless to say I left the house early enough to stop at Starbucks for some serious caffeine because you can't work a merch table and do all that math (buy 2 CDs, get 1 FREE!) in your head when you're delirious from lack of sleep.
But I was so excited to meet the cutest group of girls from Waco. Shout out to the Waco gals! Loved meeting y'all so much. I'm so glad the bus didn't leave you on Friday night.
Anyway, after the event was over, we grabbed a quick lunch before dropping off most of the team at the airport. My friend, Paige, stayed behind to spend Saturday night so we could have a little more time to hang out. We headed straight to Caroline's last basketball game of the season. I'm sorry to say that it was not their best performance. I'm even more sorry to say that they played the same team they played last week with the coach that made me want to throw something across the court. They were sad about their loss for all of two minutes until they discovered they were all getting medals.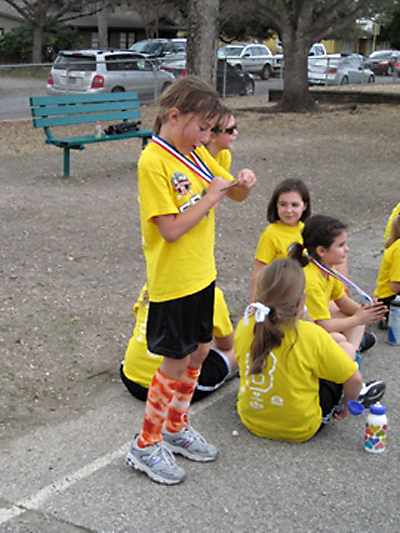 Upon receiving her medal, Caroline immediately announced, "I'M THE QUEEN OF THE WORLD" so it would appear the loss had a negligible effect on her self-image.
After that, Paige, Caroline and I headed to get pedicures because we felt like we needed them after all the selling of the merch and the standing on our feet.
I chose an OPI color called "You Don't Know Jacques" and couldn't be more pleased. It's kind of a pewter color which is normally not in my color range, but I love it for this time of year. The highlight of the pedicure was when Paige's male pedicurist (Is that what you call them? I have no idea.) put her flip-flops back on her and then did a Ninja move in celebration of his flip-flop putting on skills. It brought us untold joy.
(Is this post as boring as it seems from this end? Because I'm kind of struggling. It's also not helping that P is sitting next to me watching When We Were Soldiers which isn't necessarily the lighthearted feel-good movie of the year. I may wake up with post traumatic stress syndrome tomorrow morning.)
Saturday evening, we introduced Paige to the glory that is a cheeseburger from Chris Madrid's and then we stayed up late visiting in between countless yawns because we were about to fall over from exhaustion. Eventually we gave up the fight and headed to bed.
We woke up in the morning, went to church, and ate more Mexican food. And then, sadly, the fun had reached its end and we took Paige to the airport.
And then we went to a birthday party for P's mom and ate cake.
And then Caroline wanted to go for a bike ride because she has decided her bike is the best thing EVER and can't believe we let her go so long without knowing how to ride it.
Right. Whatever you say.
And that was the weekend.
On a totally different note, I just dated this post and how is it already March? My word at how the time flies.