Maybe it's because I've had more than my fair share of caffeinated beverages, but I have about 152 thoughts running through my head. And instead of weaving them all into some type of thoughtful, concise post, I'm going to fall back on my old friend, the list.
Oh, list. I have missed you and how easy you make my life.
1. Over the last 6 months, I have developed an unhealthy addiction to Ghiradelli's Double Chocolate Brownie mix. I try to turn away when I see them winking at me from the shelf at HEB, but I have been powerless.
I am but a weak vessel.
So, this week, as a healthy alternative, I bought Krusteaz Fat-Free Brownie mix. It's basically just some powder and you add water. I made them last night.
And they almost taste like real brownies if you close your eyes and don't think about it too much. Eating them while drinking a fifth of vodka wouldn't hurt either.
2. Several of y'all asked where I got Caroline's cute outfit. It's a brand called Mis Tee V-Us and I love all their stuff. I usually wait until it goes on sale at a local boutique, but I know you can find it online. A kids' clothing site I love is bestdressedkids.com.
Cute, cute, cute.
3. For those of y'all who weren't sure what the Ostrich packet had to do with anything, I will help you out. The Ostrich was but one type of rubber band I had to endure throughout my long, arduous orthodontia journey.
I will be digging miniature rubberbands out of the bottom of my makeup bag and various purses for many years to come.
4. Also, thanks for the reminders to wear my retainers. However, since Dr. Kevorkian apparently pegged me as a non-compliant patient, he put permanent retainers behind both my top and bottom teeth.
These suckers aren't going anywhere. And honestly, if I had to carry a retainer around in a plastic case, it wouldn't last a month. I can barely keep up with my wallet, which contains money…sometimes.
5. Gulley came over this morning and I said something about my new Favorite Things page. She said she didn't realize I was updating it everyday and said I needed to communicate that piece of information to other readers who may be in the dark.
So, yes. I am adding new links to my Favorites page every day. As Forrest Gump says, it's like a box of chocolates, you never know what you're gonna get.
6. And last but not least, many of y'all requested a picture of me. I have been hesitant to post a picture on the blog, not due to privacy issues, but due to the fact that I find myself incredibly unphotogenic. I have serious photo issues.
But since y'all have endured this orthodontia nightmare with me and been so kind as to offer your support and condolences, I feel it is only fair to show you the fruits of your labor. This is a self-portrait because honestly, the idea of holding a photo shoot with P behind the camera seemed silly.
I also thought about calling my friend AJ, who is a professional photographer, but seeing as how she had foot and hip surgery a week ago, it seemed a little vain to ask her if she could hobble on over here and snap some shots. For free. Or at least in return for some red and orange Sour Patch kids, because she doesn't like the yellow and green ones.
I'm procrastinating. Here I am.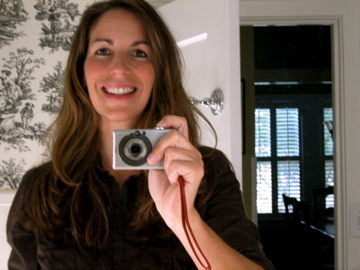 Y'all have a great weekend!
Oh, and we'll have a new podcast up sometime this weekend. It will be chockfull of all the deep insight y'all have come to expect.