I didn't really think I was going to write yet another fashion post today because I felt fairly certain something exciting would happen this weekend and I'd have something interesting to say.
Alas, that didn't happen.
I kept waiting and waiting.
And waiting some more.
In fact, by Sunday afternoon the suspense was killing me as I wondered if anything interesting or noteworthy would happen.
It didn't.
Well, there was that one time on Friday night when Caroline kept me awake from 11:00 until 4:00 a.m., at which point I finally had some sort of hormonal meltdown and told her that night time was not the time to cuddle, it is a time for sleep. Oh, and then there was the 3 hour nap we both took on Saturday.
So, needless to say, more fashion it is.
Unless y'all want to hear about how I slept so hard during my Saturday afternoon nap that I almost fell off the couch. Or about how the bottom shelf on the door of our refrigerator came loose, causing Bloody Mary mix to spill all over the kitchen floor.
I didn't think so.
And since, technically, I said it was Fashion Week, there really needs to be one more day of fashion information anyway. Plus, there are still unanswered questions.
1. Alison asks: my question is…and this is a big question…when do you wear and NOT wear make-up? I drop my dd off at pre-k and see mom's looking fantastic and i wonder if i should've put on that lipgloss before i ventured out of the car. what is considered 'going out in public'? is it going to the grocery or to hobby lobby? dentist appointments for kids? HELP!!!

I know there are some women who would never even consider leaving the confines of their home without a full face of makeup.
I am not one of those women.
On the mornings Caroline has school, I am lucky to make it out the door with my shoes on and her lunchbox in my hand. To attempt to put on lipgloss just seems like a recipe for disaster.
So, here's what I do. I wear athletic-type apparel, which causes me to appear fitness-minded as opposed to lazy. It's really all about strategy.
And yes, there are mamas who are all decked out as they drop little Hamilton off at school, but I just look at them with disdain because, obviously, they are more concerned with looking gorgeous than with their cardiovascular health.
In turn, they look at me with disdain because, obviously, I haven't showered in close to 24 hours.
Plus, there's a good chance I'll run into them in Starbucks as soon as we get the kids dropped off, which pretty much blows my cover.
"Oh, hi. I find there is nothing like drinking a grande mocha frappucino with whipped cream right before a hard workout."
2. Karen asks: What's the sweatsuit "alternative" for us Texas girls in the summer?
The key words in this question are sweat, Texas, and summer. It's inevitable. And I don't know about the rest of y'all, but there is no way I'm wearing any kind of jacket and pant combo.
Blame it on me being a child of the 70's, but when I picture a sweatsuit alternative for summer time, I picture Chrissy Snow from "Three's Company" wearing those short, terrycloth gym shorts with a tight t-shirt.
I hope I don't need to get into all the reasons that outfit would be wrong. Needless to say, short, tight, terry-cloth gym shorts have gone the way of the side ponytail.
May they rest in bimbo heaven.
So, my answer to a sweatsuit alternative for summer is a cotton skirt with a t-shirt and flip-flops. It's cute, it's cool, and it's casual. Throw on a denim jacket and it transitions you to fall. It gives the illusion that you've put some effort into your wardrobe.
And I am all about the illusion of effort. It's the same reason I vacuum once a week. It gives the illusion that my house is cleaner than it actually is.
Smoke and mirrors, ladies. Smoke and mirrors.
3. Ashleigh asks: Okay, now, Dear Fashion Expert, more questions… what is a sweater coat?

Ashleigh, I will heart you forever for referring to me as a fashion expert, although it might make Tim Gunn cry.
As for the sweater coat, it is a delicious wardrobe piece of knit goodness. There is nothing I love more than a good sweater coat. In fact, if y'all looked in my closet there would be at least three or four of them in varying styles and colors.
Here's a picture of a sweater coat from Nordstroms.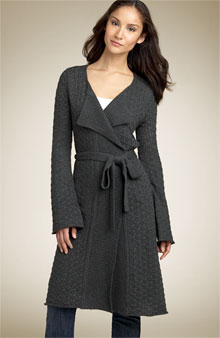 Here are some links to some sweater coats I love. Notice they are all from Anthropologie. I believe if you're going to dream, dream big.
Give it another month and I bet you'll be able to find a really cute one at Target. At least that's my plan.
Unless I come into a large inheritance from an unknown relative.
4. Maggie asks: Somebody here asked if denim shorts were out, and I just can't seem to get over it. Some classics are just that…classics! Who cares if they are in or out!
Okay, so maybe this isn't so much a question.
Honestly, I've gone back and forth on this. There is a strong denim short contingent across the American public and I certainly don't want to offend them. And yes, the denim short has re-emerged as a woman's fashion item.
In fact, Banana Republic had some really cute long denim shorts this summer that I nearly bought, except for the fact they cost money and P needed back surgery.
It warms my heart to know that somewhere P's neurosurgeon's wife is wearing some really cute denim shorts that we helped pay for. Bless their hearts, they are probably just barely making ends meet.
That being said, I wouldn't ever let P wear a pair of denim shorts. Which is saying something because I let him wear this out of the house on a fairly regular basis.
I know.
5. Alice asks: Can I get one more question in here? What about the jumper? I saw some very cute jumpers at Target, particularly a black and white plaid one that would look great with a black turtleneck and some boots. But InStyle just said that jumpers are sooo last fall and to ditch them. Then again, they were the ones who told us to wear plaid on plaid. Help!

Okay, I saw those jumpers at Target and, personally, I love them. In fact, I tried it on and really liked it, but the zipper kept getting stuck and it caused me to have a mild panic attack in the dressing room. However, barring any zipper issues, I think they could be so cute with a turtleneck, black tights and boots. Obviously, it's not a look everyone will love, but I have always been a fan of the jumper.
Oooh! And picture it with a crisp, white shirt…oh, I forgot. Crisp, white shirts are dead to me.
See how they try to suck me back in? I need a crisp, white shirt like I need another 4 year old keeping me up at night. It's not practical and it will lead me to tears.
And I know InStyle has some good fashion advice at times but, seriously, they lost some of their credibility when they mixed those plaids with florals. Not to mention showing those military pants circa the Michael Jackson era.
Sometimes I think the fashion powers that be get a little too full of themselves. For instance, did any of y'all see Vera Wang on Oprah last Friday?
She was schlepping her new affordable line at Kohls. (Nothing like Oprah talking about how $129.00 is SO AFFORDABLE when you know she spends more than that on her toothpaste) Anyway, they showed Vera's new collection and then she let the viewers into her own private closet which, by the way, appeared bigger than my house. Vera was giving her fashion advice, including such gems as buy things a size larger (wrong) and wear hats (wrong again).
First, buying things a size larger will often just serve to make you appear a size larger. Maybe I don't have my finger on the pulse of American women but, last I checked, no one was trying to look a size larger.
And it's not that I don't like hats, because I do. I like hats. But the ones Vera showed from her own private collection were like beanies with big, spangly things hanging off them. They looked like lampshades leftover from Studio 54.
Vera can make a wedding gown better than any other soul on earth, but girlfriend does not know a good hat.
But really, who am I to be judging hats?
My point is sometimes what works for the fashion powers that be in NEW YORK CITY, may not work for those of us in Anytown, U.S.A. So, buy that jumper. It will look darling. Plus, it's only $19.99. You can wear it once or twice and it will be totally worth it.
Just don't wear it with a sparkly beanie.
I still have fashion questions in my inbox, but I am exhausted from my weekend of doing absolutely nothing exciting. However, since it seems y'all have enjoyed fashion week and the completely unprofessional advice I've been doling out, I've decided Fridays at Big Mama will henceforth be known as "Fighting Fashion Faux-Pas Fridays".
I'll answer questions, make suggestions and share any new fashion items or bargains that I come across in my travels throughout T.J. Maxx, Nordstroms, Target and yes, even the Gap family of stores, although their online sites are the bane of my existence.
So, keep the questions coming and I'll keep dispensing the mediocre advice.
Have a great Monday.