It seems like something momentous just happened, but I can't remember what it was.
Oh yeah, now I remember.
THE AGGIE WOMEN'S BASKETBALL TEAM JUST WON THE NATIONAL CHAMPIONSHIP.
Y'all. I realize I am slightly biased but it was one of the best basketball games I've seen all season. Those girls played their hearts out. I was seriously impressed.
And then when Tyra White hit that 3-point shot that essentially won the game, one of the ESPN commentators announced that Tyra's nickname is the Silent Assassin. I turned to P and said, "That's so weird because the Silent Assassin was my nickname back when I played sports."
He didn't even acknowledge that with a response.
Probably because he knows me well enough to know that my one season on the B team in Varsity soccer wasn't really enough to warrant a nickname. Certainly not one as cool as the Silent Assassin. If I'd had a nickname it probably would have been something like "that girl who sits on the bench and wears bows as big as her head".
Which lacks a little something in the fierce department.
Congratulations, Aggies! So proud of how hard you played all season long and how you never gave up.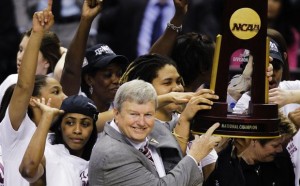 photo from Dallas Morning News