Is there really anything better than hearing a sports commentator talk about another team "building a woodshed" for your beloved football team?
Joy.
Thankfully, I have fashion to get me through.
Fashion and chocolate.
So, welcome to the first Fighting Fashion Faux Pas Friday here at Big Mama. Thank goodness that in times like these, I can turn to a good pair of jeans for comfort.
Enough of my woe. Let's get to the questions.
And after it's all over, feel free to send some more questions my way. I can churn out this kind of advice based purely on my opinion all day long.
1. DCRMom asks: What is your opinion about wearing dark tops with dark denim? Do I need to invest in some khakis and cords? Is lighter denim too dated? I'd love to hear what others think too.
Well, I think there are variations in the darkness of denim. But really, I think dark tops with dark denim are perfectly acceptable.
All that darkness is slimming.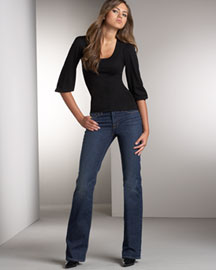 Because otherwise this size 00 model would totally look like a cow. She's just creating an illusion with that dark top and dark denim.
And it helps that she just eats one piece of lettuce every other day.
That being said, you really don't want to pair a dark top with a really light denim. It will cause the focus to be on your bottom half. Of course, maybe you don't mind the focus being on your bottom half.
However, I do. I prefer to draw the eye up.
Up.
Way up.
I think really faded denim is dated. And I'm hoping I don't even need to mention the words "acid washed". However, I think you can go with a little bit lighter denim without being out of style. I like a good vintage wash if it's done right.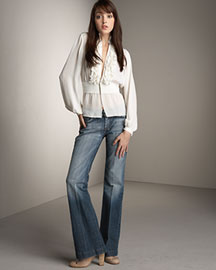 As for the khakis and cords, I like both of these options. The only word of caution is go for a modern style. You certainly don't want any sort of elastic waistband or a waistband that covers your belly button.
Of course, that's pretty much a rule of life and not just for khakis and cords.
I bought these on sale at Old Navy this week. They're really cute and come in a variety of colors.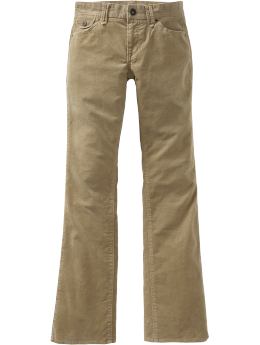 2. Kelly asks: I'd love to see you address maternity clothes. Even in the four years since I was last pregnant, there are so many more cute options. Whadda say?
I say thinking about maternity clothes makes me want to curl up in a ball.
One of my friends just found out she's pregnant and I told her that, other than the part about having a baby, I was so envious of her pregnancy because fashion-wise there has never been a better time to be pregnant. Everything looks like maternity wear anyway.
The best part is due to all the loose fitting tunics, and sweaters, and what-have-you, you can put off wearing actual maternity clothes for awhile. Which is a total score. I have a theory that maternity designers think mothers-to-be are so fried that they don't care that they're wearing polyester.
And if there is ever a time you need fabric that breathes, it's when you're serving as an incubator.
Here's my best piece of maternity clothes advice. Find yourself a great pair of maternity jeans. Seriously. They will save your life. I wore mine until I ripped them down the side seam.
Which was a proud moment and didn't cause me to have any type of hormonal breakdown whatsoever.
Here are some from Mimi Maternity.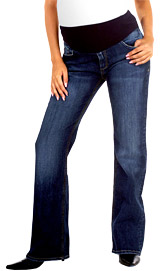 Here's some classic boot cut maternity jeans from Gap. They're even on sale.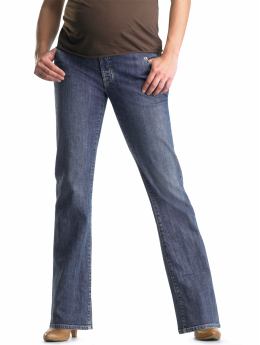 (By the way, my computer almost crashed uploading those Gap jeans. And as God is my witness, if Gap had made my computer crash, causing me to lose this post, I would have never stepped foot in their store again. We are already on very shaky ground.)
I know some women say they never feel more beautiful than when they are/were pregnant, but I am not one of those women. Just remember, great accessories can be your pregnancy friend. They are one size fits all and will bring you much joy even after the baby is born.
In contrast, you will want to burn every piece of maternity clothing in your closet.
3. Emily asks: What are your thoughts about flats?
I like flats. I do. I saw some darling giraffe print flats the other day at Target the other day and nearly bought them.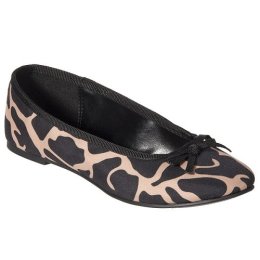 But I already have leopard print flats and felt like one person only needs so much Wild Kingdom on their feet.
I get that they are practical, but I think everyone looks better in some sort of heel. And, trust me, I don't wear heels all the time. I wear my flats on a regular basis but, no matter how cute they are, they just aren't as flattering as a heel.
So, here's the bottom line on flats. Stay away from anything that is too reminiscent of the Connie flats we all wore in high school. If the "leather" appears to be synthetic and it's all one color with no texture or some sort of decorative detail, you need to move on down the aisle. Do not look back or you may turn into a pillar of unfashionable salt.
To look current, flats should have some sort of design or pattern. Animal prints are very in right now and Target has these flats which I think could just be precious with the right outfit.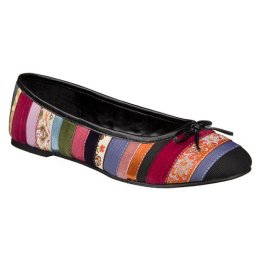 But they still won't look as cute as a good wedge heel. In my opinion.
Like these from J.Crew. Notice there is a significant price point difference. But aren't they pretty?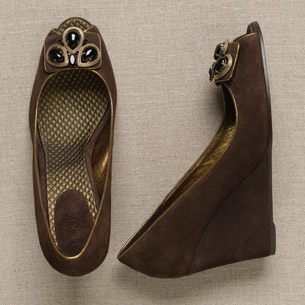 4. Jen asks: What type of shoe do you wear with your velour yogo pant/jean jacket combo?

I just wear my tennis shoes. I'll wear my Nike running shoes if I'm feeling ultra casual and semi-athletic and I'll wear my fashion tennis shoe if I'm going for a little more polished look.
And to reference the previous question, I think a cute, patterned flat could look cute.
However, if it's cool enough outside for me to have on velour yoga pants, I like to have on socks. I have circulation issues. If someone felt my feet, they would think I'd been dead for at least 3 days.
5. Elizabeth asks: What are your thoughts on scarfs, pashminas, and wraps? Especially in the south.
Right now my thought is how can I even think about those things when the temperature outside today was still about 118 degrees. Just reading the word "scarf" makes me start to itch and feel angry.
But, eventually, the weather will cool off and when that happens I am a big fan of wraps, pashminas and scarves. I have a darling Burberry happy scarf that makes a black turtleneck and jeans turn into a great outfit. It's one of my favorite accessories EVER.
I also have several long scarves that I like to wear with other outfits. I think they are a great finishing touch to an outfit.
Like this one from Nordstroms.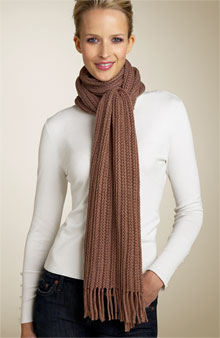 As for pashminas, they are the perfect thing to wear over a dress on a cool evening. I have a black one that gets worn to pretty much every winter wedding I attend.
Which is about one a year.
But still, it's a great thing to have.
As a bonus this week, here are a few great items I found that y'all may want to check out. I can't guarantee this kind of information every week, but I shopped ALOT this week and found a couple of good things.
Remember my quest for the denim skirt? I found this at Old Navy for $12.99. It's not perfect, but for $12.99 it works.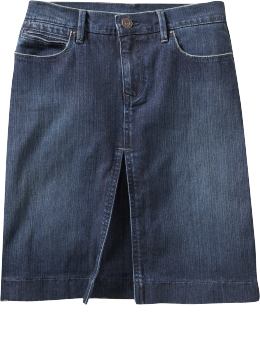 I mentioned this in my favorites, but here it is again in case y'all missed it.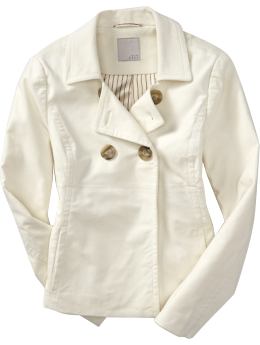 I also found a great pair of Champion brand yoga pants at Target, but can't find them online. Just know that Target is a great place to go for inexpensive activewear.
And in closing, Caroline and I went to get ice cream after school the other day. The ice cream store is right next to one of my favorite boutiques, so after she finished her ice cream I hosed her down with water from the water cooler and we went in to check out the clothes.
I was browsing around, looking at all the cool stuff, when Caroline came up and said those words every mother dreads.
"Mama, do they have a bathroom in here?"
Great.
Yes, they do have a bathroom. Caroline starts to go to the bathroom and then, in a voice loud enough for anyone within 5 miles to hear, says, "Okay Mama, I'm going to POOP!"
I bet that's never happened to Anna Wintour.
***Edited to add: Kate defended me in the comments, but in case someone doesn't read the comments, I have to mention that the denim skirt has a box pleat. That is not a huge slit down the front of the skirt. I repeat, it is not a slit. But I appreciate y'alls concern for my very soul if I were to wear something split right up the middle.