I'll go ahead and level with y'all. This week has wiped me out.
Between a head cold and trying to keep up with all my DVRed shows…a girl only has so many hours in the day.
Oh, and I also had to bathe and feed my child. And P is kind of funny about wanting food to eat.
They wear me out.
In spite of my certain pneumonia, I'm forging ahead with Fashion Friday because there are questions that must be answered.
Questions that have kept me up at night. Much like my 4 year old.
And a skunk that is living under our backhouse and is very afraid of our dogs.
Do y'all want to know what irony is? The fact that I wrote all of the above just moments before I heard the retching sound coming from the baby monitor.
I just thought I had reached my limit.
What a sweet kid.
Enough of my tale of woe. Let's get to the questions.
1. Elizabeth asks: "What kind of TJ Maxx has designer jeans?"
A good one.
I had long heard rumors that TJ Maxx sold designer jeans, but had never actually seen them for myself. I imagined it was a figment of people's imagination, much like the sasquatch or a child that eats brussel sprouts.
Or anyone who eats brussel sprouts, for that matter.
Then one day I spied a section of my local TJ Maxx called "From the Runway". It's set apart from the rest of the store as if to quarantine the fine designer merchandise from the irregular sweaters from The Limited.
Look closely, it may be there in your store and you've just missed it.
2. Candace asks: "Is walking in heels something that can you can learn to do- or is it something you either have or don't have the ability to do. I want to walk heel-toe, but with heels that high it's hard. Should I buy them and practice around the house? Here's my question- did you have to practice to learn to walk in high heels?"

I think walking in high heels is like any valuable skill. It takes some practice, especially if you've spent years walking in flat shoes.
So yes, practice around the house and equip yourself with perseverance and band-aids for the inevitable blisters. That's my recommendation.
Bottom line, heels are your friend. Get to know them.
3. Jess asks: "Would you mind answering a hair question? I have shoulder length blonde hair – layers, typical. I'm constantly wearing my hair pulled back because I'm in a rush to get the kids to school. I'm thinking about either cutting in some bangs to just give my face a little softness when I do pull it back OR thinking about getting a short trendy cut which might be faster to do in the morning. Any thoughts?"

I realize this isn't a fashion question, but hair is really one of our most important accessories.
I had an unfortunate incident with bangs earlier in the year, so bangs are dead to me right now. I know they work for some people, but those must be people who don't have cowlicks in the middle of their forehead.
I've also noticed that more people stumble upon the blog by searching "Reese Witherspoon Bangs", which tells me there are some women out there looking for hair answers.
Ladies, do not be fooled by Reese Witherspoon and her cute hair. I have decided her bangs have supernatural powers that most of us do not possess.
I'm a fan of the ponytail, but if you decide to get it cut short the best advice I can give you is to make sure it's a time of the month where no hormonal surges are involved.
PMS + haircut = NOT YOUR FRIEND.
4. Leslie asks: "Fashion question for you. I am in need of cute fall tops to wear with jeans. I am in Houston so they need to be short sleeved. I also don't want to look like I think I'm still in my twenties, nor do I want to spend more than $30ish each because I know by this time next year I'll want something else. Any suggestions?"

Oh, do I understand this dilemma. You have the desire for fall type things in your wardrobe, but lack the fall-like weather.
I think the key is to find some cute, short-sleeved shirts in fall colors or patterns. Here are a few I found.
This one is from Old Navy and it's on sale for $20.00.
Here's another one from Old Navy.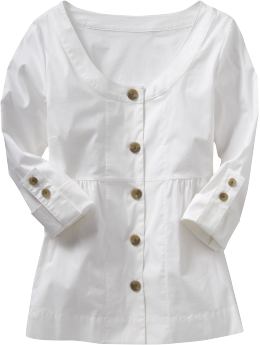 Here's one from Banana Republic. It's a little pricier, but oh so cute.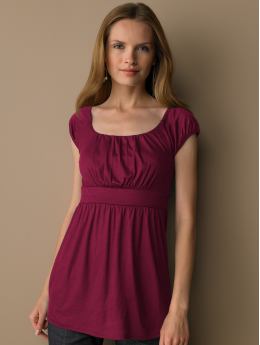 Plus, it comes in green. Which I love.
And here's some animal print goodness from Nordstroms.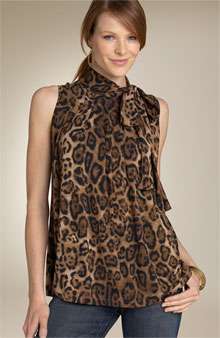 Target is another great place to look for inexpensive fall shirts. I would love to link to some of them, but I just don't want to right now.
Did I mention I got about 25 minutes of sleep last night?
5. Jen asks: "What are your thoughts on shoes moving into fall? I wear sandals all summer, and I'm a Texas girl, too, so it's still hot in the afternoons. Is it OK to wear shoes that expose my toes, or should I cover them up?
As much as I love my boots, I can promise y'all I'm not wrapping my feet in socks until the temperature drops below 80 degrees.
It's just not right.
Open-toe shoes are your friend, southern girls. Let them walk you through these times of intense heat.
6. Jodie asks: "Is it just wrong to wear a jacket that is too small to close??"

Yes. It is just wrong.
7. Several of y'all asked: "What is a pashmina?"

This is an example of a pashmina.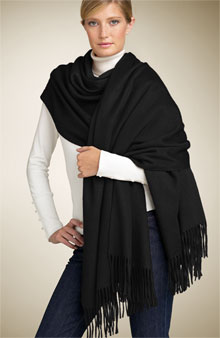 Basically, it's a fancy word for a wrap. Or a shawl.
Because it sounds much better to say, "Let me grab my pashmina" than "Honey, will you get grandma's shawl?"
It's all in the way you phrase things.
So, that's it for this week. I'm going to go crawl into the fetal position and attempt to recover from my night o' stomach bug trauma.
Oh, and catch up on all the treasure recorded on my DVR.
Y'all have a great weekend!