Well, the stomach ailment turned out to be more than a one shot deal. It was more along the lines of an hourly occurrence until about 6 a.m. Friday morning.
Here's the amazing thing, I have never seen someone so cheerful in the midst of a stomach bug.
It was like this intestinal virus was the best thing that had ever happened to her. "Wow, MAMA! I threw up AGAIN! DID YOU SEE THAT? I MADE IT TO THE POTTY!!" Like she was announcing she'd just ridden the best roller coaster ever while they handed out cotton candy simultaneously.
God bless her.
In fact, she begged to go to school Friday morning. And trust me, the sleep deprived me, who had been doing laundry non-stop for about 8 hours, wanted nothing more than to send her to school. However, common sense prevailed and I realized nothing alienates fellow mamas more than spreading the bounty of a stomach virus.
We survived the plague and pestilence, and rebounded to have a pretty uneventful weekend.
In fact, by Sunday afternoon I decided it was time for the bi-annual cleaning out of my closet. This is an event that is highly anticipated around here, much like a root canal.
After church I decided to take the plunge and just go for it. P walked into our closet and this is what he saw.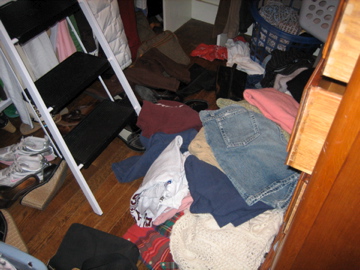 He was quick to tell me I was being highly optimistic getting down all my sweaters out of storage. I like to call it wishful organizing.
For some reason I base my wardrobe choices on the month of the year rather than something sensible and logical such as temperature. I have grown weary of my summer wardrobe, plus the highs will only be in the 80's this week.
The high 80's.
That's just chilly. If you're over 95 years old.
Anyway, a while back, my friend E found out she was pregnant. I joyfully and generously offered her all my old maternity clothes. She came over and loaded them up in her car. About a month ago, shortly before her due date, she brought back all my clothes.
As I hung them back up, in the far recesses of my closet, I realized something.
They were hideous.
Okay, not all of them were hideous. There were, like, two decent shirts.
E was being sweet and polite, but $50.00 says she didn't wear any of those clothes. And I don't blame her one bit. I was completely delusional about my maternity wear offerings.
I wanted to call her and apologize for causing her to have to keep those clothes in her closet for 6 months. Most of all, I knew I had to get them back out of my closet before they contaminated my normal clothes. I told P I was getting rid of all my maternity clothes because, even if I were to ever get pregnant again, there is no way I could wear those clothes. It could cause lifelong fashion scars for my unborn child.
Here are a few prime examples of the ugly: (it was hard to narrow down the worst offenders)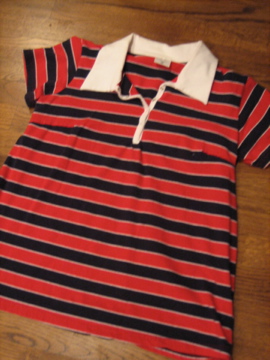 Nothing is as attractive as horizontal stripes in bright colors when you're 40 pounds over your normal weight.
Did I really think anyone would think I was on my way to play rugby?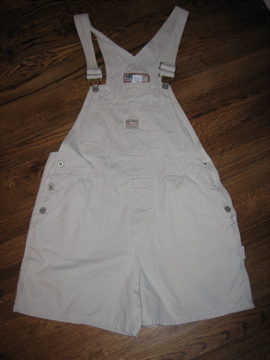 Mmm. Overalls. So attractive anyway, but once you shove a tummy the size of a watermelon under those suckers, you've got a look that will cause people to pity you to no end. I am sad to say I wore these almost daily.
I now realize I looked like a fat farmer wearing shorts.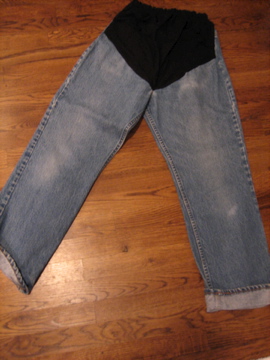 And these. Check out that panel. You pull out these bad boys and you've got yourself an incredibly effective form of birth control.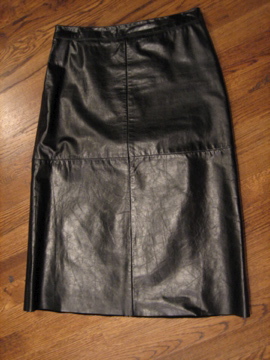 This isn't maternity, but it is a "leather" skirt I bought on sale at Gap about 8 years ago. I haven't worn it in about 6 years, but couldn't bear to throw it out because it only cost $6.99. It was such a triumphal bargain moment at the time.
Of course that time was 1999.
So, between the maternity clothes and other items that needed to go, look how much stuff I cleaned out.
Since I'm acting like some sort of fashion expert every Friday on the internet, I realized PHYSICIAN, HEAL THYSELF.
And when it was all said and done, this is what I'm left with.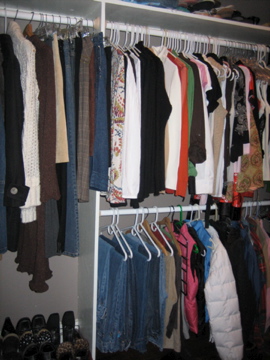 A glorious, organized closet filled with sweaters, jeans, and boots.
Now I just need some cool weather.
And another sweater coat.
Preferably from Anthropologie.
Oh, and in the last picture try not to notice the huge, white down jacket a la The Michelin Man. I got it on clearance from J. Crew about 5 or 12 years ago and I can't bear to let it go.
Even though, as P was quick to remind me, there's a much better chance of me having another baby than there is of me going skiing ever again.
It's not that I don't like skiing. I do.
I just don't like the part that involves riding in a chair lift or actually going down the mountain.
Other than that, it's a lovely activity.