So I took Memorial Day off.
But I kind of figured y'all knew that I would because I rarely post on holidays since I try to follow the same schedule as corporate America. I realize it's been over three years since I worked for corporate America, but I always enjoyed the holidays and vacation so I'll keep that part.
We have had some kind of busy holiday weekend around here. It was filled with friends and sun and fun and crawfish and sunscreen and felt like the absolute perfect kickoff to summer. Except that Caroline has to go back to school tomorrow.
Dear Texas Legislature,
The answer to this whole education budget crisis might be found if you didn't insist on making kids go back to school for three days after Memorial Day in what is sure to be nothing more than taxpayer-funded babysitting. My best guess is you could save at least half a kajillion dollars in air-conditioning costs alone. Not to mention the fuel it costs to run the buses.
Sincerely,
Bitter in San Antonio
My plan was to start our holiday weekend with some big fun at the pool. I called Gulley and asked if I could pick up Jackson (Will was sick) and take he and Caroline to the pool on Friday evening. I had big plans of letting the kids swim until they burned all their energy and feeding them some stellar pool snack bar nachos for dinner. So you can imagine the disappointment when we showed up at the pool all sunscreened up and ready for BIG POOL FUN only to discover that the pool isn't open on Friday nights yet. It was a crushing blow.
There was a lot of whining until the kids finally told me to be quiet and suggested we call Mimi and Bops to see if we could swim in their pool. In the end it all worked out, except there are no pool snack bar nachos at Mimi and Bops's house but pool beggars can't be choosers.
On Saturday morning we drove out to the lake to spend the day with some friends. It was around 165 degrees outside so it took us all of four seconds to jump in the water. I spent most of my time in the lake on some sort of float because it is my greatest fear in life to actually touch the bottom of any type of lake with my feet. And I just have to live in denial that the water is also home to a vast amount of fish. Let's not even speak of the turtles.
Eventually we headed out in the boat to tube. P and Caroline went first.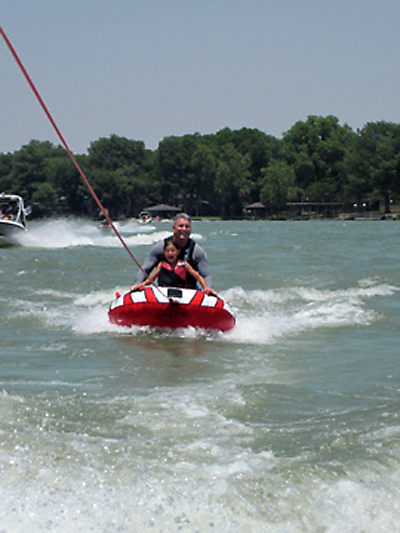 And I thought it looked like a lot of fun so I decided to go next.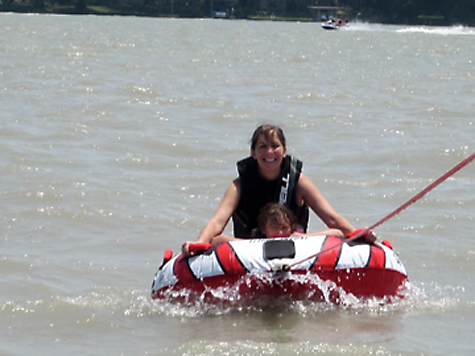 Which explains why I woke up Sunday morning feeling certain I'd been run over by a truck while I slept. My Pa-Pa always said, "It's hell to get old" and Sunday morning confirmed that he wasn't lying. My forearms are starting to cramp up even now as I type this out.
After all the tubing "fun" and my possible concussion, we all sat down and ate more crawfish than should probably be allowed in one sitting. There is nothing that feels more like summer than a day at the lake and a crawfish boil.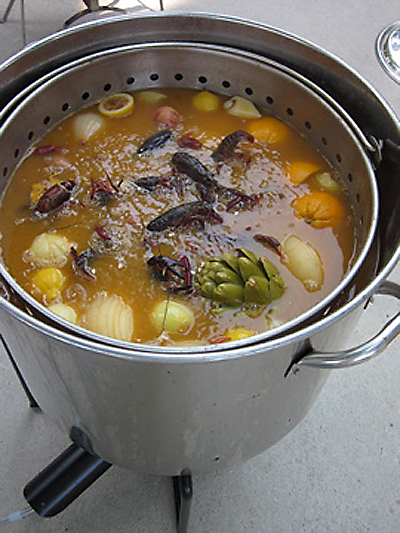 Sunday morning we went to church and then went to the pool later that afternoon for more sun and swimming. Our pool grill is under new management and the special of the day was ceviche. Which sounded so good except for the part about it being at the pool. I just have a lot of concerns and questions about the origins of the fish and freshness. Food poisoning is way down on my list of things I'd like to experience. Right after going on a paddle boat ride.
I asked one of our friends if he'd be willing to order the ceviche and call me at noon on Monday to tell me how it was, but he declined. I can't imagine why.
Caroline's friend, Ella, ended up spending the night with us and then we all got up on Monday, hung out in our pajamas for a while and went to the pool again.
And that pretty much sums up our Memorial Day weekend.
In fact, I might just set this post to repeat about once a week for the entire summer because, in case you're new around here, that's what our summers look like. We wake up and go to the pool. Except for the days when we go to the pool. And then there are the days when we go to the pool.
And now I'm off to get some sleep before I have to get up and pack the first of three more school lunches.
That just ain't right.
__________________________________________
Compassion has taken another group of bloggers on a trip. They are currently in the Phillippines and I have already cried twice reading their posts. Make sure you read Shaun's post, What Exactly is Compassion International?, if you want to know more about Compassion and how they help children all over the world. I also loved this post by Emily and this post by Kat.
Also, don't forget to check out my latest post for the Real Women of Philadelphia Community. There are some great recipes to be found.
Copyright secured by Digiprove © 2011