Remember that song from the movie "Annie" that said you're never fully dressed without a smile?
Yeah. That song lied.
Whoever said that, totally discounted the fact that smiles come and go, but good accessories last forever, or until they go out of style.
Many of y'all have emailed asking about fall handbags. In fact, AJ and I even looked for a good handbag for her while we were shopping, but it seems that I have crossed over into appreciating the "Mom Bag". I was hit with this realization when I pointed out a really cute purse to AJ and she said, "Oh yeah, that would be perfect for you. It's a Mom Bag".
She said it in the same voice you would use to describe something that smells bad. "Oh, that smell? That's chicken that's been in the garbage can all night."
However, she is young. She's at a point in her life where she can leave the house for 24 hours and only take a cell phone and a tube of lipstick. In fact, while she was trying on a pair of jeans at Neimans, I remarked that they had an odd little pocket inside the actual back pocket. I wondered aloud what is was for and she explained it's the perfect place to just put your I.D. when you go out.
Like at night.
As in somewhere other than HEB to buy allergy medicine for your child.
Hmm.
These days the only thing I need my I.D. for is to collect my social security check.
Oh, I kid because I feel old.
Anyway, I am not a girl who changes purses to go with various outfits. That would involve way too much transferring of various lipsticks, gum, HEB Buddy Bucks, juice boxes and Nilla wafers. For the most part, unless I have a special event, I carry one purse per season. And after that season is over, I usually put the purse out to pasture.
There is only so much grape juice the lining of one bag can absorb.
Since so many people have asked for fall purse recommendations, here are some cute ones I have found.
This red purse from Target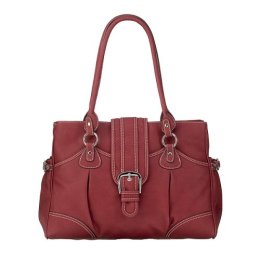 This brown suede tote bag, also from Target. By the way, I don't know why the Target photographer hates this bag, it's much cuter in person.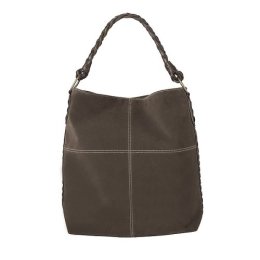 How about this smaller brown purse? Two guesses where you can buy it. Oh, and it also comes in red, camel or black.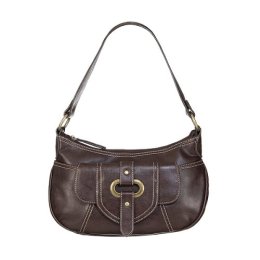 But if money were no object, just like it is in my dreams, I would love to carry this Kate Spade bag. Can't you almost smell the real suede?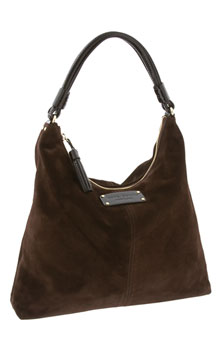 Of course, even if money were no object, grape juice and graham crackers are just a part of who I am. It would be a travesty to unleash that horror on what is certainly not faux-suede.
And I wouldn't want to carry it everyday, but I would love this purse because it's just pure fun. I saw one that was similar to this in TJ Maxx about a month ago and was thrilled. Until I looked at the price tag and saw that it was marked down to $350.00.
MARKED DOWN to $350.00.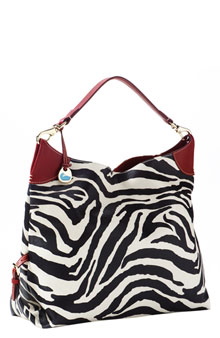 When did TJ Maxx get so full of itself?
Bottom line, there are a bunch of really great purses to be found for fall, whether you lean towards the "Mom Bag" or just need a cute little something to keep your I.D. in when it's not in the fancy little pocket of your jeans.
Now, for a few questions.
1. Serah and Jenny both asked: "What do you wear on your legs in the winter when you're wearing a dress or a skirt?"

Ladies, I am going to be honest and say that a lot of the time I wear nothing on my legs. Nobody said fashion is painless.
Sometimes you just have to be cold if you want to look good. I believe Eleanor Roosevelt said that.
However, I live in a climate where cold temperatures mean in the 40's and if it's that cold, I'll usually just wear pants.
That being said, I've been very excited to see the return of the black tight. I love the look of black tights with boots. And if the boots scare you, then wear the tights with a good black shoe like these that are sturdy enough to balance the tights. It will create a long, lean line even if you're not very tall. That's my recommendation, but I realize not everyone is a fan of the black tight.
Does anyone have any other suggestions? What do y'all do up north where it actually freezes on occasion?
And please don't say legwarmers, unless you're a professional dancer.
2. Jodie asked: "Okay, so I have a fashion question. What's the word on overalls?"
The word is no.
At least that's my word.
I know they're comfortable, but unless I decide to start growing corn in my backyard I'm staying away from them. I believe I confessed my unfortunate maternity overall situation a few weeks ago. There are some scars that even time can't erase.
However, some people like overalls. I used to be one of them. So, if you like them you should wear them and be proud.
And send me a bushel of tomatoes.
3. Shannon asked: "So, elaborate on the high-heels-as-an-acquired skill thing. Because right now, I can't say I believe you. I'm afraid some girls (like me) are destined to be wobbly-ankled klutzes their whole lives. But assuming you CAN acquire the skill, do they ever become more comfortable to you?"

Gulley saw this question in the comments a few weeks ago and called me immediately with her advice. She says that she, too, used to be a wobbly-ankled klutz, but was at a point in her life where she needed to wear heels to work everyday so she wore them around the house and even VACUUMED while wearing them. Practice made perfect and she began to feel comfortable walking in heels.
However, now that she's been out of the work force for almost 6 years, she is out of high heel shape.
I can attest that walking in heels is an acquired skill. I had to wear heels to work almost every day for 10 years and it just became second nature. That being said, I still had days where I would come home and have to put band-aids on blisters and drink heavily to forget the pain in my feet.
It's a good thing I quit work when I did because I was going down a dangerous path that could have easily led to corns and bunions.
Now, I only wear heels on occasion and they have to be comfortable. If you're a heel novice, look for wedge heels. They are your friend because they distribute weight more evenly.
4. Kelly asked: "What does a fashionable lady wear when she's throwing up every 34.5 minutes?"
Not a smile, I can guarantee you that.
Finally, to wrap things up. I have one more fashion find to share. Gulley's sister, also known as The Other Gulley, emailed me the other day and so I asked her for her thoughts on fall fashion. She lives on the East Coast and is fab, so I knew she'd have a good tip.
She told me that it's all about the dress right now and even included a picture of a darling sweater dress she purchased to wear with tights and boots for the fall. It's from J.Crew.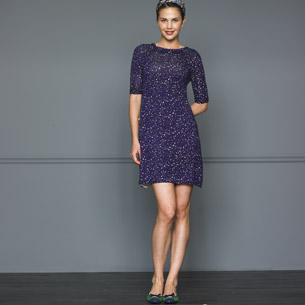 It also comes in black. And best of all, it's on sale right now.
I hope it goes without saying that if y'all are going to try the sweater dress, you're going to need some good foundation garments.
You know you're never fully dressed without them.
And a good purse.
And maybe a smile.
Y'all have a great Friday!