Sometime last week P informed me he was going to the ranch for the weekend. Which didn't come as any surprise because I've been married to him for fourteen years now. I told him that was fine with me but I'd appreciate it if we could go buy our Christmas tree at some point before he left and if he'd get the decorations down from the attic for me.
And he happily agreed to both these things.
Which is why last Wednesday was the day we went and bought our Christmas tree. Or as I like to call it "The Day of The Year that Tests Our Marriage and Makes Us Question the Whole Concept of TIL DEATH DO US PART".
It all began when I called him on my way to pick up Caroline from school and told him I was going to Target after I got her. And he said, "But I thought we were getting the tree today".
Apparently he only thought that in his own head because I was under the impression we were getting the tree on Thursday. But I am NOTHING if not flexible and I told him Caroline and I could forgo our trip to Target in favor of getting a tree.
So we drove straight home from school, met him at the house and we all drove to the tree lot. I realize a tree lot really lacks the pizazz and charm of a tree farm, but we live in South Texas and that's our option. We have to buy imported trees. Don't let the fanciness of that fool you. It's a lot on a busy street with a festive red and white striped tent and some workers that I think spend the rest of the year traveling with those carnivals that you see set up in mall parking lots.
Once we arrived at the lot it became apparent that the pickings were slim. (I feel like that should be "pickins'" instead of pickings given the atmosphere.) The tree selection was sparse at best and filled with a variety of pine that I don't believe in. (Not because I don't think it exists, but because I believe it's ugly.) I like a Noble Fir. Christmas for me might be ruined without a Noble Fir.
Caroline and P found one they liked and I agreed that it was a pretty shape but it was only six and a half feet tall. And what's the point of having nine foot ceilings if you're going to buy some sad tree that's barely taller than your husband? Caroline kept trying to sell me on the tree and P finally told her to give it up because he knows that I will not be satisfied until we find a tree that might not fit through our front door.
Ultimately I asked the tree salesman if he had any other Noble Firs in the 8-9 foot range that I could see. And to his credit he dragged out three more trees for me to examine until I found a tree we all agreed on. I'd actually liked the first one he pulled out but P asked me why I wanted "a fat shrub" in our living room so that killed it.
We bought the tree and then they shook it and netted it FOR FREE. Oh yes. Buying a Christmas tree is a real bargain. But then the tree salesman agreed to let Caroline stand on the "shaker apparatus" (probably not its real name) and her entire Christmas was pretty much made at that point. She also may have shaken loose a few molars.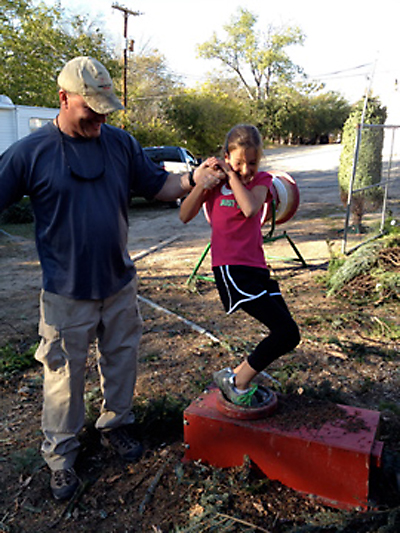 It was only after we got the tree back to the house and made our first attempt to put it in the tree stand that we realized it had a very crooked trunk. P met this discovery with some decidedly un-Christmas like words and went to get his drill to try to fix the problem.
And that's really when the Christmas spirit took a downward turn.
Caroline decided she was bored with the whole process and ran to play with the next door neighbors. In the meantime, P began to drill a new hole in the tree and we had this conversation.
P: "Why did we even get our tree today? It's not even December. It's November 30th."
M: "We always get our tree at the end of November. That's when we bought it last year."
P: "You don't know that. How could you possibly remember that?"
M: "Because I remember you griping about it last year too. I like to have MAXIMUM TREE ENJOYMENT. I WANT THIRTY DAYS OF CHRISTMAS TREE."
P mumbled to himself as we made our second attempt to get the tree in the stand and I commenced with my yearly tradition of telling him, "IT NEEDS TO GO A LITTLE MORE TO THE RIGHT. NO. OOPS! I MEANT TO THE LEFT. IT NEEDS TO GO TO THE LEFT. I THINK IT'S STRAIGHT. GET UP AND LOOK AND TELL ME IF IT'S STRAIGHT."
He stood up from under the tree, stepped back to survey it and said, "THIS TREE IS ENORMOUS. THE STAR ISN'T EVEN GOING TO FIT. I DON'T KNOW WHY YOU INSIST ON GETTING SUCH A BIG TREE."
Which is when I'd had it. "You know why I want such a big tree?"
"Why?"
"Because it's the ONE TIME OF THE YEAR that I can make that dang antelope look proportional to anything else in our living room."
And, lo, an antelope of the Lord appeared.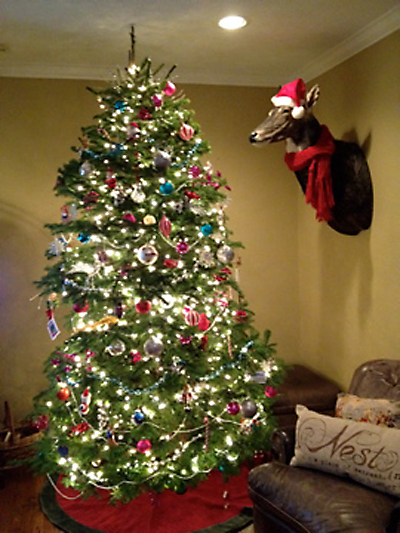 Except this year it's a Santalope.
Ho. Ho. Ho.
Copyright secured by Digiprove © 2011