We ended up having one of Caroline's best little friends spend most of the weekend with us. And on Saturday morning when the weather was rainy and miserable it became apparent that we'd need some sort of activity to get us through the day.
Or maybe just to get me through the day.
So I took the girls to see the new Muppet movie and I might have cried during the scene where they all sing "Rainbow Connection" because I am a big sentimental sap and Kermit holds a place in my heart.
But that only took up a couple of hours.
Which is when I decided we needed to go to Hobby Lobby to load up on some craft supplies. Sadly I'd forgotten that Hobby Lobby isn't the best place to be on a Saturday during the Christmas season when everything is 50% off. But I persevered in the name of crafting. Just like Martha Stewart would do.
I could lead you astray and make you think it was all for the love of the craft but the truth is we were already there and it seemed pointless to leave. Plus I had a goal. A crafting goal.
It's like I don't even know who I am.
If you've been reading the blog for a few years you may remember that my very favorite Christmas decoration is the flowerpot nativity that Caroline made at preschool when she was three. Here it is: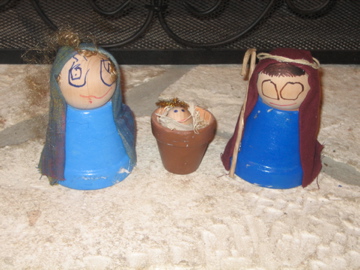 I'm not sure there is a more accurate depiction of the night of Jesus's birth. Look how bedraggled Mary looks. And her hair is a wreck. As well it should be after what she'd just been through. A donkey ride. Labor in a stable surrounded by animals. That drummer boy that wouldn't quit banging his drum.
Pa-rum-pa-pa-pum.
And so I thought it might be fun to have the girls make new flowerpot nativities and since Gulley is now the teacher of the preschool class that makes flowerpot nativities, I called her to ask what we needed to make them other than the obvious flowerpots.
Here's the list in case you're interested. We found all of this at Hobby Lobby.
2 medium flower pots
1 small flower pot
acrylic paint
2 medium wooden balls (for Mary and Joseph's heads)
1 small wooden ball (for Jesus's head)
fabric for their head coverings
doll hair (or you can just color it in with a Sharpie)
roll of grapevine to create headpiece and staff
moss
silver pipe cleaner (for the halo)
hot glue gun or gorilla glue
We waited in the checkout line at Hobby Lobby until I thought Jesus might return before we made it back to the car and then drove home with our craft supplies. And a few hours later we had created two brand new flowerpot nativities. Here's Caroline's: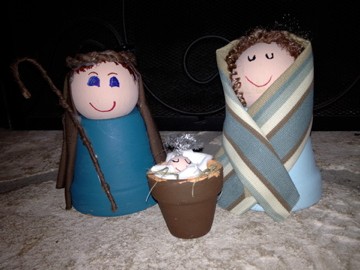 Sure it lacks some of the charm of Mary's wide-eyed frightened look from the earlier version, but it's still pretty sweet.
And if I'm feeling really ambitious and brave before Christmas is over I might go back to Hobby Lobby and get us some more pots so we can add three wise men and an angel.
And maybe even a drummer boy.
Pa-rum-pa-pa-pum.
Copyright secured by Digiprove © 2011