Epione Giveaway
Okay. This is the last of the health- and fitness-related giveaways. And it's a good one. Y'all may remember that I mentioned I'd finally broken down and bought a Clarisonic Mia brush for my face. And I adore it. Nothing has ever made my skin feel so clean and smooth. I've hardly had any breakouts and I've watched dark spots become much less noticeable. Which means I'll be wearing the biggest sunhat I can find this summer. If you need to find me just come to my neighborhood pool and look for the woman in a lounge chair who looks like your Aunt Maude. So, because of my great love of my Clarisonic, I wasn't sure how I was going to feel about the Epione ClearTouch Matrix cleansing system. Although it was a big plus that it came all packaged in a beautiful chocolate brown box.
Here's the official word on Epione: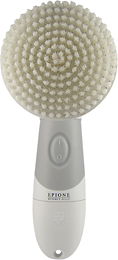 Keep your face radiant with this system that cleanses the skin of makeup and daily impurities to reduce the appearance of fine lines.
WHAT'S INCLUDED: Epione ClearTouch Matrix
PRODUCT FEATURES: Cleanses skin Removes makeup and daily impurities to keep skin healthy. Massages your face to help reduce the appearance of fine lines and discoloration. Effective on sensitive skin. Can be used in the morning and evening.
And so here are my thoughts. I tried it on my face and it worked really well. However, I didn't feel like the brush feature moved as smoothly across my face as the Clarisonic. And I'm also totally spoiled because the Clarisonic automatically cuts off after one minute, and I had to think about how long I'd been scrubbing my face with the Epione. But the thing I love more about the Epione system is that it comes with a bigger brush attachment to use on your body AND a pumice stone attachment that you can use on your feet. And I know I will use the heck out of it this summer when I'm using a lot of self-tanner and making sure my skin is smooth.
You have a chance to win your very own Epione ClearTouch Matrix cleansing system. All you need to do is leave me a comment telling me about your favorite skin product. And don't forget to take the fitness pledge:
Here are the official rules.
No duplicate comments.
You may receive (2) total entries by selecting from the following entry methods:
a) Leave a comment in response to the sweepstakes prompt on this post
b) Tweet about this promotion and leave the URL to that tweet in a comment on this post
c) Blog about this promotion and leave the URL to that post in a comment on this post
d) For those with no Twitter or blog, read the official rules to learn about an alternate form of entry.
The sweepstakes runs from 2/22 – 2/28.
This giveaway is open to US Residents age 18 or older. Winners will be selected via random draw, and will be notified by e-mail. You have 72 hours to get back to me, otherwise a new winner will be selected.
The Official Rules are available here.
Also be sure to visit the Inspiration to Fitness page on BlogHer.com where you can read other bloggers' reviews, get great fitness tips and find more chances to win! You can also click on the Best Buy image at the top of my blog to view a calendar of all the Inspiration to Fitness content. Good luck!
Best Buy does not sponsor, endorse, approve, or have any responsibility for this promotion.