Before I say anything else I just have to thank you all for your kind comments and prayers for Jen. It means the world to me and I really think y'all are the best blog peeps ever.
Also, yesterday was the last giveaway. So as of today we will be resuming our normal daily programming of general mediocrity and all around musings about nothing. And, honestly, I'm glad. It was a nice solution to the whole book writing process but, HERE'S SOME NEWS, I'm finished with the book.
Actually that's not true. I finished writing the book. And now I have the book back in my possession with kind and gentle editing suggestions that I have to work on at some point. But, still, finish line in sight.
(Oh. I'm actually having a giveaway tomorrow. But it's for a gift card to buy clothes.)
(So I guess I just meant that I'm finished with the health-related giveaways on a weekly basis.)
You would think I'd learn to be more clear and concise. Especially since last week I read a news headline that I completely misunderstood. The front page of MSN read "Sting Foils Plot to Blow Up Capitol".
And my first thought was to wonder how on earth Sting has time to write all those songs and thwart dastardly plots. Then I remembered that he used to be part of The Police and thought it was all some sort of covert tie-in to his real occupation while he carried on his front as a musician.
Then, about five minutes later, it dawned on me that the headline was referring to a Sting Operation. Not Sting.
Yes. That makes much more sense.
But isn't nearly as interesting.
Anyway, Monday was Presidents' Day. The kids had a school holiday and so Gulley, Stephanie and I took our kids to the rodeo carnival to ride all the rides. It turned out to be a brilliant plan because Steph left her little girl at home and just brought her son. And so we had an even number of kids. Which, for those of you unfamiliar with carnival math, means that the mamas didn't have to ride any of the rides.
Well, Gulley rode the mouse rollercoaster thing because it required an adult and she took one for the team. It's not that I don't enjoy the rides. In fact, I'm a little sad that I can't ride them anymore. But at some point my equilibrium quit on me and I get so dizzy and disoriented. Which isn't that different than how I feel when I first get out of bed in the morning, but isn't necessarily a good feeling while you're trying to navigate a giant petri dish full of carnival rides and fun houses.
And we did all ride the ferris wheel when we first got there. I can handle the ferris wheel as long as I don't look down or remember I'm on a big wheel of potential death. Then the kids were ready to move on to bigger and better things like rides called Vertigo.
I was ready to move on to bigger and better things like funnel cakes and corn dogs and gorditas.
So after they'd all ridden enough rides to be sufficiently dizzy and slightly nauseous, we headed over to find all the food and went our separate ways as we each opted for a different culinary treat. Caroline chose a slice of pepperoni pizza because everyone knows that's typical rodeo food and not weird at all. And after much deliberation, I ended up with a gordita. Gulley went with shrimp on a stick. It seemed like a questionable choice but apparently worked out for her because it's three days later and she hasn't died of salmonella.
Fortunately, no one in our group opted for the Hot Beef Sundae. What? You've never heard of a hot beef sundae? You mean the concept of a round ball of instant mashed potatoes on a slab of questionable meat covered in gravy and cheese and topped with a cherry tomato hasn't swept the nation?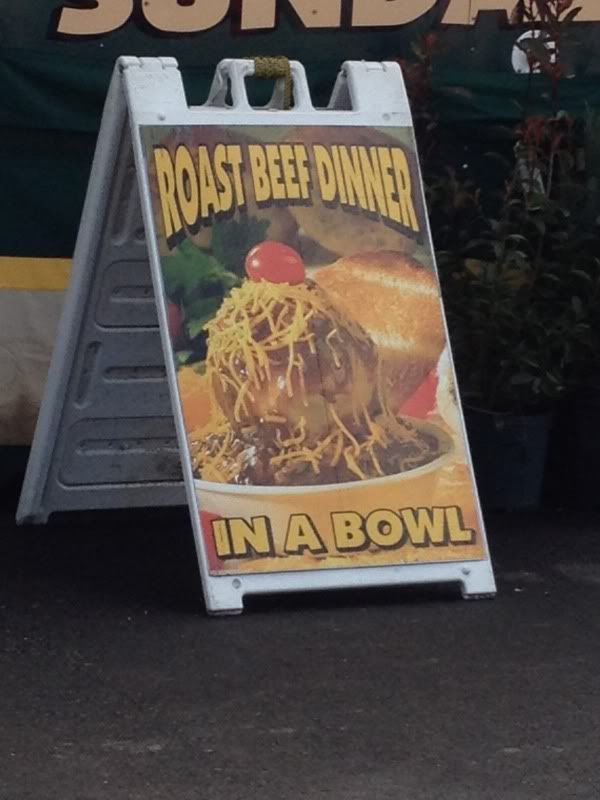 Or maybe you know it by its more common name Roast Beef in a Bowl?
I thought there was nothing that could stimulate my gag reflex more than the knowledge that Golden Corral has a chocolate fountain, but this is a close second.
After we rounded our meal out with a funnel cake, we walked around the rodeo grounds and let the kids look at the trucks and make a stop by the petting zoo. And I again rejoiced that Caroline is at an age where she can walk amongst the goats on her own and I can stand on the other side of the fence and wave from a goat-free environment.
Eventually we made our way back to the rides and they rode a few more things. We'd given each kid permission to do one extra thing that cost more money and Caroline decided she wanted to play the carnival game where you shoot a basketball and if you make a basket then you win a stuffed animal.
I tried to convince her to do something else by repeatedly telling her that those things are usually rigged and the basket is too small for the ball or placed at a weird angle. I wanted to prepare her for the inevitable disappointment of not winning so we watched as two teenage girls tried it and missed. And I said, "See? It's impossible to make it." But she insisted it was what she wanted to and so I reluctantly handed over the five dollars feeling like it would make more sense to flush it down the toilet.
She gave her money to the carny worker, he handed her the basketball, she bounced it twice and shot.
And she made it.
Thus rendering her mother's opinions and knowledge totally worthless.
Nice job.
And in exchange for now having full confirmation that her mom does not, in fact, know everything, she won her very own minion.
(I can't tell you how thankful I am that she chose the minion over the banana dressed like Bob Marley. It would have been too much to bear.)
However, this minion is not so fluffy I could die.
It feels like it has been stuffed with lightweight cement mix. And so you can imagine my joy at having to carry around Zee Minion (That's what she named him. Apparently he's French.) the rest of the day. Because I couldn't really carry him under one arm. I had to walk around with Zee Minion in a bear hug formation for the remainder of the afternoon.
But it could have been worse.
I could have been that guy.
Then Tuesday night I went back to the rodeo with a group of my girlfriends to go see Miranda Lambert. We had the best time and laughed until my face hurt. I think we all forgot that we were mothers with real live responsibilities for at least a few hours which explains why we thought it was a good idea to stay out until 1:00 a.m.
But as I crawled into bed Tuesday night I thought it would be totally worth it to be tired the next day. Until Caroline woke me up at 4:36 a.m. complaining of a sore throat. And I could tell she felt feverish.
So we spent yesterday at the doctor where they confirmed she has strep. Poor thing. I can't remember the last time she's felt this bad. I mean, she fell asleep on the couch at 4:00 this afternoon and she hasn't slept during the daytime since she gave up her pacifier at age three.
My bet is that Zee Minion cost us $5.00, one case of strep, and the co-pay at the urgent care clinic.